Story highlights
In Israel, a medical cannabis license allows patients between 20 and 200 grams per month, even kids
Outside personal anecdotes, research has shown the potential for medical cannabis to aid children
Moments of joy are all too brief for Lavie Parush. They have been since the 2-year-old was born. "Gray" was the word his father used to describe his son, born unconscious. That night, Lavie had his first seizure.
"Immediately, they took him to the emergency room," said his father, Asaf Parush. "They doped him up and he was basically passed out the first week of his birth."
For six months, Parush and his wife, Noa, held on to the belief that Lavie's condition would improve. But the seizures worsened. He suffered dozens a day. Doctors diagnosed him with epilepsy and cerebral palsy. Lavie was severely brain damaged.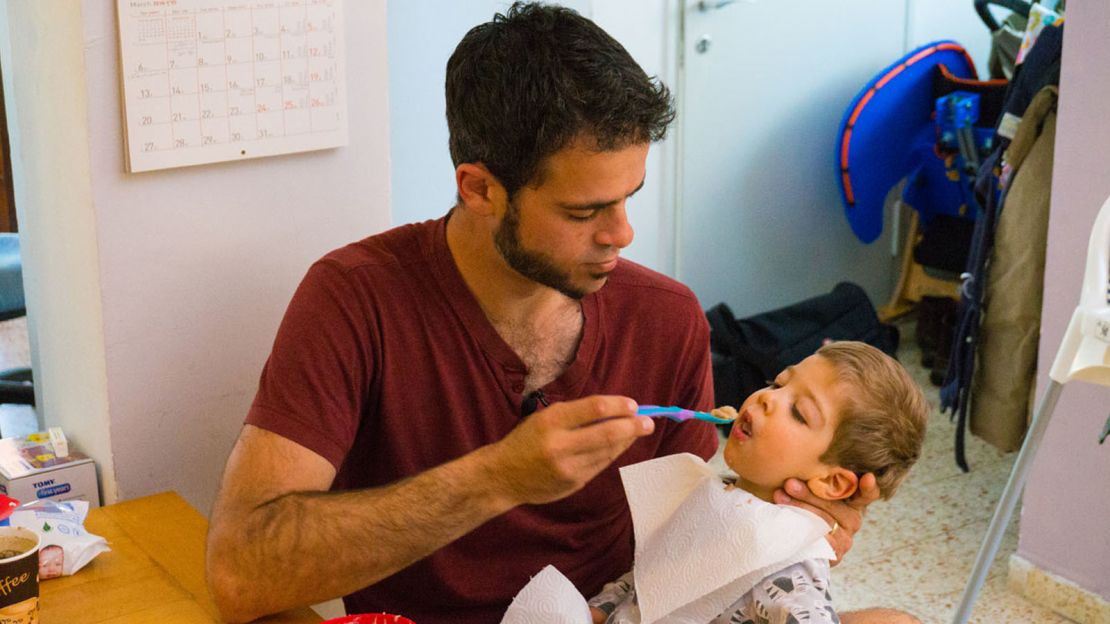 Doctors put the baby on one drug after another to try to stop the seizures. Each drug required another visit to the hospital. And each one led to another disappointment as the seizures continued unabated. Some drugs had severe side effects, Parush said. Steroids, for example, weakened Lavie's immune system and caused him to become incredibly bloated.
Just before Lavie's first birthday, Parush heard about the use of medical marijuana – commonly called medical cannabis in Israel – to treat epilepsy.
How medical marijuana works in Israel
Unlike other medicines, cannabis is not prescribed by a doctor in Israel. Instead, specialist doctors request a license for a patient to use cannabis for treatment of chronic pain, chemotherapy-induced symptoms, epilepsy and other conditions. The license allows medical cannabis patients between 20 and 200 grams per month. The cannabis is sold at a fixed price of approximately $100 per month, regardless of the amount.
The Ministry of Health points out that the efficacy and safety of medical cannabis "have not yet been established," but the ministry also acknowledges cannabis can help patients suffering from certain medical conditions. Israel has approximately 23,000 licensed medical cannabis users, according to Daniel Goldstein, an industry advocate with Israel Cannabis. Recreational cannabis remains illegal in the country.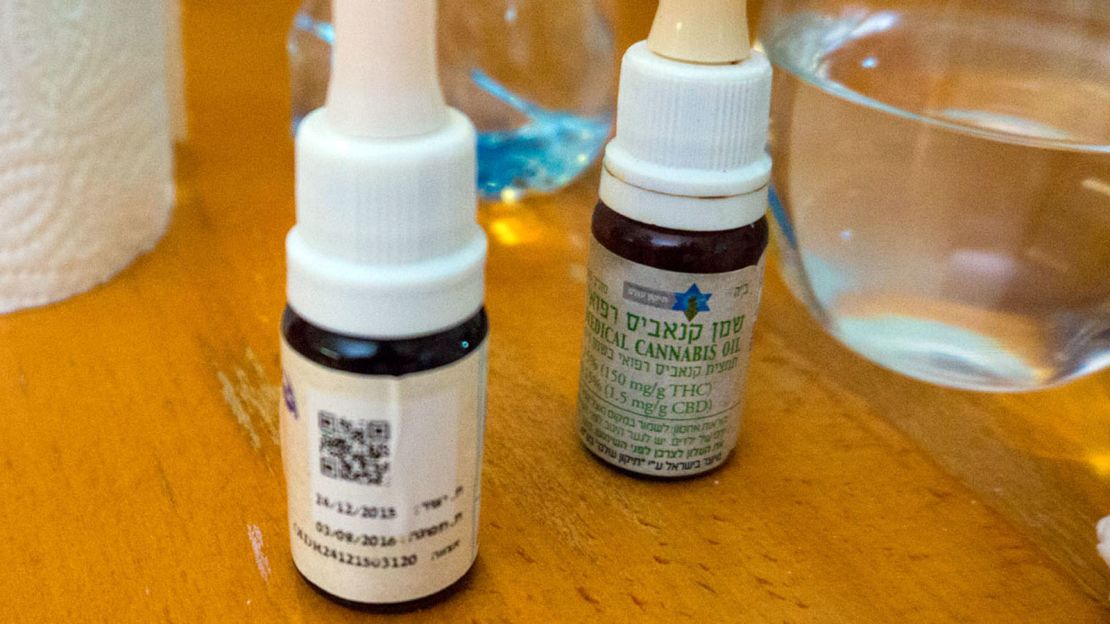 Patients select from one of Israel's eight cannabis growers, collecting their cannabis from a hospital or dispensary, instead of from a pharmacy. Cannabis is available in different forms, including cigarettes, oil and pills.
Lavie's family requested a license for him from the Ministry of Health for the boy to use medical cannabis. He takes a few drops of cannabis oil every day, mixed into his food.
"After a few weeks we didn't see any seizures at all," Parush said.
The cannabis oil, extracted from a strain of cannabis called Avidekel, was developed in northern Israel by one of the country's largest cannabis growers, Tikun Olam. The oil is high in cannabidiol – or CBD - the pharmacological ingredient in cannabis that has been shown to have anti-inflammatory properties. It is low in tetrahydrocannabinol (THC), the psychoactive ingredient that makes marijuana users high and has been shown to relieve pain.
According to Tikun Olam, Avidekel is the strain used for toddlers and babies. Of Tikun Olam's 6,500 medical cannabis users, only 15 are under 3 years old. The Ministry of Health couldn't confirm the number of toddler and baby cannabis patients in Israel, but Tikun Olam's spokeswoman Ma'ayan Weisberg estimates that no more than 25 children under 3 years old are licensed.
Is it safe and effective for young children?
A 2015 study by Dr. Orrin Devinsky of the NYU Langone Comprehensive Epilepsy Center showed a 54% reduction in some types of seizures in 137 people suffering from severe epilepsy who took a liquid form of medical marijuana and did not respond to other treatments. But the study's results will need to be replicated, since it did not adhere to the strictest standards of scientific research, including randomized testing and peer review. A 2013 Stanford University survey of 19 children between the ages of 2 and 16 suffering from epilepsy found 16 of them self-reported or their parents reported a reduction in seizures from using medical cannabis.
But there is little other research on the efficacy and safety of medical cannabis in infants and children. Conducting research on medical cannabis can be expensive and difficult because of regulations surrounding the drug, cannabis advocates say. For example, in the United States, the Drug Enforcement Administration considers marijuana a Schedule 1 drug "with no currently accepted medical use," though there are efforts underway to reclassify marijuana as a less dangerous drug. In addition, a federal ban on medical marijuana was lifted, so states no longer have to worry about raids from federal agents.
In one of the most well-known uses of medical marijuana, Charlotte Figi, a toddler suffering from seizures, began treatments with cannabis oil at age 5. The oil was high in CBD and low in THC, similar to Avidekel. The frequency and intensity of her seizures decreased dramatically. Charlotte was the subject of CNN's original "Weed" documentary. Her success story and CNN's coverage were cited as evidence by proponents of medical marijuana reform in some states.
Because of the successful treatment, the strain of cannabis she used was called "Charlotte's Web." But Charlotte was already 5 years old when she began using cannabis oil. Lavie was not yet a year old.
Dr. Uri Kramer, head of the Department for the Treatment of Childhood Epilepsy at Tel Aviv's Ichilov Hospital, said medical cannabis shows promising results in children whose epilepsy has not responded to multiple drugs.
"If they are not good candidates for surgery, there are almost no options," said Kramer, who requested the medical cannabis license for Lavie.
Kramer said his patients have shown that medical cannabis has a success rate of approximately 20% in reducing seizures by 75% in epileptic children. "That's much higher than any other drug on the market," said Kramer.
But acceptance is not universal. "Some of our colleagues are not convinced yet," he added. "I'd say only about half of the pediatric epiloptologists in Israel are using cannabis."
Research is underway regarding CBD use in children with intractable epilepsy, according to Dr. Angus Wilfong, a pediatric neurologist at Texas Children's Hospital, but Wilfong urged caution.
"These studies are complex and take time. No drug should be approved for use in children until scientific studies have validated its efficacy, safety, tolerability, and dosage," said Wilfong.
"The early developing brain is more susceptible to injury from drugs and toxins than when the brain is a little older."
"There is no doubt that children are a new field," said Tikun Olam's head nurse, Inbal Sikorin. "The impact of the treatment on epileptic children is that it not only reduces spasming, there is a behavioral response as well," she added, referring to the company's own patient data. "They're able to concentrate more and they are more pleasant."
Asaf Parush has all the results he needs. Lavie hasn't had a seizure in months.
But anecdotal results are not enough to validate cannabis as a safe and effective drug in the medical community.
"There is considerable experience, including my own, in using cannabidiol for use in catastrophic childhood epilepsies," Wilfong said. "Unfortunately, open-label (anecdotal) experience is not scientific and is very prone to bias and other confounding factors clouding interpretation of response."
What about the critics who say Parush is being irresponsible to treat a baby with cannabis?
"I think I would say that under these circumstances, they're crazy not to. Let's say I would give him cannabis and it didn't work. To me, that's not a problem because there are no side effects. There was nothing to lose," he said.
The science here is far from complete, and there may be side effects that have not yet been discovered. "There is evidence that childhood exposure to THC is detrimental to the developing nervous system and may adversely affect intelligence," said Wilfong, "and this is not thought to be the case for pure CBD." Many studies have shown recreational use of marijuana has a negative effect on teenagers, possibly because their developing brains are more vulnerable. A 2014 study found teenagers who start using marijuana before age 14 have less brain volume and may even have a lower IQ.
Parents are on their own
There are no set dosages from Tikun Olam, and Lavie's parents make small adjustments on their own. They use the CBD oil daily and a second oil of THC only when Lavie suffers from severe spasticity, a result of his cerebral palsy. The THC oil makes him high.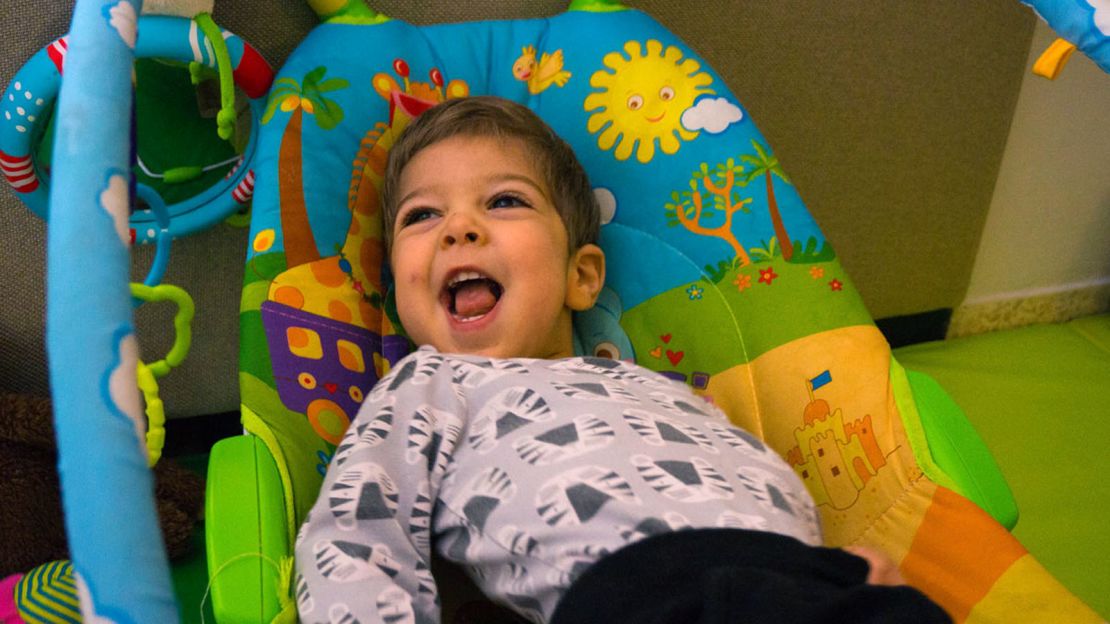 "Every time we decide to do it, (my wife and I) talk to each other. We consult," Parush said. "In the beginning, we were pretty anxious about it. Then we thought, 'Well, what are we seeing?' We're seeing this kid that was in distress before, and now he isn't."
Lavie has a little sister, a healthy 10-month-old named Gefen. It is stunning to see the difference between 2-year-old Lavie and Gefen as they play with their parents.
Gefen can hold toys and interact with her parents and exhibits other behaviors that are beyond Lavie's limited abilities. As Lavie's mother sings him a song, she has to move his arms for him.
Most parents hope to see their children graduate and get married and have children of their own. Parush has a much simpler dream. One day, he hopes his son is able to say "Dad."