Story highlights
A few areas have robust mosquito control
The size of mosquito districts' budgets varies widely
Urban mosquito control is especially weak, experts say
If you're a mosquito and you value your life, stay away from Fort Myers, Florida.
Awaiting your arrival there will be a staff of a dozen entomologists and biologists to study your every move. A fleet of 26 trucks, 11 helicopters and four airplanes stands ready to spray you dead.
There are much safer places in the United States for a mosquito to go – and that's a big problem, according to experts trying to control the spread of the Zika virus as summer approaches.
In the United States, mosquito control is done by a patchwork of hundreds of separate authorities, many of them in coastal and Western states. Some, like the Lee County Mosquito Control District, where Fort Myers is located, are said to do an excellent job, but there are concerns that others might not be up to the task.
Today, the Senate passed a $1.1 billion compromise bill to fund the fight against Zika. Mosquito control experts hope the money would help shore up weaknesses in the nation's pesticide defenses.
The big fear is that a mosquito carrying Zika could bite a pregnant woman, and her baby could develop a devastating birth defect.
"If I were a pregnant woman living on the Gulf Coast or in Florida, in an impoverished neighborhood in a city like Houston; New Orleans; Miami; Biloxi, Mississippi; or Mobile, Alabama, I would be nervous right now," Dr. Peter Hotez, dean of the National School of Tropical Medicine at the Baylor College of Medicine, wrote in a recent opinion piece in The New York Times.
A labor-intensive proposition
The comparison between mosquito control in Lee County, Florida, and some of these other areas is stark.
Lee County's agency has a staff of 124 people and an operating budget of $16 million a year.
On the other side of the Gulf Coast, in Harrison County, Mississippi, where Biloxi is located, the mosquito control board has a staff of 10 and a budget of about half a million dollars.
Raymond Cuevas, director of mosquito control for Harrison County, said he has confidence his department can handle the Zika threat.
"We're stepping up surveillance, and we have an excellent program to begin with," he said.
But others wonder if smaller programs – no matter how well-intentioned and hardworking – might have trouble keeping Zika at bay.
"It's very labor-intensive, and some places have better capabilities than others," said Dr. Lyle Petersen, director of the Division of Vector-Borne Diseases at the Centers for Disease Control and Prevention and incident manager for the agency's Zika response.
"A number of communities on the Gulf Coast, where there are low socioeconomic levels, are definitely at risk," added Joseph Conlon, technical adviser at the American Mosquito Control Association. "Many have no control capabilities at all."
Killing the cockroach of mosquitoes
The main issue is controlling Aedes aegypti, the species of mosquito most responsible for spreading Zika.
Scientists call it "the cockroach of mosquitoes."
"These are really complicated mosquitoes to target. They live inside houses. They live in dark corners," said Audrey Lenhart, a research entomologist at the CDC.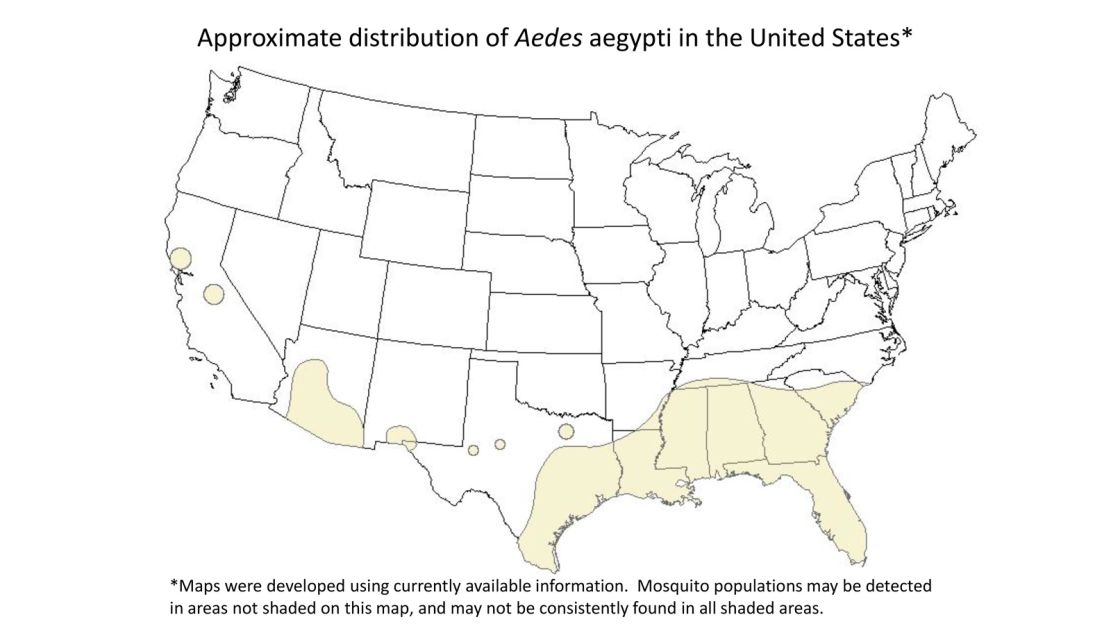 "They've lived through many, many years of disasters and catastrophes and insecticide sprayings, and they're still with us," she added.
So far, no one is known to have contracted Zika from a mosquito bite in the continental United States. Everyone in the United States who's caught Zika from a mosquito – and there have been about 500 cases – was bitten elsewhere.
But experts say it's inevitable that infected mosquitoes will start biting people in the United States and spreading the virus.
If a mosquito infects someone in Lee County, officials have a plan.
For two nights in a row, planes and trucks will spray about 1 square mile around where the infected person lives, according to Shelly Redovan, deputy director of the Lee County Mosquito Control District.
Then they'll put out mosquito traps in the area. If they catch any that can carry Zika, they'll spray for another two nights and then set out more traps and determine if those mosquitoes can carry the virus.
"We'll continue the cycle until we have no more Aedes aegypti or Aedes albopictus," Redovan said, referring to the two species that spread Zika.
"We don't mess around. We want to make sure there's no chance of transmission," she added.
Lenhart, the CDC entomologist, expressed concern that smaller mosquito control districts might not have the money or staff to launch this level of a mosquito hunt.
"It's operationally very complicated," she said.
But outside spraying by mosquito districts won't kill mosquitoes that are breeding inside homes – and Zika-spreading mosquitoes love to live indoors.
This is particularly concerning in poor, urban areas where people don't have air conditioning and leave their windows open.
That's why fighting these mosquitoes will require people, not just authorities, to make changes, such as getting rid of standing water and putting screens on windows.
"There's no silver bullet," Conlon said. "It will take a variety of control tools, not just one or two."
And there's another step beyond this hunting and killing of mosquitoes: There has to be continual testing to make sure the mosquitoes haven't become resistant to whatever pesticide is being used.
In Puerto Rico, for example, Lenhart said, authorities were spraying with a pesticide called permethrin until it became clear the mosquitoes had become resistant to it. They've since switched to a different pesticide.
Lenhart said it's up to each individual state or mosquito control district in the United States to test for pesticide resistance in their areas.
Some test mosquitoes for resistance routinely, but others don't, she said.
"We're strongly encouraging states that don't have an active insecticide-resistance surveillance program to develop one," she said. "It's a big challenge."
CNN's John Bonifield contributed to this report.