Story highlights
Ex-president Blatter embroiled in new scandal
FIFA: Blatter and duo paid themselves $80M
Valcke and Kattner both implicated
All three men no longer involved with FIFA
FIFA is back in the headlines for all the wrong reasons after its own lawyers revealed that former president Sepp Blatter and two of his colleagues awarded themselves pay raises and bonuses totaling $80 million over their final five years in office.
Lawyers for world football's governing body allege that Blatter, along with former secretary general Jerome Valcke and former deputy secretary general Markus Kattner, made "a coordinated effort" to "enrich themselves" between 2011 and 2015.
"The evidence appears to reveal a coordinated effort by three former top officials of FIFA to enrich themselves through annual salary increases, World Cup bonuses and other incentives totaling more than CHF 79 million – in just the last five years," Bill Burck, a partner with Quinn Emanuel, said in a statement.
Read: FIFA reformer quits in protest
FIFA says findings by its lawyers raise "serious questions about the way a series of problematic contract amendments in favor" of the trio were approved.
It added: "These amendments resulted in massive payouts – amounting to tens of millions of dollars – to the former FIFA officials in the form of salaries and bonuses between the years 2011 and 2015."
It is not clear if the compensation awarded broke any laws, but FIFA says these payments appear to break Swiss law.
FIFA said it has shared the findings of its own internal investigation with the Swiss Attorney General's office and will brief the U.S. Department of Justice. Numerous FIFA officials and corporate executives are being charged in a federal criminal indictment in New York for racketeering conspiracy and corruption, involving kickbacks and bribes.
Blatter's legal representatives issued a statement defending the payments.
"We look forward to showing FIFA that Mr. Blatter's compensation payments were proper, fair and in line with the heads of major professional sports leagues around the world," read a statement from Richard Cullen of McGuireWoods.
Read: Platini resigns as ban appeal fails
CNN has contacted representatives for Valcke but has yet to receive a response. CNN is still attempting to contact Kattner.
The allegations also surround eight-and-a-half-year contract extensions awarded to both Valcke and Kattner shortly before the 2011 FIFA presidential election. At that time, Blatter was unsure of reelection, with his rival Mohammed Bin Hammam challenging for the position.
According to the documents released by FIFA, the contracts were extended until 2019 with "big increases in base salaries and bonuses" as well as guaranteed severance payments.
Valcke was set to receive $17.6 million and Kattner $9.9 million if they lost their jobs upon a Blatter defeat, or if they were fired for just cause.
The investigation also noted that FIFA would have to pay the legal fees and "any associated fines and restitutions" even if the men were found guilty.
Read: Blatter blames U.S. for his demise
FIFA says Blatter signed off on Valcke's agreement, while both men approved Kattner's contract. Blatter's own deal was approved by FIFA's finance chief Julio Grondona, who passed away in 2014.
Furthermore, the three are alleged to have received $23.5 million in "special bonuses" between them which were paid out four months after the 2010 World Cup in South Africa – even though the bonuses did not appear in any contract.
Katter and Valcke were also alleged to have received a further $14.3 million in bonuses for the 2014 World Cup. They are also accused of being paid $15.8 million in June 2014 for the 2018 World Cup in Russia.
The secret bonuses were far larger than Blatter's base salary of around $3 million – an amount made public by FIFA in March.
In a statement, FIFA said: "It is clear that the preliminary findings indicate that the payments and contracts warrant considerable further investigation."
FIFA says it has also referred the findings to its ethics committee.
"This is consistent with FIFA's commitment to cooperate with the authorities and FIFA's policy of zero tolerance for wrongdoing."
Blatter, who led FIFA for 17 years until he stepped down in 2015, was banned from football for six years in February – a two-year reduction on his original punishment after being found guilty of breaches over a $2 million "disloyal payment" to UEFA president Michel Platini.
In an April interview with CNN's Alex Thomas, Blatter denied he ever took a bribe. He says he was forced out of FIFA in a "coup d'etat" led by the U.S. and assisted by the Swiss.
"I can understand that the Americans are not always happy with what's happened somewhere in the world because they try to be the police of the world everywhere," Blatter said.
"But I couldn't understand that the Swiss authorities had agreed."
Valcke was banned from all football-related activity for 12 years after the FIFA ethics committee investigated allegations of misconduct relating to sales of World Cup tickets, television rights and using a private jet for personal reasons.
Swiss attorney general Michael Lauber opened criminal proceedings against Blatter last September, and against Valcke in March. Neither Valcke nor Blatter have been arrested. The Frenchman's lawyer has reportedly said his client has done nothing wrong.
Read: New FIFA boss denies Panama Papers claims
Kattner, who is not facing any criminal proceedings at present, was fired last week "for breaches of his fiduciary duties to FIFA."
The Swiss Attorney General's office said in a statement that it searched FIFA's headquarters in Zurich on Thursday "with the aim of confirming existing findings and obtaining further information."
"Documents and electronic data were seized and will now be examined to determine their relevance to the ongoing proceedings," read the statement.
Have your say on FIFA's corruption problems
Like this story? Get more at cnn.com/football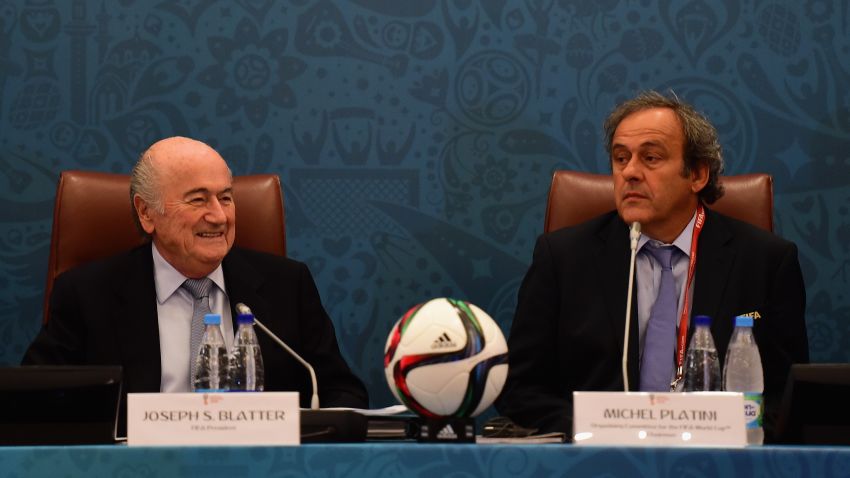 FIFA upholds bans for the two former senior officials