Brazil's perfect storm of crises ahead of Olympics
The Olympic Games arrive in Brazil at a time when the country is ravaged by crises.
With two months to go until the cauldron is lit in Rio de Janeiro, the host of South America's first Games is grappling with a public health emergency, a governmental meltdown and economic woes.
While pressure and scrutiny in the build up to a major sports event is nothing new, Brazil faces a unique cocktail of difficulties.
But despite the spread of the Zika virus throughout the region, President Dilma Rousseff standing down amid corruption allegations and Brazil's worst recession in over two decades, the World Health Organization (WHO) and the International Olympic Committee (IOC) insist the show will go on.
And as Brazil fights fires within its own borders, the international sporting community is battling its own controversies.
Allegations of doping hang over track and field.
Russia faces the prospect of its athletes missing the Games, while the IOC revealed samples taken from participants at the Beijing 2008 and London 2012 Olympics have tested positive for banned substances.
It is against this backdrop that the world's biggest celebration of sport begins on August 5.
"I think it's all a perfect storm," Ed Hula, Olympics expert and founder and editor of online publication Around the Rings, told CNN's Connect The World.
"Anything bad that could happen to Rio de Janeiro seems to be happening at this point."
Zika
It's caused athletes to pull out of the Games and some countries to unveil special protective uniforms.
But it seems the Zika virus won't derail Rio 2016. While the symptoms of the virus – which include a rash, headaches and joint pain – aren't severe, Zika has been linked to microcephaly in newborn babies and some cases of the muscle-weakening disease Guillain-Barré syndrome in adults.
With this in mind, more than 100 prominent doctors and professors recently wrote an open letter to the WHO urging that the Olympics be moved or postponed "in the name of public health."
"It is unprecedented," Hula said of the calls to stop the Games going ahead. "But there have been major sports events that have been moved because of concerns about health.
"The Women's World Cup (soccer) in 2002 was moved from China over fears about the Swine flu virus.
"So it has happened before, it won't happen to the Olympics this time around."
And despite the outcry, the WHO remains unmoved.
"Based on current assessment, canceling or changing the location of the 2016 Olympics will not significantly alter the international spread of Zika virus," it said in a statement. "Brazil is one of almost 60 countries and territories which to-date report continuing transmission of Zika by mosquitoes.
"People continue to travel between these countries and territories for a variety of reasons. The best way to reduce risk of disease is to follow public health travel advice."
WHO revises sex guidelines for Zika prevention
It has also been suggested that, with the Games taking place during the Brazilian winter, mosquito numbers will be lower, decreasing the risk of transmission.
When asked by CNN if it had a response to the open letter, the IOC said it was following the WHO's advice on the matter.
While the WHO sees no reason to move or postpone the Games, it has updated its guidance on the virus – including doubling the amount of time it suggests couples practice safe sex after returning from Zika affected areas from four to eight weeks.
In addition, it recommends: "Couples or women planning a pregnancy, living or returning from areas where transmission of Zika virus is known to occur, are strongly recommended to wait at least 8 weeks before trying to conceive to ensure that any possible Zika virus infection has cleared; and 6 months if the male partner was symptomatic."
Everything you need to know about Zika
Politics
Brazil has been firmly in the spotlight for several years now – and not for the right reasons. A backdrop of Zika, a spiraling economy and a uncertain leadership future is hardly what Brazilians hoped for when the Games were awarded to Rio in 2009.
Just a few short months out from the Games and Rousseff has been forced out of office, accused of breaking budget laws, and Vice President Temer has stepped in as interim leader for 180 days.
While her political future is uncertain, Rousseff will continue to hold the title of President, but will not be fulfilling the duties of the office.
Rio mayor welcomes federal Olympic investigation
"Well they've had more problems in the run up to these Games than we've seen with anything in the recent Games," explains Hula.
"The health crisis, the construction, the corruption, the absence of an important leader for the government to lead the way for Brazil into the Olympics – (it's) all very difficult situation for the Olympics, for Brazil, for Rio de Janiero."
He adds: "They are doing the best they can but they have got a lot of problems to deal with in these final 60-odd days."
Zika, recession, political scandal loom over Olympics
Venues
The battle for Olympic medals will take place at 32 venues spread across the city.
With so many shadows hanging over South America's first-ever Olympic Games, the venues have been a bright spot.
According to organizers, the permanent sporting structures are almost 100 percent complete.
"Everything's going to be ready on time," Gustavo Nascimento, head of venue management for Rio 2016, told CNN. "We're going to deliver the park fully commissioned July 24 when we welcome the athletes for training."
Since a senior IOC official slammed preparations for the Games as the "worst ever" back in 2014, organizers sped up construction.
Now, most of the venues have been completed, including venues at the extreme sports complex in northwestern Rio and the structures at the main Olympic Park in the western part of the city – such as the aquatic center, tennis stadium and handball arena.
The exception is the velodrome.
Just this week, the Rio city government said it canceled its contract with the construction company in charge of the velodrome after the firm filed for bankruptcy. But officials insist they will hand over the venue later this month, as scheduled.
"We are finalizing construction on the velodrome but everything else is built as far as construction, heavy construction is concerned," Nascimento said.
City and state officials have failed, however, to make good on promises to clean up the sewage-clogged Guanabara Bay, where sailing and windsurfing events will be held.
"These are the first Olympics to be held on the Atlantic Ocean," Hula added.
"They might have taken it as a point of pride to say we're going to clean up the bay, we're going to clean up the pollution. But it's not going to happen for these Games. It's 50%, 60% treated and people will just have to be careful."
As the countdown continues, organizers are working on the final stages.
"We are now in the middle of the construction of temporary infrastructure like tents, trailers cabins," Nascimento said.
On Copacabana beach, tents for beach volleyball events are going up as well as metal bleachers for spectators.
"I'm asked if I'm biting my nails? I don't have time to bite my nails," Nascimento said. "Adrenaline is high. A lot of work yet to be done. But also a huge sense of pride of what we've accomplished so far. It's a transformation that already we can see in Rio."
Olympic athletes vs. Rio's polluted waters
People
With Brazil facing so many challenges, how do its people feel about the arrival of the Olympic Games? We took to the streets of Rio de Janeiro to find out how they are really feeling about the upcoming Games.
Doping
From a sporting perspective, doping has overshadowed the build-up to these Games. And much of the focus has been on Russia.
Its track and field athletes were suspended by the International Association of Athletics Federations (IAAF) last November after a World Anti-Doping Agency (WADA) report accused Russia of running a "state-sponsored" doping program.
The suspension may well extend to Rio; the IAAF council is scheduled to meet June 17 to hear an update from a task force monitoring Russia's attempt to be reinstated.
To make matters worse for Russia, the FBI and federal prosecutors in the U.S. announced last month they would be launching their own investigation into doping claims.
Kenya and Mexico, too, have felt the wrath of WADA for failing to get their respective anti-doping programs up to its standards.
And if the current climate wasn't bleak enough, the IOC has revealed samples it retested from the Beijing 2008 and London 2012 Games have returned positive results.
But the IOC has a plan.
It has announced it is doubling the budget for its pre-Olympic testing program, with special attention being paid to countries it deems "non compliant" – namely Kenya, Mexico and Russia.
In addition, it is working with national federations to ensure that athletes who – during retesting and after analysis of B samples – are found to have doped during previous Games are suspended and prevented from competing at Rio 2016.
The IOC has also said it is expanding its program for retesting samples from the last two Summer Olympics, with a specific focus on medal winners.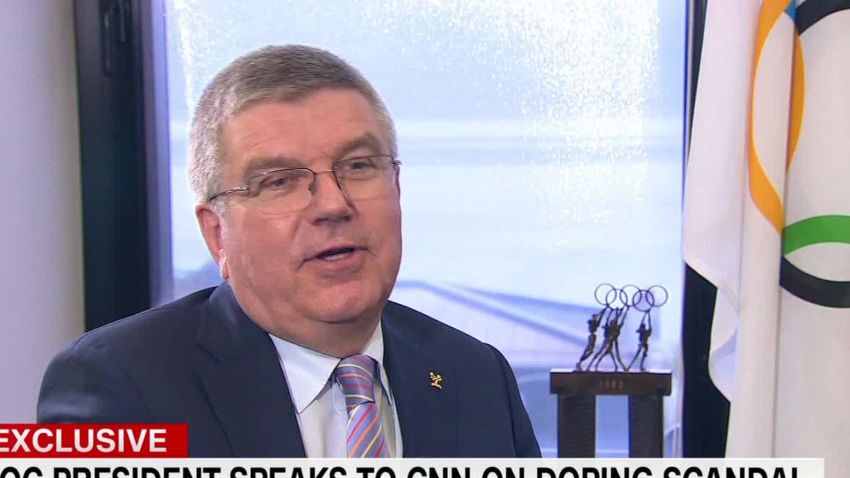 Exclusive: Olympic Chief talks about doping allegations