Story highlights
Turkish President says women who eschew motherhood are "incomplete"
Some female protesters take to streets over comments, calling them insulting
When it comes to "mansplaining," few world leaders dish out advice like Turkey's President.
Motherhood is easy, have at least three children, don't use formula and forget about birth control – these are just some of the words of wisdom imparted by President Recep Tayyip Erdogan to the nation's women.
Never shy of offering his insight to Turkey's seemingly unenlightened females, the father of four most recently told a women's association that without motherhood there can be no fulfillment.
'Mansplaining' explained
It typically involves a man explaining something to a woman, which she already knows, in a condescending manner.
Source:
The Nation Institute
"No matter how successful a woman is, a woman who denies her motherhood, who gives up on looking after the home is incomplete, is only half, is at risk of losing her uniqueness," Erdogan said Sunday during a speech to the Women and Democracy Association.
Even without all the rhetoric around a woman's role in society, it's hard enough being a female in Turkey.
Out of 27 Cabinet posts, only one ministry is held by a woman in a country where nearly half the population is female. Turkey ranks 130 out of 145 countries in the 2015 Gender Gap Index. And one out of every three women in Turkey is a victim of violence, according to the U.N. Development Fund.
Erdogan has vowed to track progress on combating violence against women. Appearing in a video with a slew of Turkish celebrities, Erdogan looks straight into the camera, saying, "Violence against women is treason against humanity."
He shares wide support among Muslim women who wear the veil. It was under Erdogan's rule that laws banning the Islamic headscarf for university students were lifted in 2013.
But critics argue his rhetoric makes women a target and condemns them to traditional roles.
"The President is being unfairly criticized," said a spokesman for the Turkish presidency, adding that women have made steady progress in the workforce and in politics.
We take a look at some of Erdogan's "mansplaining" moments:
No motherhood, no womanhood
In Sunday's speech, Erdogan also laid out how perilous choosing a career over motherhood can be.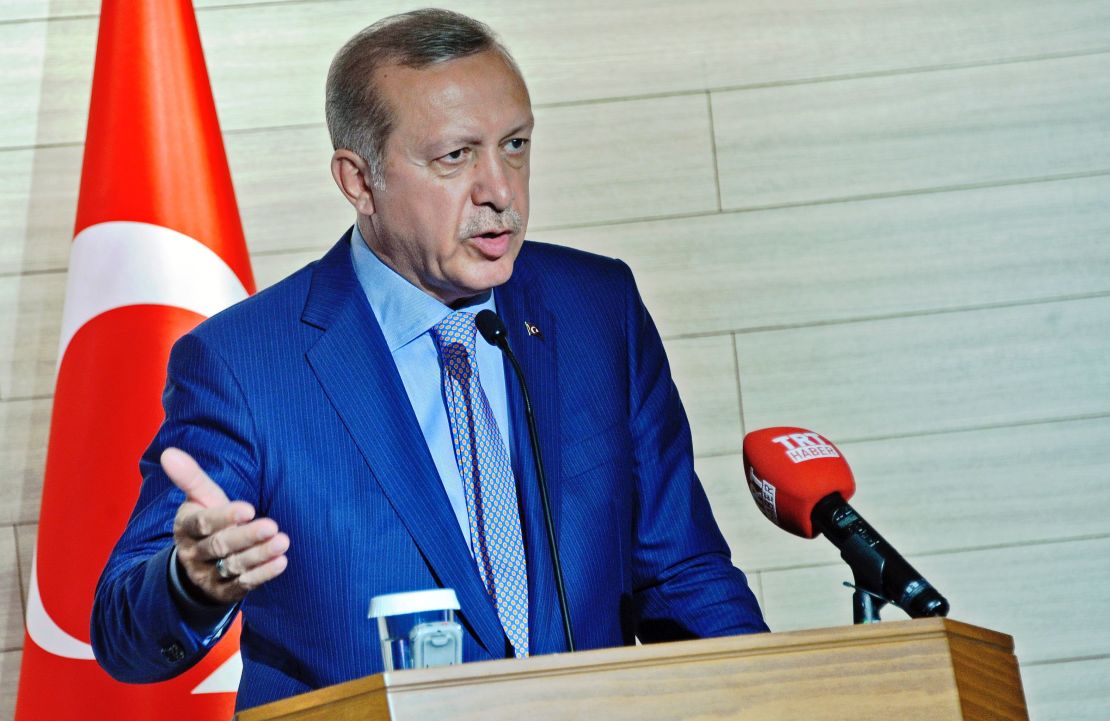 "Motherhood should never take a back seat to a woman's position in her career," Erdogan said.
"A woman who refuses motherhood by saying, 'I work,' is in fact denying her womanhood."
What women need (and it's not equality)
"What women need is to have equivalence of worth rather than equality – in other words justice," Erdogan said at the International Women and Justice Summit in November 2014.
"You cannot make men and women equal," he said. "That is against creation. Their natures are different. Their dispositions are different."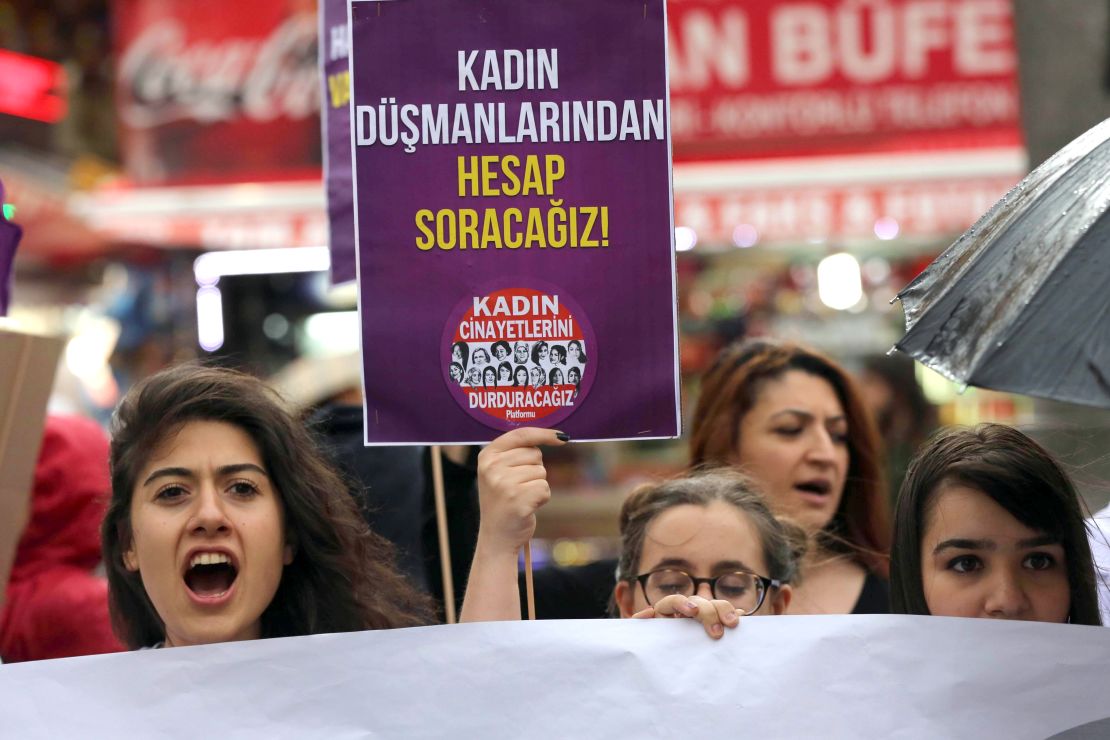 Erdogan tells feminists they don't get motherhood
At the same summit, Erdogan recalled kissing his mother's feet as a boy, adding that Islam had defined a woman's role in society as that of mother.
"Our religion has given women a stature, the position of motherhood. It lays heaven at mothers' feet. The bottom of a mother's feet should be kissed. A mother is something else. And its stature is unreachable," he told the crowd, which included his daughter Sumeyye.
"Some people understand this and others don't. For example you can't explain this to feminists. They reject motherhood."
Disposable diapers
And in this modern world of disposable diapers, what's stopping a woman having more children, Erdogan asked at the International Technology Addiction Congress in April 2012.
"Motherhood now is easy. You get a disposable diaper. Fold it, throw it away, get a new one and carry on. That's the situation now," Erdogan said.
"These days you see they say one (child) is enough, or two is enough. Make at least three, look the conditions have gotten easier. The country needs this."
Children by the numbers
Birth control in Turkey
About 73% of married women use a form of contraception.
One-fifth of married women use abortion as fertility regulation.
There is a "substantial" unmet need for quality family planning.
Source:
U.N. Population Fund
Indeed, boosting the nation's birthrate has become a recurring theme in Erdogan's addresses to women groups. He sometimes takes his message out of the conference halls and into wedding ceremonies, where he is the guest of honor.
"One (child) is bankruptcy. It is the bankruptcy of the nation. Two is standing in place. Three will sort of carry us forward. So we need four or five," he told a group of attendees at a wedding in January 2013.
The Turkish President also teased the newlyweds about whether or not they had made a decision on the number of kids they would be having.
But the spokesman for the presidency said, "The President encourages young couples to have more children, but they have the final say in this matter."
Breast-feeding: A God-given gift
Of course, all those new babies will need sustenance – and Erdogan is clear on the source.
"No formula or anything like that. At least for a year and a half, and an average of two years, we will raise our kids with only mother's milk," he said at the same wedding.
"There is no gift from God greater than that."
No to birth control
"Family planning, birth control, these are not things that a Muslim family should consider," Erdogan said in a live TV address in May to an educational foundation in Istanbul.
"Whatever God says, whatever the prophet says, that is the road we must go down. The first duty here belongs to mothers."
The "We Will Stop Femicide Platform" on Monday organized a small demonstration against Erdogan's latest comments on women and motherhood.