While the bodies of Omar Mateen's victims were removed from Pulse nightclub overnight, investigators worked Monday to determine what motivated the Florida killer responsible for the worst mass shooting in U.S. history – a man the FBI knew was sympathetic to terrorism and had previously investigated.
The attack appears to be "homegrown terrorism" carried out by legally purchased firearms, President Barack Obama said in the Oval Office. He said there wasn't any evidence the attacker was under direction from a terrorist network, or carrying out any group's larger plot.
In Washington, FBI Director James Comey defended the agency's investigation of Mateen, a 29-year-old security guard from Fort Pierce, Florida, who was placed on a terror watch list and was looked into twice. Agents found no reason to think he was a credible threat, Comey said.
Investigators are "highly confident" the gunman was self-radicalized through the internet, Comey said.
According to one official, analysis of Mateen's electronic devices showed searches for jihadist propaganda, including videos of ISIS beheading videos and of Anwar al-Awlaki – an influential American-born imam who worked as a spokesman for al Qaeda in the Arabian Peninsula and was killed in 2011.
"He consumed a hell of a lot of jihadist propaganda" online, the source said.
The presumptive presidential nominees weighed in. Democrat Hillary Clinton called for a ban on assault weapons and Republican Donald Trump once again said the United States needs to ban Muslims from entering the country.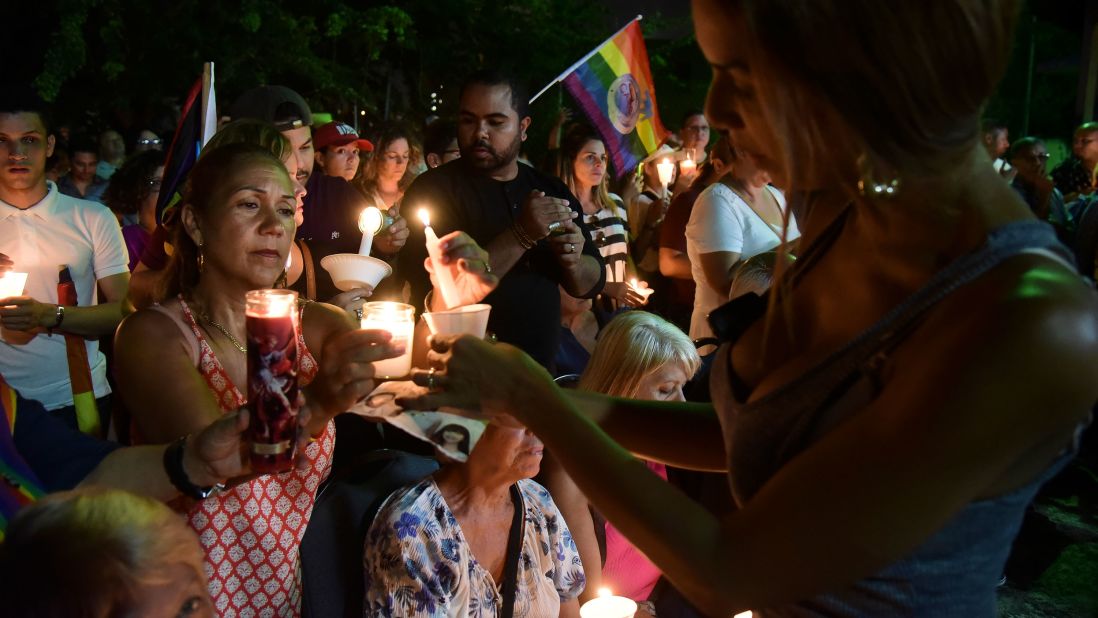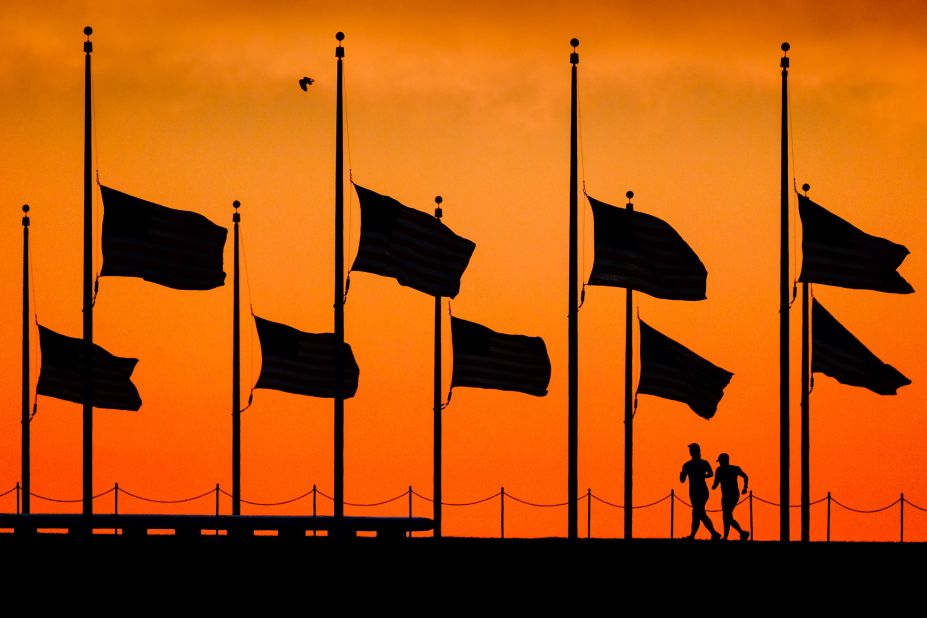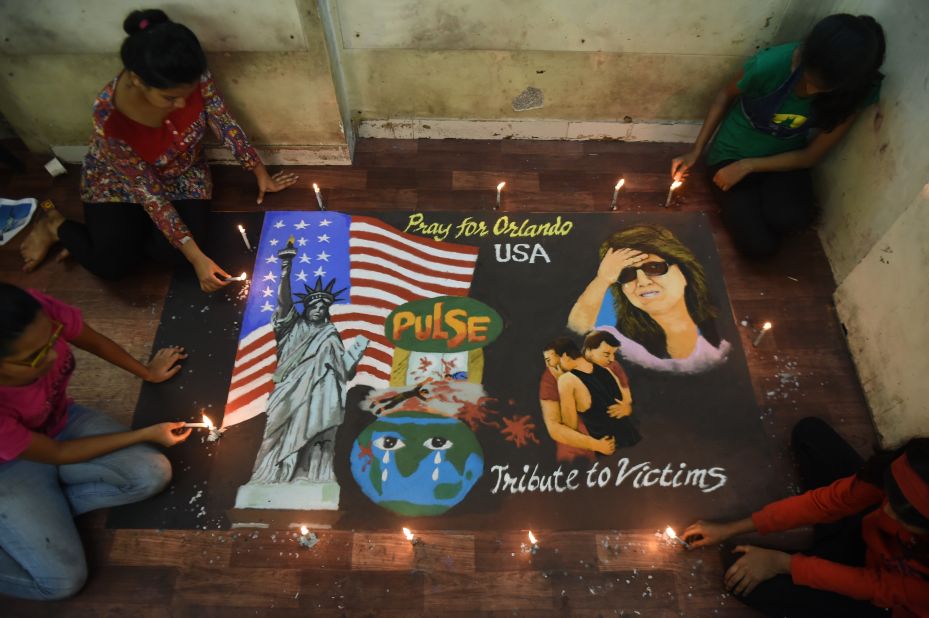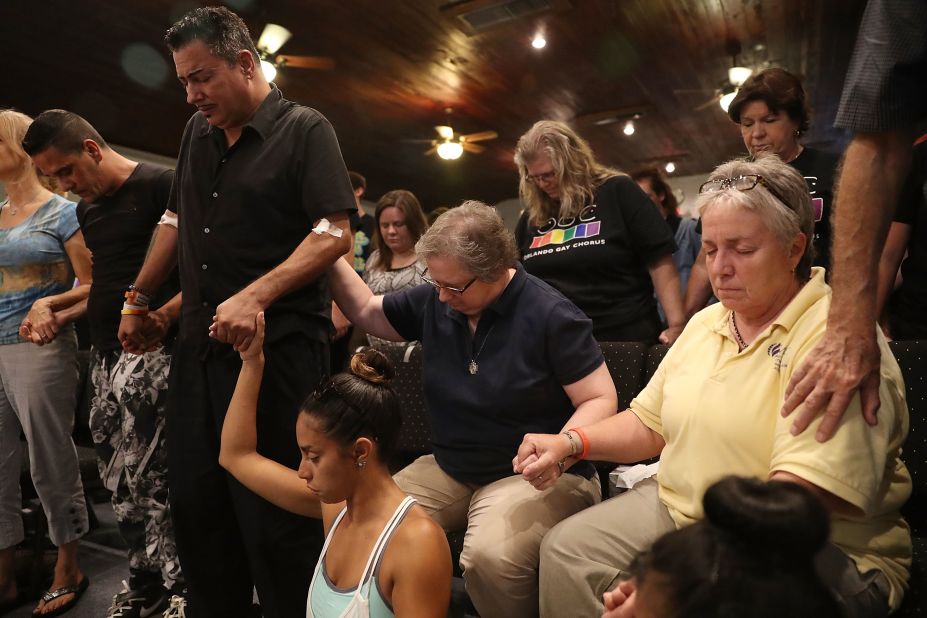 World reacts to Orlando attack
'This is Orlando'
In Orlando, people grappled with the magnitude of the horror: One man armed with an assault rifle and a pistol managed to kill 49 people and wound another 53 inside a gay nightclub.
But there were elements of hope. Susan Forbes, spokesman for the OneBlood bloodbank, said 5,500 units were collected across the state to help the wounded. Blood was collected in Orlando until 4 a.m. Monday, she said.
"People want to help," she said. "This is Orlando. That horrific event is not our city."
The nightclub itself was unapproachable because it's a crime scene, but dozens of bouquets had been left beside the sign of Orlando Regional Medical Center, where many of the wounded were taken.
At the First Unitarian Church of Orlando, free counseling was offered by Two Spirit, a group that works with the local LGBT community. David Baker-Hargrove of Two Spirit said turnout was light so far but he expects that to change.
"Our community is still in shock," he said.
Vigils were held across the world as the names of those killed at the club were released and survivors described the horror of the massacre.
In Paris, a city that knows the pain of terror, half the Eiffel Tower was lit in the colors of the U.S. flag and the other half in the colors of the rainbow flag.
Earlier, officials had said the dead numbered 50, but clarified that they were including the gunman.
Third gun found
Authorities said Mateen entered the club about 2 a.m. Sunday with the guns. After an initial bout of shooting, he engaged in a three-hour hostage situation with police until they finally crashed into the building with an armored vehicle and killed Mateen.
"He was cool and calm when he was making those phone calls to us," Orlando police Chief John Mina said. "We had a team of crisis negotiators that did talk to the suspect just trying to get as much information as possible. … He really wasn't asking for a whole lot. We were doing most of the asking."
The weapons found with the shooter have been identified by investigators as a Sig Sauer AR-15-type assault-style rifle and a Glock 9mm semiautomatic pistol. He legally bought the rifle and pistol in the past couple weeks, authorities said. There's no evidence the Sig Sauer AR-15 assault-style weapon was modified to automatic or burst fire.
In addition, authorities found a .38-caliber Smith & Wesson revolver in the shooter's car that was not used in the attack.
When he bought the guns at a Fort Pierce gun shop, Mateen went through a full background check, said shop owner Ed Henson. Published reports said Mateen tried to purchase body armor, but Henson said his shop doesn't sell that product.
Law enforcement officials also said Mateen spent several hours Saturday at Disney Springs – the shopping and entertainment complex inside the Walt Disney World Resort – prior to the attack, according to cell phone tower data. Mateen is believed to have been alone during that period, according to the officials.
Chris Callen, a performer who'd worked at Pulse, told CNN's Anderson Cooper he'd seen Mateen a couple times at the nightclub.
Callen said he once he introduced himself and Mateen was "very friendly" and that he seemed comfortable there. Callen estimated he'd come to to the club two times a month for a period of three years.
Four regular patrons at Pulse also told the Orlando Sentinel they had seen Omar Mateen there before. In interviews with the newspaper, they said that he'd been there multiple times.
Prior visits to Pulse are a line of inquiry investigators are pursuing, sources involved in the investigation told CNN's Jim Scuitto and Evan Perez.
Looking for terror links
The security company that hired Mateen said it conducted background checks in 2007 and again in 2013. G4S says the background check also included a psychological evaluation called the Minnesota Multiphasic Personality Inventory. The company said he worked security at a gated community.
ISIS sympathizers have reacted by praising the attack on pro-ISIS forums, while the official online ISIS radio channel, Al-Bayan, described it as a "raid on a Crusader gathering" carried out by "one of the Caliphate's soldiers in America."
During the standoff, Mateen called 911 to pledge allegiance to ISIS. He also mentioned the Boston Marathon bombers.
But that's confusing because Mateen also claimed connections to other extremists groups, some of which are considered enemies and rivals of ISIS, Comey said.
FBI agents first interviewed Mateen in 2013 after co-workers reported he'd made "inflammatory and contradictory" comments about terrorism. He admitted making the remarks but said he was angry because his co-workers were teasing him because he was Muslim, Comey said.
Two months later, in July 2014, investigated a Florida man who'd blown himself up in Syria in support of al Nusra Front, an al Qaeda affiliate also considered an ISIS rival. The suicide bomber knew Mateen, investigators discovered, but those ties were not of "any consequence," Comey said.
Trapped in the club
Survivors of the attack shared their stories.
One person hiding in the bathroom covered herself with bodies for protection. Some entertainers hid in a dressing room when the shooting started and escaped the building by crawling out when police removed the air conditioning unit.
People trapped inside the club desperately called and messaged friends and relatives. Some clubgoers said they thought they were going to die.
Timeline of Orlando nightclub shooting
The city of Orlando is posting names of the deceased on a website after family members have been notified. The youngest person among those who have been named was Akyra Murray, 18.
Eliott McLaughlin reported from Orlando. CNN's Paul Cruickshank, Faith Karimi, Catherine E. Shoichet, John Couwels, Joe Sutton, Vivian Kuo, Deborah Bloom, Pamela Brown, Evan Perez, Shimon Prokupecz, MaryLynn Ryan, Ralph Ellis, Tiffany Ap, and Joe Sterling contributed to this report.