Story highlights
Ronaldo to lead Portugal at Euro 2016
Yet to win senior international honors
Will be 33 by time of 2018 World Cup
Helped Real win 2016 Champions League
Cristiano Ronaldo is not just a soccer player – he's an icon, a global marketing phenomenon, the highest-paid athlete on the planet, and the face of one of the game's most famous clubs.
The first sports star to have 200 million followers across social media, including Twitter, Facebook and Instagram, Ronaldo is out on his own when it comes to pushing his way to the top.
According to Forbes, he has earned $88 million over the past 12 months – $56 million of that coming through his salary and bonuses at Real Madrid, with $32 million courtesy of numerous endorsements.
He's become quite the brand … there is the CR7 clothing line, his own personal fragrance, his hotel range, his headphones – and that's before his $20 million a year deal with boot provider Nike.
On the field, he's also doing the business.
He's the all-time leading goalscorer for Real Madrid, has scored more Champions League goals than anyone else in history, and is Portugal's leading marksman too.
Add his three Champions League winner's medals, four domestic league titles in Spain and England and three FIFA Ballon d'Or awards, and it's easy to see why he's one of the most famous men on the the planet.
Ice baths
"Cristiano Ronaldo is so successful because he is really serious, really professional," his former Real manager Carlo Ancelotti told CNN.
"Usually when we got back at 3 a.m. from away games, instead of going to bed he would take an ice bath."
Read: Ronaldo puts Portugal in Euro 2016 final
Ronaldo's work rate and desire to improve is frequently mentioned by those who have worked with the player in the past. His undoubted ability and match-winning moments have gained him millions of fans across the world.
And yet, for all his success, his countless trophies and goals, he continues to divide popular opinion. While few doubt Ronaldo's talent, his perceived arrogance and vanity rankles with some football fans.
The ripped torso, the shirtless posing and the manicured image have given his critics plenty of ammunition in maintaining their argument that he is one of the most self-absorbed players on the planet.
After the player released his own film, a documentary detailing his life, Guardian journalist Daniel Taylor came to the conclusion that the finished product was so vain "it is difficult not to come away with the feeling that Ronaldo must shout his own name during sex."
His teammates, though, describe an athlete who is dedicated to his profession.
"He's one of those players who polarizes opinion," Owen Hargreaves, who played alongside Ronaldo at Manchester United, told CNN.
"Everybody loved him as a teammate and I think people misunderstood his body language because he was the ultimate competitor.
"People underestimate his work ethic and determination. As much as everyone thinks it's all about him, he got there because he pushed himself."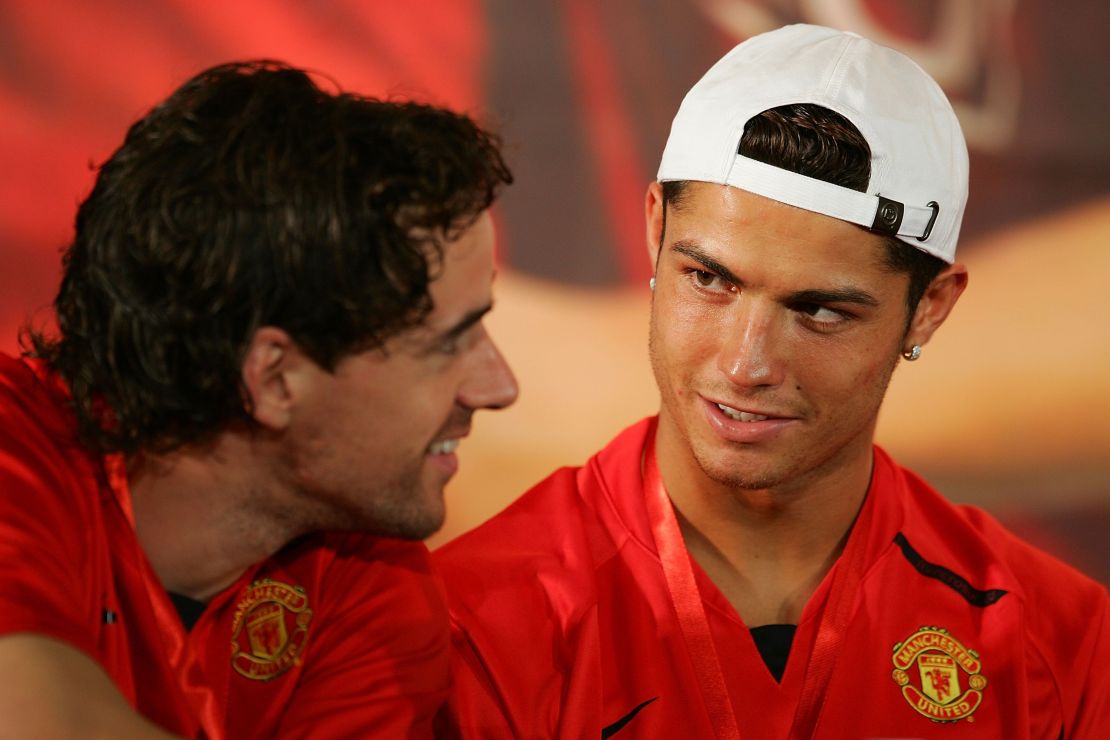 Last chance?
Euro 2016 may prove the final opportunity for Ronaldo to add international honors to the club success he has enjoyed.
It is easy to forget that the once straggly teenager is now 31 – he has played international football for the past 13 years.
Runner-up on home soil in Euro 2004, yet more disappointment ensued eight years later.
Portugal arrived at this year's finals in hope rather than expectation, but has reached the title match against France on Sunday despite only qualifying for the knockout rounds as one of the four third-placed group teams.
A lot of that is down to Ronaldo, who equaled Michel Platini's record of scoring nine career goals at the Euros when he netted the opener in the semifinal win over Wales – and also provided an assist for Portugal's other.
Ronaldo gives Syrian migrant's son a special moment
"There's a World Cup in two years' time and by then Ronaldo will be 33 and one step closer to retirement by normal standards," Pedro Candeias, football writer with Portugal's Expresso newspaper, told CNN.
"But Ronaldo is abnormal, and probably will continue to play until he is 35 or 36.
"Having said that, winning a Euro is sometimes easier than winning a World Cup – particularly this tournament, which has 24 teams and many of them with no experience and some with less quality."
Candeias describes Ronaldo as Portugal's biggest asset – "he's our Rambo, our Rocky."
"Yes, sometimes we tend to criticize Ronaldo and his big, huge ego, and, yes, sometimes we like to laugh of his tantrums – but that's all," he said.
"In no way can we say that he's unsuccessful. Three Ballon d'Or trophies, three Champions League wins are indisputable facts."
Starting out
This month, the Cristiano Ronaldo museum on his home island of Madeira will move to a new site – there simply isn't enough space for all his trophies any longer.
Over 200,000 people a year are estimated to have visited the exhibition, which pays homage to Ronaldo's career.
It is, for the locals in Funchal, a place of pride – and even those who knew Ronaldo when he first began kicking a ball can scarcely believe the life he has made for himself.
"We knew he was a special player straight away," Rui Alves, president of C.D. Nacional, one of the island's professional clubs, told CNN.
"I remember awarding him a medal for winning the league – and we knew then that he was going on to something great.
"Even now, he still comes back to see us when he's in Madeira. He has given all the children at the club lots of motivation because they have seen what he has achieved and it's an amazing story."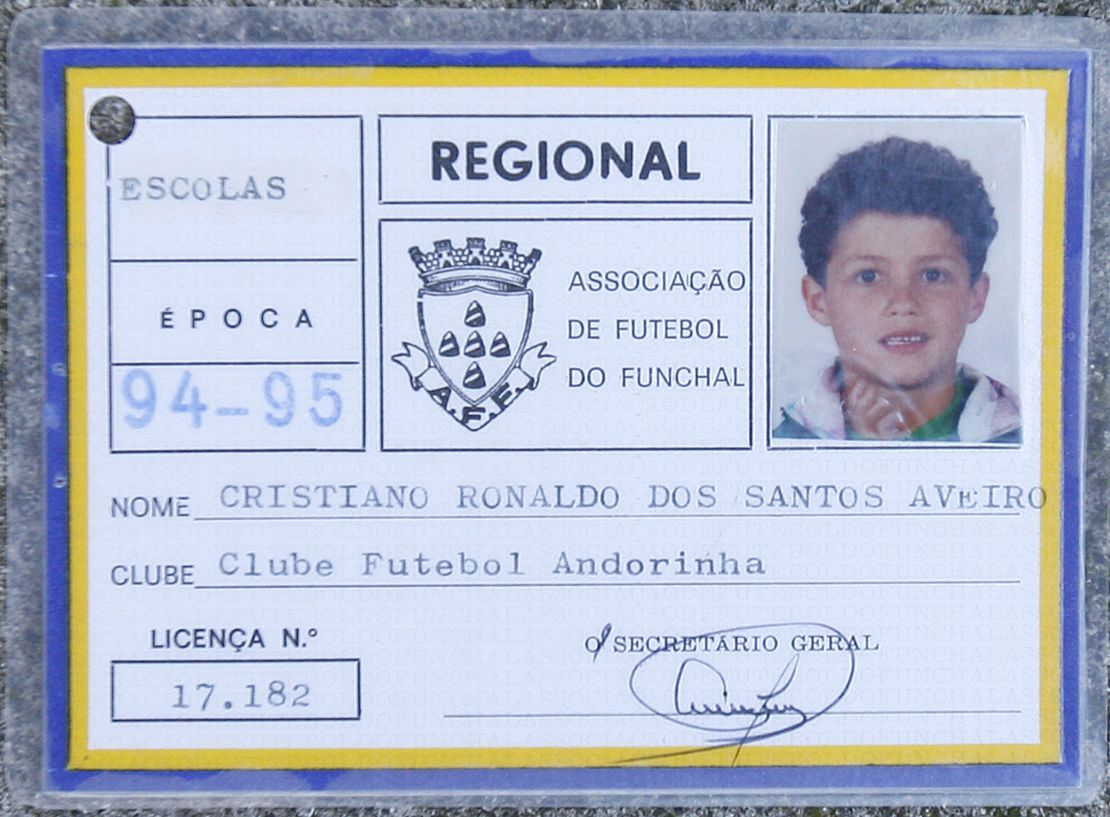 Ronaldo joined Nacional after impressing at amateur club Andorinha, where his father Jose Dinas worked as the kit man.
Even as a seven-year old he possessed quick feet, exceptional control and a hatred of losing – he was known to cry if his team did not win, a habit that led to him being nicknamed "chora" or "cry baby" by his teammates.
Not that it detracted from his talent – the word had already got out about the boy at Nacional.
Sporting chance
At Alcochete, the home of Sporting Lisbon's academy, one of the finest in Europe, they could barely believe their eyes when Ronaldo took part in a three-day trial.
"I remember Ronaldo coming to us for his trial – he had exceptional talent with the ball – he had everything," Aurelio Pereira, who led the club's academy and recruitment program, told CNN.
"He arrived at Sporting not knowing anybody, but he had this great personality and he was soon telling everyone else what to do. He was the boss," the 68-year old added.
But the transition from Madeira to Lisbon wasn't easy for Ronaldo, who moved to the mainland aged 12.
He missed his family – his father was battling alcoholism – while he was often teased by his teammates for his accent.
Not that there was any teasing when he had the ball at his feet.
"It was difficult for me to say that he would go on to become one of the best in the world when I first saw him, but I could tell he was going to be amazing," Pereira said.
"He was different to the other players – he had something else. I think it was in 2004 that I finally began to think that he would become the best in the world."
In more than 40 years at the club, Pereira has helped Sporting unearth some of Portugal's most talented players.
He watches Ronaldo's games on television like a proud grandfather, and the two men share phone calls on a regular basis.
"We spoke just last week," Pereira said. "I watched the Champions League final and he showed the same kind of responsibility for Real that he did as a youngster.
"His personality shone through in the way he took the penalty in the shootout – he always wanted to take responsibility."
Ronaldo scored twice on his first-team debut at the age of 17 and was soon attracting the attention of Europe's biggest clubs.
In August 2003 his big break came – a $17 million transfer to Manchester United.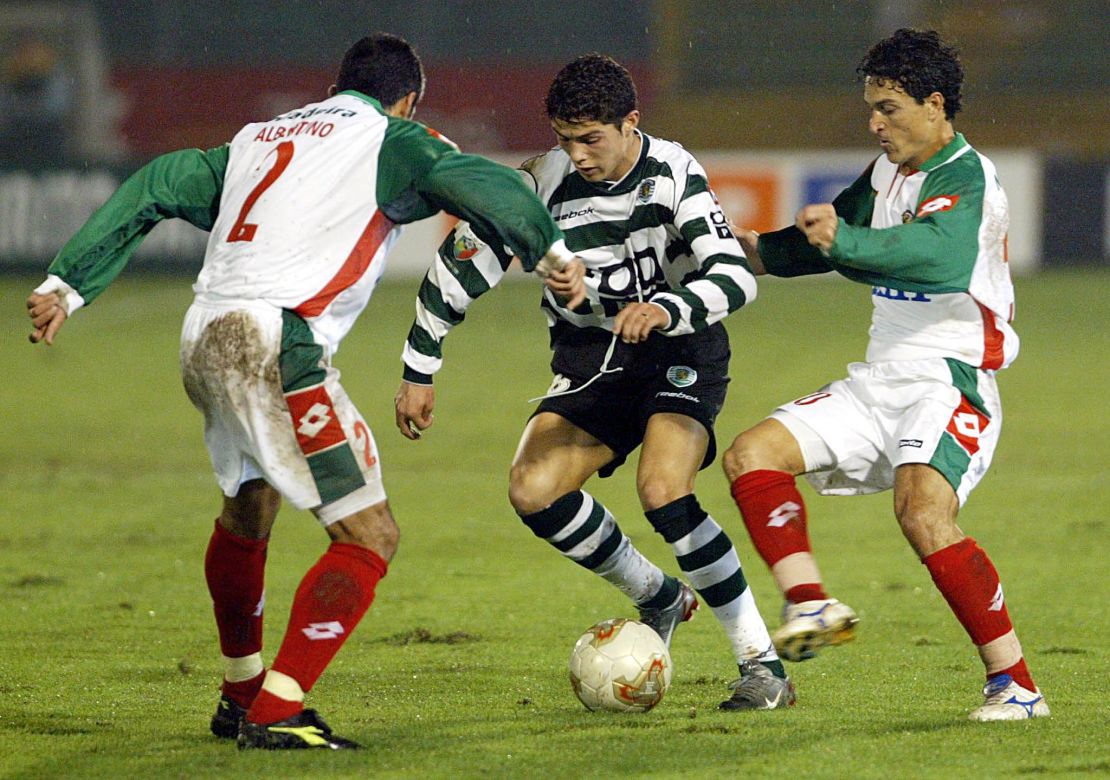 Big break
Days before the move for the gangly teenager with his blonde tinted highlights was confirmed, the English club had played against Ronaldo and Sporting in Lisbon – a preseason friendly in which the teenager scored twice as the host team won 3-1.
"I remember that game," Rene Meulensteen, who worked with the player at United, told CNN.
"He was playing so well, so much so that the players said to Alex Ferguson, 'Don't leave without signing him.'"
Meulensteen, one of Ferguson's assistant coaches, recalls meeting a young man with "huge potential" and someone who had "unconditional" belief in himself even as a teenager.
"Cristiano was always prepared to do extra work – he had a top attitude," the Dutchman recalled.
"A lot of the time he would do things on his own for 30-45 minutes after training. He would work on his free kicks, skills, whatever else.
"I spent a lot of that time with him and that's when we had really good quality contact time because there was nobody else around."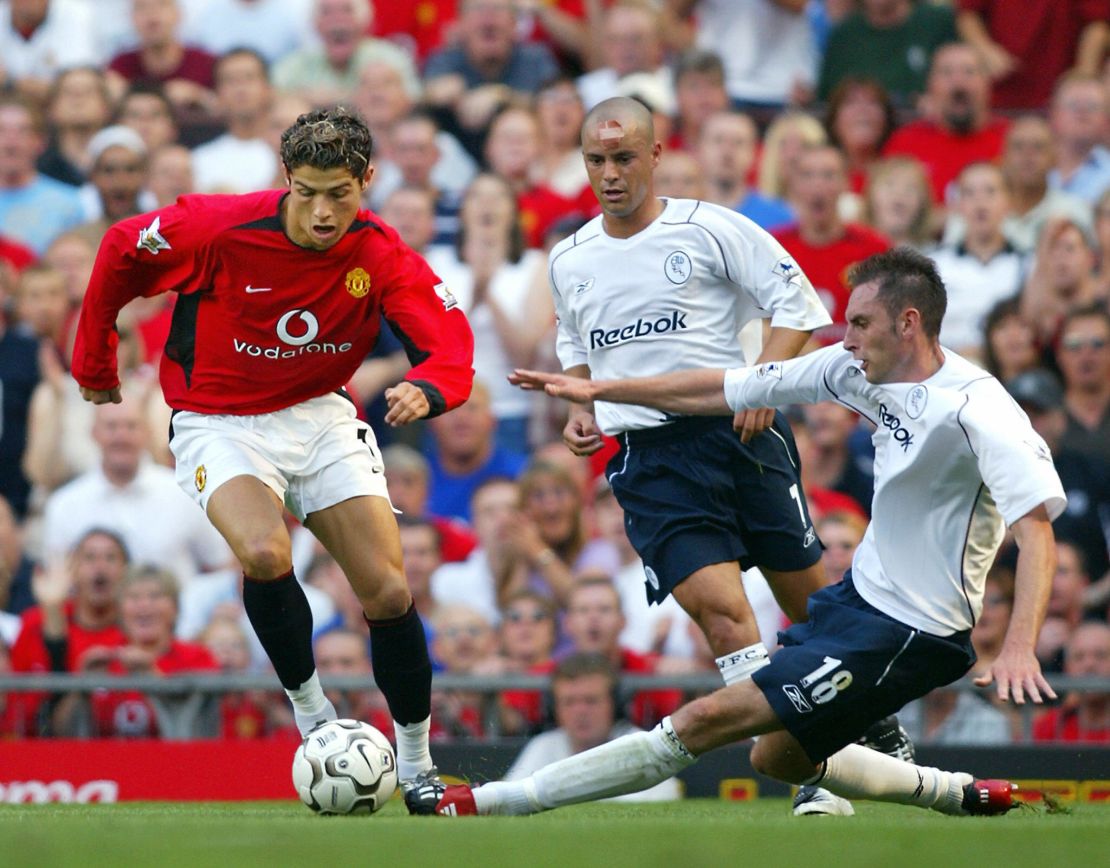 Ronaldo spent hours improving his finishing – work that has paid huge dividends.
He would go on to score 118 goals in 292 appearances for the club, winning three Premier League titles, before moving to Real in 2009 for a world-record fee of £80 million (then worth $130 million).
At Real he has set record after record – scoring more than 50 goals in each of the past six seasons.
"Ronaldo could score a goal but he wasn't a goalscorer," Meulensteen said of the player's time at United.
"Cristiano always wanted to score the perfect goal – but goalscorers score all sorts of goals and score as many as they can.
"In the history of the United we've seen that with Dwight Yorke, Andy Cole, Ruud van Nistelrooy and Ole Gunnar Solskjaer.
"I showed him quite a few clips of those players and made him try to realize and understand what their style of finishing was, and if you could identify that then it would be easy to add that to his game as well.
"With that we talked a lot about setting targets and aims."
Real deal
Those targets and aims kept shifting – especially after Ronaldo's astonishing 2007-08 campaign, in which he scored 42 goals and helped United win the Champions League.
His form was such that United was by now struggling to keep hold of the player, with Real Madrid determined to lure him to the Spanish capital.
Real had already angered United with its pursuit of the player. Ferguson famously quipped, "I wouldn't even sell them a virus," after being asked if he would let Ronaldo to leave.
But move he did in July 2009, in a deal which took an already cosmic player into the arms of club that styles itself as a natural home for "Galacticos."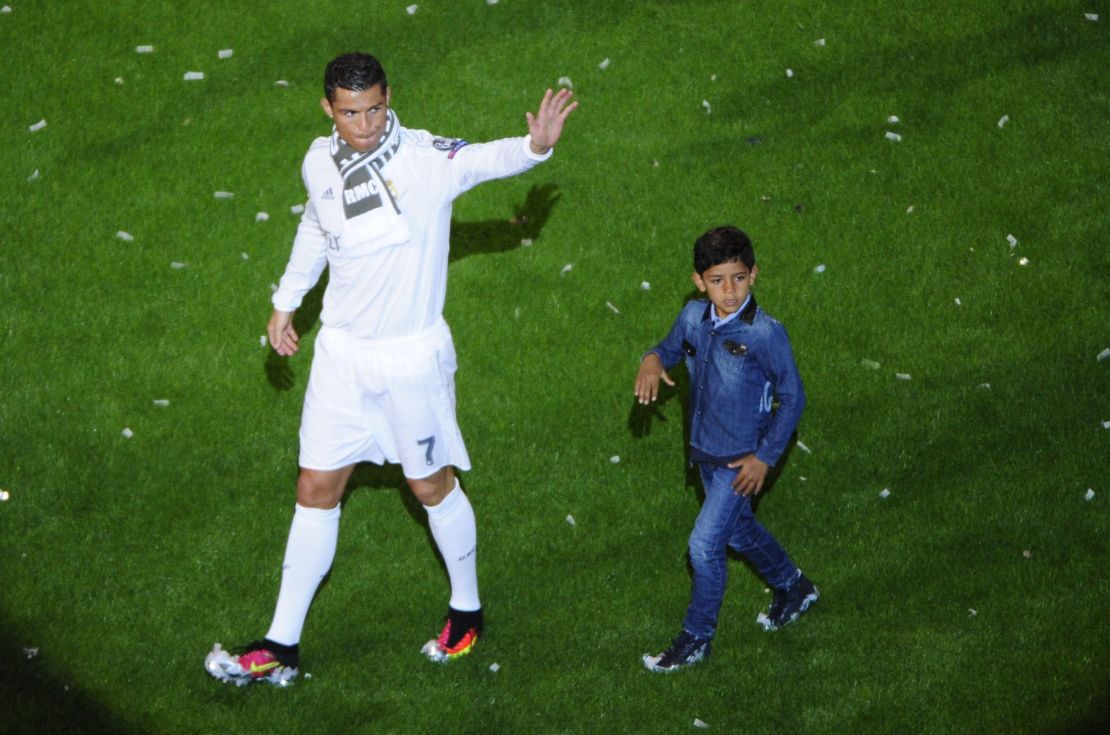 Ronaldo's time in Spain has been marked by his duel with Lionel Messi, who plays for Real's great rival Barcelona, and the two men have taken football to heights that few had ever thought possible.
Ronaldo has made himself at home in Madrid – his mother Dolores arrived to live with him and his son, Cristiano Jr.
"The thing about Ronaldo is that he has everything," Hargreaves said. "You look at other great players over the past 10 years like Xavi, Andres Iniesta and Zinedine Zidane, all wonderful players, but Cristiano has every single ingredient.
"He is blessed. He can beat you in so many different ways, whether it's by sprinting by you, beating you in the air, getting in behind you – he has it all."
Portugal awaits
In Funchal and across Portugal, all hopes will be pinned on the man who last season scored 51 goals for Real and led the club to a record-extending 11th European title.
He will have a supporting cast of young pretenders, including Bayern Munich's new signing Renato Sanches, an 18-year-old midfielder of vast potential who has made a big impression at Euro 2016.
Joao Mario of Sporting and Valencia's Andre Gomes are both exciting midfield players, while William Carvalho has long been admired by English Premier League clubs.
"Portugal is not a one-man team," national coach Fernando Santos said before last month's friendly game against England.
But even when his talisman is not physically present, Santos still finds himself doing what he does most of the time – talking about Ronaldo.
"He is really motivated," Santos told reporters.
"He was extremely motivated to win the Champions League and he is even more so now because the European title is his ambition. He is ready to take Portugal to such an important success."
Should Portugal succeed, then Santos may find himself having to speak about Ronaldo not just for a day – but for the rest of his life.
Have your say on CNN FC's Facebook page
Keep up to date with all the latest from Euro 2016 on CNN
Ronaldo? Zlatan? The A to Zs of Euro 2016