Story highlights
GiGi's Playhouse has grown to more than 30 educational centers
After her daughter was born with Down syndrome, Nancy Gianni knew other families needed help
Hoffman Estates, Illinois
CNN
—
When Nancy Gianni and her husband welcomed their third child in 2002, they expected it to be a joyous occasion.
But their bliss was dampened by unexpected news: Their newborn daughter, GiGi, had Down syndrome.
Gianni immediately noticed the change in attitudes around her.
"Everybody was saying they were sorry. Nobody was having eye contact with us anymore," she said. "(There was) no joy."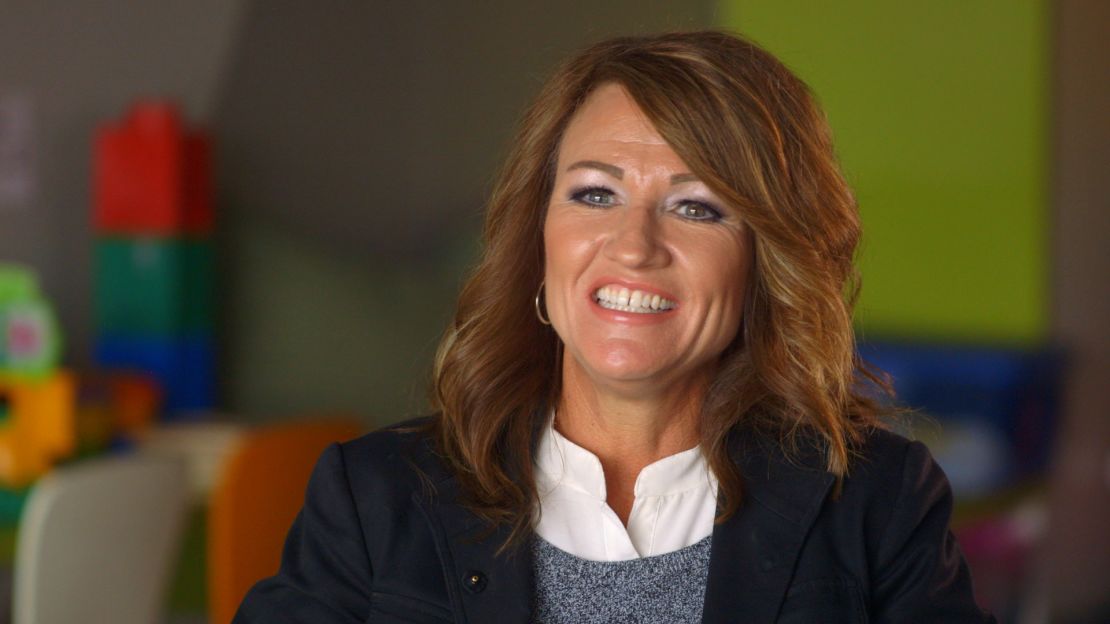 Soon after the couple brought GiGi home, they realized she wasn't all that different from their other children. But they knew she would need some extra support.
So Gianni set out to create a community for families like hers, "a place where people can walk in and celebrate their diagnosis from the minute they find out," she said. "A place to learn, a place to grow."
Today, her nonprofit, GiGi's Playhouse, has grown to a network of more than 30 educational centers across the United States and Mexico. Each location provides a host of free programs ranging from toddler classes to speech therapy – even Zumba workouts.
Since 2003, Gianni's efforts have helped more than 25,000 children and adults with Down syndrome reach their potential.
"I want to show people the beauty in our kids so they can understand that they are so much more than a diagnosis," Gianni said.
CNN's Kathleen Toner spoke with Gianni about her work. Below is an edited version of their conversation.
CNN: What's it like at GiGi's Playhouse?
Nancy Gianni: To come to a place where every other parent is going through the same thing is life-changing. When you walk in the doors at GiGi's, the first thing you get is a hug. You just feel the love. Whether it's a mom with a prenatal diagnosis or a family who just had a really bad experience with bullying, they come in and get re-energized. And for the siblings, it's a place to know they're not alone.
Every single thing that we do has fun, learning and therapy built right into it. We are constantly honing their skills and their muscles, and they're usually having so much fun, they don't even realize that it's happening. There's even developmental skills in blowing bubbles – you're working muscles in your mouth and it helps them with their speech.
CNN Hero Nancy Gianni: A full life
We want our families to reach for the stars every day, and we give them the tools to do that.
CNN: Two years ago, you started offering a new program for adults with Down syndrome.
Gianni: We were seeing a big void in what was being offered to them as far as any type of career, and that's when we started GiGi University.
The philosophy is that you have to take care of yourself from the inside out. A lot of our adults struggle with obesity and low muscle tone, so with the fitness and nutrition piece (of the program), they realize by feeding their body right, by working out, they are going to feel better.
When they finish, they go into an internship in our retail store and café. There, they use their skills – eye contact, greeting a customer – and people are able to look at them as an employee. For the parents of a young child with Down syndrome, to see the adults succeeding is so important.
When you believe in somebody, the outcomes are amazing, and they want more. GiGi's isn't about what happens here; it's about going out into the world and showing what we can do.