Story highlights
Thomas Mair has been charged with the murder of British MP Jo Cox
Police are pursuing reports Mair had ties to right-wing extremism
There's no indication anyone else was involved in Cox's killing, police say
Police have charged 52-year-old Thomas Mair with the brazen killing of British politician Jo Cox.
Investigators are now looking into whether Mair – who is described by neighbors as a loner – had ties to right-wing extremism.
Cox, a member of Britain's Parliament, was killed Thursday in a brazen attack on a street in her district in northern England.
"We have now charged a man with murder, grievous bodily harm, possession of a firearm with intent to commit an indictable offence and possession of an offensive weapon," West Yorkshire Police's Detective Superintendent Nick Wallen said.
Mair will appear in London's Westminster Magistrates Court on Saturday.
Details have begun to emerge about Mair, who has subscribed in the past to publications by white supremacist and pro-apartheid groups.
Cox was stabbed and shot in Birstall after a meeting with her constituents in an attack that has shocked a nation known for its strict gun laws.
A local official briefed by police told CNN that a gunman "lay in wait" for Cox.
A 77-year-old man, who intervened to help Cox, also "sustained a serious injury to his abdomen," police said. He's stable but remains in the hospital.
Cox, a 41-year-old mother of two, was an avid campaigner for the rights of refugees. Her death comes a week before the so-called Brexit, a crucial referendum on whether Britain should stay in the European Union, and she was an open supporter of remaining in the bloc.
The killing has muted the tone of public discussions over the referendum, which has focused heavily on immigration. It put the brakes on official campaigning, with both sides suspending activities out of respect for Cox, just as they had begun to ratchet up their arguments in the final leg of the race. The BBC canceled a TV debate on the referendum scheduled for Friday night.
The pro-Brexit campaign called off major events for Saturday, including a big rally planned in Birmingham, Robert Oxley, a spokesman for Vote Leave, told CNN. More low-key campaigning, mainly passing out leaflets, may go ahead, he said.
Ties to white supremacist group cited
West Yorkshire police confirmed that investigators are pursuing reports that Mair had links to right-wing extremism, "which police called a "priority line of enquiry which will help us establish the motive for the attack on Jo."
"This appears to be an isolated, but targeted attack upon Jo," police said in a statement. "There is also no indication at this stage that anyone else was involved in the attack."
Police said they will investigate how the suspect was able to have an unlawfully held firearm.
They are also looking into the suspect's mental health.
Mair's brother, Scott, told the SUN Newspaper that Mair had a "history of mental illness, but he has had help," and that his brother was neither violent nor political.
Police, meanwhile, said in a statement: "We are aware of the speculation within the media in respect of the suspect's link to mental health services and this is a clear line of enquiry which we are pursuing."
Forensic officers were seen at Mair's house in a quiet neighborhood that's a 15-minute walk from where Cox was killed.
The U.S.-based Southern Poverty Law Center has published what it says are documents showing that Mair has a history of purchasing material from the National Alliance white supremacist organization based in the United States.
The center released copies of receipts and a 2013 subscription to the National Alliance's publication National Vanguard as well as receipts from 1999 showing purchases for neo-Nazi book "Ich Kampfe," the "Improvised Munitions Handbook" and other books.
Mair also subscribed to a pro-apartheid group's magazine in the 1980s.
"A Mr. Thomas A. Mair from Batley in Yorkshire subscribed to our magazine S.A. Patriot when we were still published in South Africa itself," magazine editor A.D. Harvey told CNN, adding the publication had "no further contact with him" after brief correspondence in the mid-1980s.
"We were of course appalled and sickened to learn of the murder yesterday, of Ms. Jo Cox," Harvey said.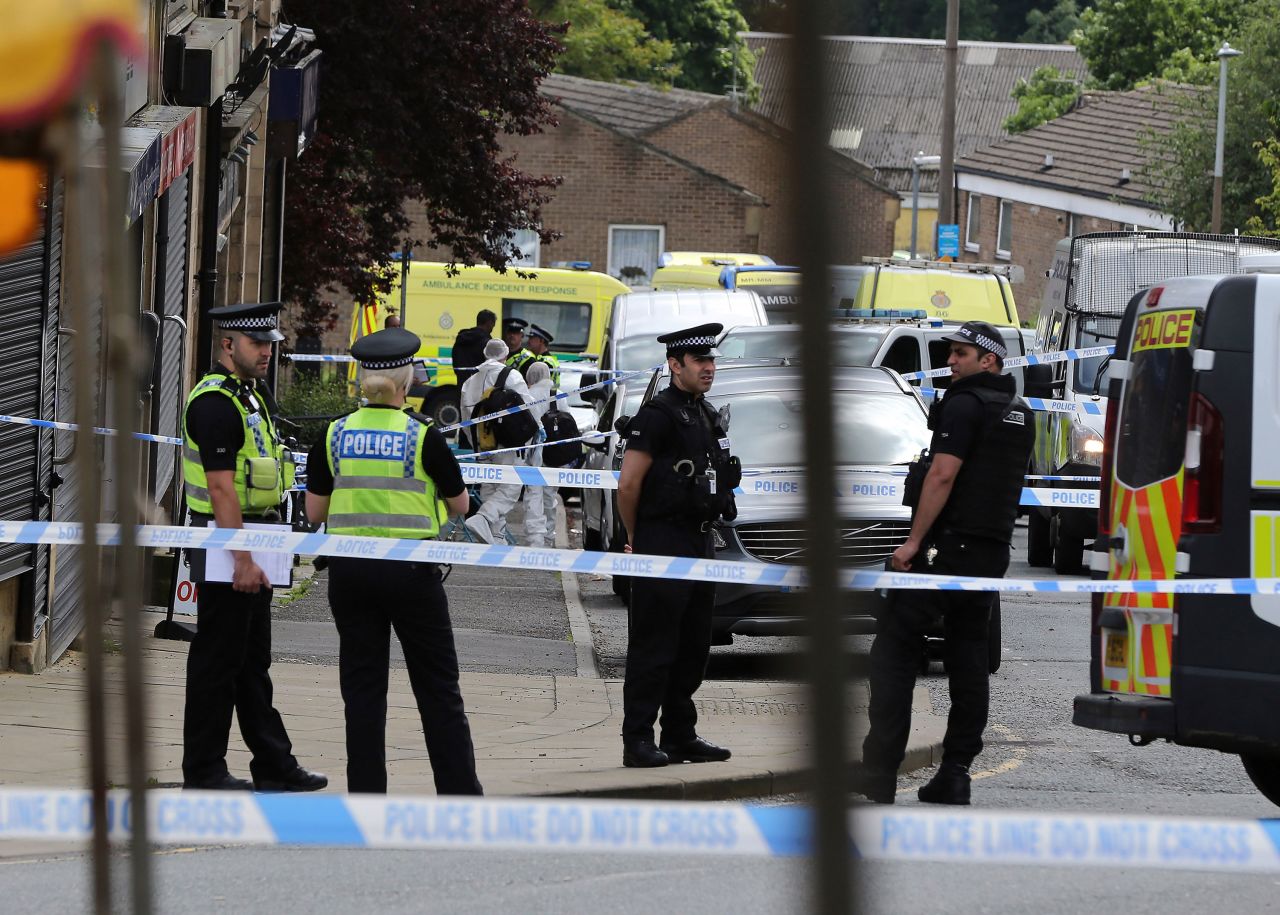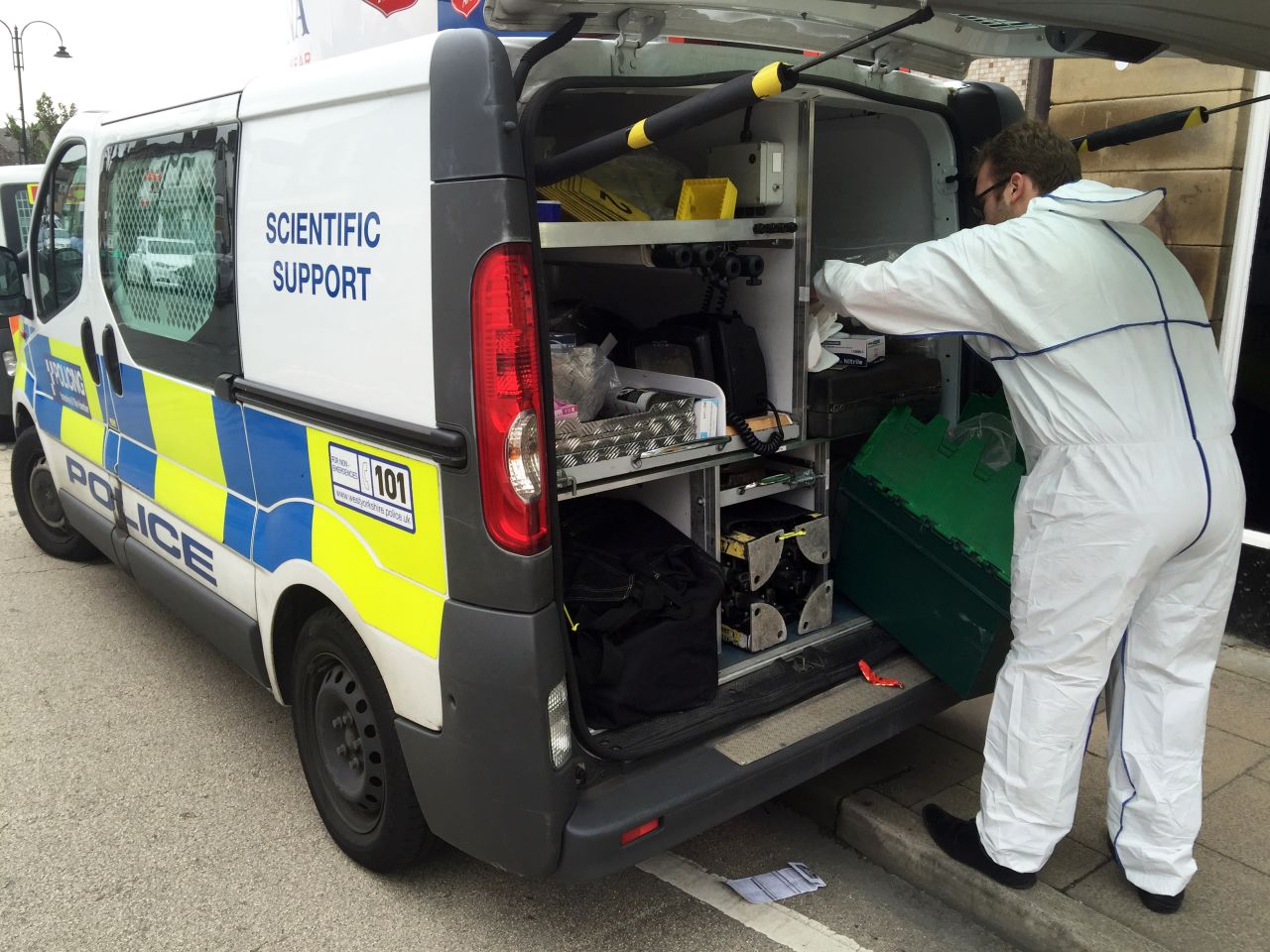 British politician killed in attack
Neighbors describe Mair as a loner and a "quiet" man who tended their gardens and showed no particular political leanings. He kept to himself most of the time, but he engaged in conversations with neighbors when they spoke to him, they said.
Mair had lived in the house for a long time, one neighbor said. She didn't believe he had a regular job and saw him around at odd hours.
Weapons, including a firearm, were recovered at the scene of the killing, West Yorkshire police Chief Constable Dee Collins said.
A half brother, Duane St Louis, told ITV News he'd never seen any sign that Mair had an interest in knives or guns, and said he had "never been in trouble" and "wouldn't hurt a fly."
'Put Britain first' reportedly shouted
In a nation with tightly controlled gun laws and low homicides linked to weapons, Cox's attack was especially jarring.
Witness Clarke Rothwell, who runs a cafe near the crime scene, said the gunman yelled something before he shot Cox three times, the Press Association reported.
"He was shouting 'Put Britain first.' He shouted it about two or three times. He said it before he shot her and after he shot her," Rothwell said.
Britain First, a fringe nationalist political party that wants the nation to leave the EU, denied any connection to the attack following reports of the assailant's comments.
In a statement, it said the party "would never encourage behavior of this sort."
Witness Hithem Ben-Abdallah said he saw the killing. He saw a man trying to stab Cox and another man attempting to intervene, he told CNN. He and some others at first thought the two men had a dispute.
"We heard the people screaming, women screaming and everything. … We went toward the gunman, and the man still tried to restrain him," Ben-Abdallah said.
He then saw the attacker pull out a gun.
"(It was) vintage, antique sort of, altered, a makeshift weapon to be made operational," he said.
"He cocked it and (shook) it, and tried to lodge the bullet inside, and then he fired. … Everyone dispersed," he said.
Ben-Abdallah went into a restaurant briefly to take cover and then heard a second shot. He ran back out shortly afterward.
"I saw Jo (lying) on the floor," he said.
Britain mourns
On Friday afternoon, Cameron and opposition Labour leader Jeremy Corbyn united to pay respects to Cox, attending a memorial service in the heart of Birstall.
Both men laid flowers in front of a crowd amid a heavy police presence.
Cameron said the killing was a reminder for the British people to "value and see as precious the democracy that we have on these islands."
"We do have peace, we do have stability, we do have a measure of economic well- being better than other countries … and it's all underpinned by tolerance," he said.
"So where we see hatred, where we find division, where we see intolerance we must drive it out of our politics, out of our public life and out of our communities," he said.
"And if we truly want to honor Jo, then what we should do is recognize that her values – service, community, tolerance – the values she lived by and worked by, those are the values that we need to redouble in our national life in the months and years to come."
Corbyn described the killing as "an attack on democracy."
"It's a tragedy beyond tragedy, what has happened yesterday," he said.
Corbyn said he had requested that Parliament be recalled from a recess to pay tribute to Cox on Monday, and it had been granted.
London Mayor Sadiq Khan had earlier said Cox "made more impact than others make in a whole parliamentary career" during her year in Parliament.
"Everyone who met Jo knew she was special. I knew her from her time as a fearless campaigner working on behalf of some of the world's poorest and most marginalized people," he wrote.
Security concerns
Attacks against British politicians are so rare, lawmakers at Cox's level are usually not accompanied by a security detail.
The killing has raised questions over whether more can be done to protect members of Parliament, more than half of whom say they have been stalked or harassed, according to the Journal of Forensic Psychiatry & Psychology.
Of 239 lawmakers surveyed, 53% said they had been stalked or harassed, 81% said they experienced "intrusive or aggressive behaviors," and 18% said they had been attacked or subjected to attempted attack, the journal reported in January.
Younger and newer lawmakers were more likely to be stalked, but more serious incidents were associated with senior politicians.
Passionate campaign
During the heated campaign leading up to a June 23 referendum on the EU, member of Parliament have been subjected to public ire, many accused of lying and making up arguments.
For now, that has all come to a halt.
"It's right that all campaigning has been stopped after the terrible attack on Jo Cox," the Prime Minister tweeted Thursday.
Cox championed for the rights of immigrants, saying leaving the EU would not reduce the number of refugees coming to Britain. She was particularly vocal about Syrian child refugees, playing a part in the government's decision to allow a group of them into the country.
In one of Cox's last posts on social media, she said while immigration "is a legitimate concern," it's not a good reason for Britain to leave the EU.
Fellow Labour lawmaker Mike Gapes described Cox as a rising star in the party.
"She's had a big impact already," he said. "She's been one of the most outspoken people calling for more to be done to stop barrel bombing in Syria and to get humanitarian corridors to help for the refugees from Syria."
Nation mourns
The MP's husband, Brendan Cox, said her killing marked the "beginning of a new chapter in our lives."
"More difficult, more painful, less joyful, less full of love," he said.
"I and Jo's friends and family are going to work every moment of our lives to love and nurture our kids and to fight against the hate that killed Jo."
Slain MP's husband: 'Jo would have no regrets about her life'
Vigils were held in Birstall and in Parliament Square, London, as people gathered to pay tribute to the slain politician.
Tributes from abroad
Democratic presidential candidate Hillary Clinton added to the tributes for Cox.
"This is how we must honor Jo Cox – by rejecting bigotry in all its forms, and instead embracing, as she always did, everything that binds us together," Clinton said in a statement.
The attack bore some similarities to the 2011 shooting of a U.S. congresswoman.
U.S. Rep. Gabby Giffords, then 40, was shot in the head at a "Congress on Your Corner" constituent event outside an Arizona grocery store.
Today's shooting resonated for Giffords and she commented on it in a statement.
"Just like January 8, 2011, did not deter America from its founding ideals, the British principle of pluralism and the nation's democratic institutions will endure," she said in a statement.
German Chancellor Angela Merkel also offered condolences: "The incidence itself was dreadful, dramatic, and our thoughts are with the people that are involved, with the Labour MPs, the politicians in general," she said.
CNN's Amy La Porte, Elaine Ly, Lindsay Isaac, Nic Robertson, Salma Abdelaziz, Vasco Cotovio, Carol Jordan, Milena Veselinovic, Alison Daye, Richard Allen Greene, Holly Yan, Samantha Beech and Livvy Doherty contributed to this report.