Story highlights
The attackers were apparently angry fans were drinking during Ramadan
There were no serious injuries
A group of men attacked fans at a Radiohead listening party Friday in Istanbul, apparently angry the fans were drinking during the Islamic holy month of Ramadan.
Amateur video – reported to have been live-streamed on Periscope – appears to have captured the incident. In the video, the unidentified attackers enter the store shouting "close it, close it down" aggressively as attendees were listening to Radiohead's newly launched album "A Moon Shaped Pool."
The video shows the assailants, thought to be from the neighborhood, roughly removing one person from the store. After a few moments of yelling outside the shop, one of the attackers in a white shirt is seen returning and shouting at the remaining handful of people to get out of the store.
He knocks over a beer can and then, still shouting, flings a stool outside. Continuing to curse, he yells, "Are you not ashamed doing this in Ramadan?"
The lights of the store are turned off and voices can be heard in the street shouting, "I'll kill you" and "I will burn you alive inside."
That last part harkens back to one of Turkey's deadliest attacks, in which 35 intellectuals were burned alive by an Islamist mob in 1993.
Ramadan for non-Muslims: An etiquette guide
Band condemns violence
Fans gathered at record stores around the globe Friday for a day dedicated to the band's first album in five years. The Velvet Indieground record store – in the Firuzaga neighborhood of Beyoglu district, the heart of Istanbul's culture scene – was the sole Turkish venue to host an event.
"Our hearts go out to those attacked tonight at Velvet IndieGround in Istanbul," Radiohead said in a statement. "We hope that someday we will be able to look back on such acts of violent intolerance as things of the ancient past. For now, we can only offer our fans in Istanbul our love and support."
It was a calm event with people sitting outside in small groups chatting and drinking beer when the attackers came, according to an eyewitness who spoke to several Turkish news agencies.
"All of a sudden bottles were being thrown on us by some men, glass bottles. They were throwing glass bottles at people's heads," the eyewitness said.
While there were no serious injuries, one attendee was struck on the head and required medical attention.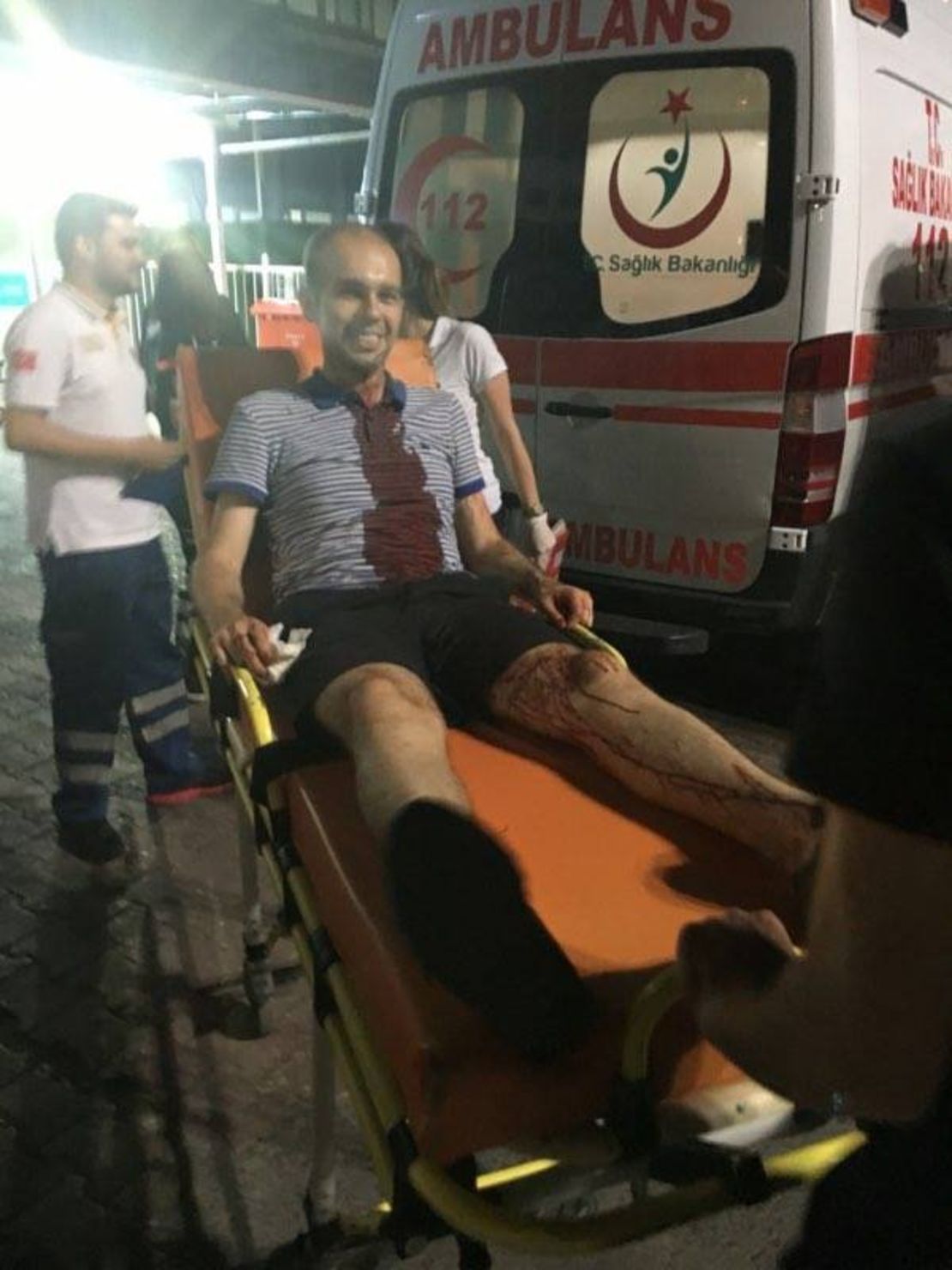 The injured man told CNN he was hit with a bottle but that the amount of blood made the injury seem worse than it was. He visited a local hospital and received stitches.
Turkey's downward spiral: How did it get here?
Beyoglu mayor, who is from the conservative Muslim ruling party AKP, condemned the attack.
"As with all acts that contain violence, the events in Firuzaga cannot be condoned. I condemn it," Misbah Demircan wrote on Twitter.
"The provocation, the recording being made in the shop, relating the acts with fasting and lifestyle and servicing it is a planned plot against social peace," he wrote, saying the situation is now a police matter.
Local media reported police are investigating but no arrests have been made.
A growing trend
The attack has had a chilling effect in secular circles, where it is seen as a part of a growing trend of Islamist threats on liberties.
Nationalist Islamist youth groups have threatened gay and trans pride parades. A Nationalist Muslim youth group issued a severely worded statement against the 13th Gay Pride Parade in Istanbul, scheduled for next week.
"We are warning you in advance we are not responsible for what happens after this," the statement read. The ultra-nationalist Islamist youth group added they will do whatever it takes to stop the parade from taking place during Ramadan.
Another group called the Anatolian Muslim Youth made a call to supporters saying "we are duty bound to stop the deviancy, we are waiting for you."
The Istanbul governorship issued a statement banning the parade, citing security reasons. Last year the parade was banned, and police dispersed crowds using tear gas and water cannons.
Turkey is struggling with plummeting tourism amid fears of terrorist attacks by ISIS and attacks by the Kurdistan Workers' Party.