Story highlights
Lam Wing-kee was kept in solitary confinement and contemplated suicide
He says his interrogators focused on two books about President Xi Jinping
Colleagues have challenged Lam's version of events, calling him dishonest
It took three cigarettes for Hong Kong book seller Lam Wing-kee to make his bombshell decision to defy China and tell the story of his alleged abduction.
Lam returned to Hong Kong last week after going missing in October 2015 – four of his colleagues mysteriously disappeared around the same time – only to resurface months later in Chinese custody.
Authorities had allowed him to visit to Hong Kong on a one-day release and only on the condition he retrieve evidence and come back to China.
But they miscalculated.
"I was only going to smoke one (cigarette) but then I thought about it," Lam told CNN in an interview.
"It wasn't just about the bookstore. It was about Hong Kong. "
He was standing outside a convenience store in Kowloon Tong, not far from where trains depart every few minutes for the border with mainland China, with a hard disk containing customer names – what his alleged captors had asked for.
After smoking two more cigarettes, he decided not to board the train, but instead to go public with his explosive tale.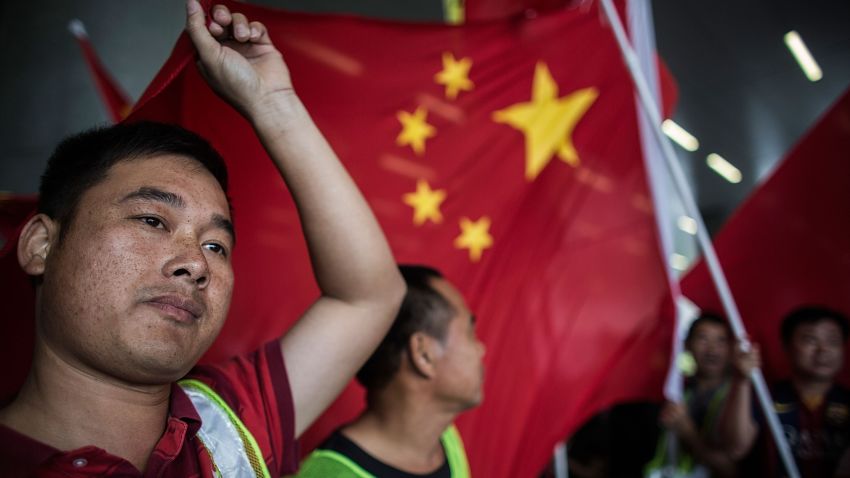 Hong Kong: Fears of losing freedom
Outrage
Lam said he'd been taken by "special forces" as he crossed the Lo Wu border checkpoint on October 24. He was blindfolded and handcuffed before being driven thousands of miles to a detention center in Ningbo, near Shanghai.
There, he was kept in solitary confinement for for five months and was so depressed he contemplated suicide.
"There were twelve people that were divided into two groups. And they took turns keeping an eye on me 24/7.
"Their prevention methods were very well thought out. Even if I wanted to take off my long pants, hang them up somewhere to commit suicide, I wouldn't be able to do it.
He was later kept under house arrest.
Lam's revelations have shaken up Hong Kong.
More than a thousand people took to the streets in weekend protests outraged that Hong Kongers could be taken against their will and detained for months without charge by Beijing authorities.
They've also prompted the Hong Kong government to make a public response.
The city is guaranteed special freedoms under a policy called one country, two systems but many think these freedoms are being eroded.
Hong Kong's missing booksellers
Banned books
All five of the booksellers were involved with publisher Mighty Current and its shop Causeway Bay Books, which sold gossipy titles about China's elite. Lam founded Causeway Bay books before selling it to Mighty Current and had stayed on as manager.
Lam said his interrogators focused on two books published by Mighty Current – both about Chinese President Xi Jinping.
One – "Xi Jinping: Dream to rule for 20 years" – claimed Xi planned to stay in power for much longer than the usual 10-year term. The other "Xi Jinping: Seven taboos" was based on a Chinese Communist Party document leaked by journalist Gao Yu.
Appearing on Chinese television February 29, the booksellers claimed to have voluntarily turned themselves in and confessed to illegally distributing books banned in mainland China.
"This confession had a director and a script. It was all provided by them," Lam told CNN.
Three of the booksellers were allowed to return to Hong Kong in March, but Gui Minhai – who holds a Swedish passport – remains missing.
Missing HK bookseller's daughter speaks out
Counter claims
Lam's colleagues and a girlfriend in China have challenged his account of his disappearance in interviews with pro-Beijing newspaper Sing Tao Daily.
Lui Por said there were "no forced convictions" or "scripted interviews" and described Lam as a "dishonest person." Cheung Chi-ping said that he was trying to confuse the public.
A 37-year-old woman surnamed Hu, who claimed she was Lam's girlfriend, described Lam as a liar.
"Using my own experience with the forced confession as an example, it's not done with (the person's) willing participation," Lam told CNN.
Lam does admit he broke bail last week, during what was supposed to be a one-day release from house arrest.
C.Y. Leung, Hong Kong's leader, vowed Monday to write to Beijing to express his concern over Lam's case but Albert Ho, a pro-democracy lawmaker said this was not enough.
"This is utterly disappointing. What Hong Kong people need is not a letter," he told CNN.
Beijing stands by its position that Lam is a Chinese citizen, who violated the law on the mainland.
But for now, this fugitive walks free in Hong Kong – just out of reach of the Chinese authorities.
CNN's Yuli Yang and Shen Lu contributed to this report.