Story highlights
The trip will bear none of the traditional marks of the first foreign voyage for a presumptive nominee
Trump was the subject of a parliamentary debate on banning him from the U.K.
Edinburgh, Scotland
CNN
—
Donald Trump leaves for Scotland Thursday, briefly escaping his turbulent presidential campaign to attend the official opening of a remodeled golf resort bearing his name.
The foreign trip, Trump's first as the presumptive Republican nominee, will bear none of the traditional marks of the ritualistic campaign voyage abroad that White House hopefuls have embarked on in recent years. Trump is not slated to meet with any foreign leaders or visit historical sites but instead attend to his multibillion-dollar business interests.
The trip – an unconventional venture emblematic of the real estate mogul's campaign – comes on the heels of the most unforgiving weeks of Trump's bid. He faces amped up pressure to abandon his freewheeling ways in favor of the more restrained demeanor typically espoused by a major party nominee.
RELATED: UK isn't welcoming Donald Trump with open arms
But rather than a chance to change the political narrative, Scotland may well serve as a potent reminder of the ruthless and eccentric tactics that catapulted Trump to the heights of the business world and helped him clinch the GOP nod – and earned him rebuke from global leaders.
After the ribbon-cutting at his course in Turnberry in southwest Scotland on Friday, Trump will travel to another of his golf properties, on the northeast coast near Aberdeen, at the Menie Estate alongside the North Sea, where he waged a relentless effort to move local residents out of their homes to create a luxurious and lucrative golf course.
Once he won permission to develop the golf course in the area, which included protected lands, Trump, whose mother was born in Scotland, continued to fight with local residents on the boundaries of what he boasted would be the "world's greatest golf course."
He offered homeowners sums they deemed paltry compared to their homes' value. When they refused, he sought to use the Scottish legal equivalent of eminent domain to force the homeowners to sell their homes.
When that didn't work, Trump flipped into battle mode.
He called Michael Forbes, a local farm owner who rebuked Trump's entreaties, a "village idiot" and called his farm "disgusting," a "slum and a pigsty."
He called other houses "ugly" and vowed to block their view – and he did.
"I want to get rid of that house," Trump said as he visited the golf course in construction during an episode of "Donald J. Trump's Fabulous World of Golf" on the Golf Channel. "It's our property, we can do what we want. We are trying to build the greatest course in the world. This house is ugly."
The house Trump was apparently referring to was David Milne's, who has lived in a coastguard station-turned-home with his wife for more than two decades.
"As far as I was concerned, it was intimidation. It was a threatening approach," Milne said of the 20-foot earth wall Trump built at the edge of his property. "He decided that he couldn't buy us, so he was going to block us out of his view."
But Trump didn't stop at the wall.
Just a few months after Trump's son, Donald Trump Jr., visited the Milnes to try once more to convince them to sell, workers began planting dozens of trees on the sea-facing side of the Milnes' land, Milne said.
RELATED: Scots rule Donald Trump out of bounds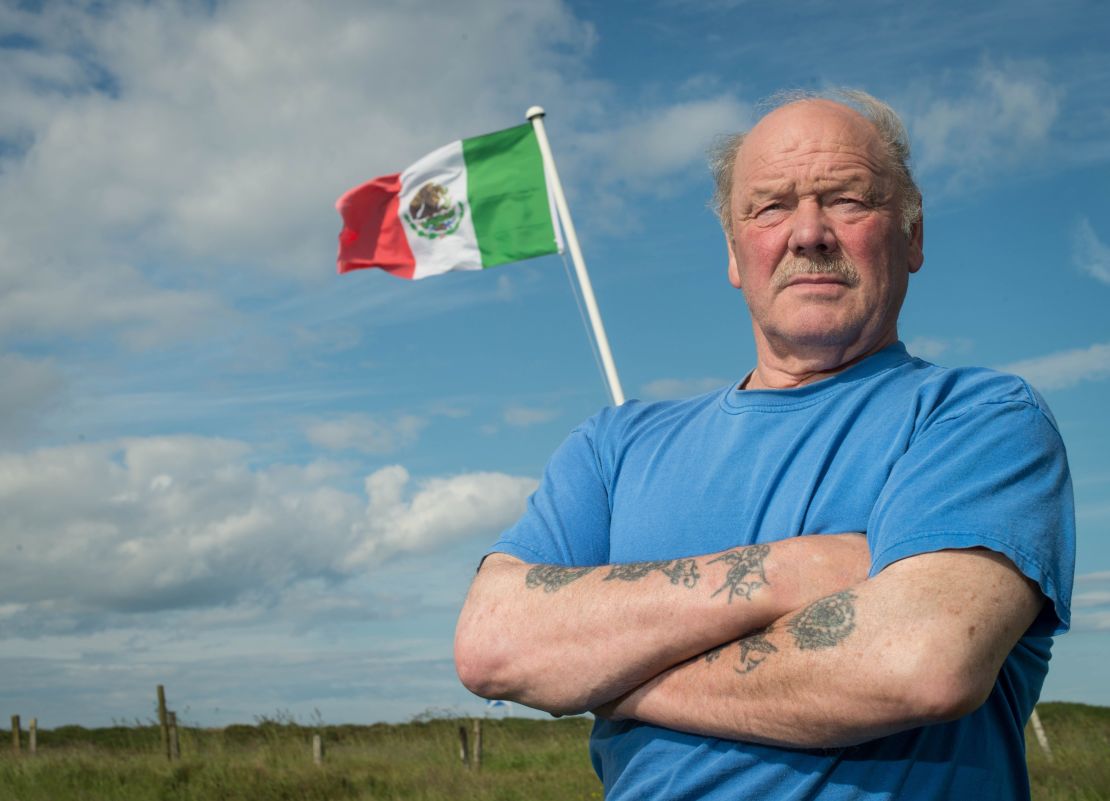 Milne told CNN Wednesday that his wife had explained to the younger Trump that they refused to sell because of the stunning view of 40 miles of coastline.
Milne compared Trump's tactics – which he labeled harassment and bullying – to those Trump used in the 2016 race to cut down one opponent after the next in his ultimately successful bid to capture the Republican nomination.
"It's very much the same thing. He's quite happy to lie, he'll dig up complete garbage, that in some cases is completely fictitious. He's got no morals, no scruples and no integrity," Milne charged. "The difference is he didn't succeed here."
The Trump campaign declined to comment and forwarded CNN's request for comment to the Trump Organization, which did not respond.
Milne said he has no plans to demonstrate against Trump when he arrives at his golf course on Saturday, but he and several of his fellow Menie Estate residents have already raised a banner of protest: a Mexican flag on each of their properties in the line of sight of Trump's course.
Milne called the flag on his property "a subtle little message to Trump to remind him that we are still here" and described it as an act of solidarity with the Mexican people and others who have faced Trump's insults during the campaign.
RELATED: Scots protesting Trump raise Mexican flag near golf course
The residents of Menie Estate aren't the only ones in the U.K. less than thrilled about Trump's visit – or the only ones to bring back memories of Trump's thorny relationship with the British people.
In January, members of Parliament debated a motion to bar the billionaire businessman from the country after nearly 600,000 people signed a petition calling for a ban in the wake of Trump's proposal to keep all foreign Muslims out of the United States.
The MPs ultimately didn't vote on whether or not to ban Trump, but they took turns bashing the brash billionaire during several hours of debate.
They slammed Trump's "words of prejudice," called him "a ridiculous xenophobe" and described his controversial candidacy as an exercise in "buffoonery."
British Prime Minister David Cameron also rapped Trump, calling his proposed Muslim ban "divisive, stupid and wrong."
"It looks like we're not going to have a very good relationship, who knows," Trump said last month when asked on British TV about Cameron.
Trump later claimed that he had been invited by 10 Downing to visit, which the Prime Minister's office denied.
Trump is not scheduled to meet with Cameron, the Scottish premier or any parliamentarians during his visit.
He touches down the day after a contentious referendum on whether the U.K. will leave the European Union, which has dominated Britain in the weeks running up to the vote.