Story highlights
The campaign is a tongue-in-cheek attempt to have Romanians "adopt" pro-EU Brits
It was started by a Romanian daily newspaper
For millions of Britons who voted to remain, the idea that EU membership advantages are due to be revoked has left many heartbroken – even, in a sense, homeless.
But for those who want to remain in Europe, one Romanian paper has offered hope of a new home, and a new family.
Romanian daily Gandul's "Romanians adopt Remanians" – a nod to the "remain" voters – campaign matches willing Romanians with despairing Brits hoping for a European passport.
"Dear Brits who believe in a united Europe, leave the Brexiters, the quarreling and the weather behind," the tongue-in-cheek ad reads.
"Start a brand new life in a loving Romanian family."
The landing page for the campaign's website is split into two – a page for Romanians looking to adopt a Brit, and another for disillusioned UK citizens looking to gain a back-door into Europe.
The Romanian side of the page suggests – in English – that "the good people who voted remain and share European values deserve to be our relatives."
Logging in via Facebook, the campaign pairs abandoned Brits with a potential Romanian adopter. CNN got a message saying "Your friend, Radu Rovin, wants to adopt you." It then shows a mock Romanian identity card – with a Romanian-ized name – for the new adoptee.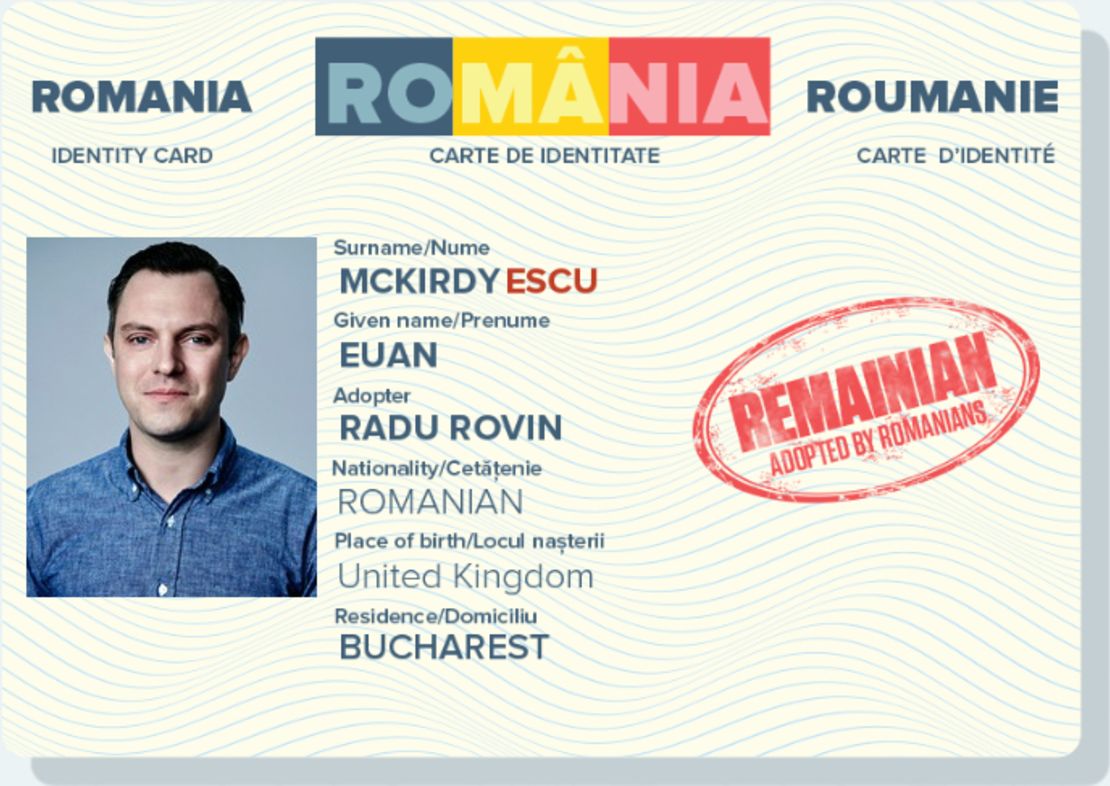 Anti-Eastern European sentiment
Romania, which is not part of the Schengen border control-free zone of Europe, joined the EU in its 2007 expansion.
Romanians have long been targets of those who oppose migration within the EU, both official and unofficial. A report in the same paper reported that almost a quarter of all foreigners expelled from France were from Romania.
Incidents of apparent racial hatred in the UK spiked following the country's monumental referendum decision to leave the EU, much of it targeting Eastern European migrants to the country.
Anti-immigrant leaflets saying "Leave the EU - no more Polish vermin" were put on cars near a school, local police said, the day after the country voted to leave the European Union.
On Sunday, the Polish Social and Cultural Association in Hammersmith, west London, was allegedly vandalized with a racist slogan.
Gandul has used humor to diffuse immigration tensions before. In 2013, it responded to a mooted British government campaign aimed at Romanian would-be immigrants which highlighted negative aspects of UK life with the tagline, "You wouldn't like it here."
The award-winning response invited Brits to the country with a number of enticing statements (including "our draft beer is less expensive than your bottled water") with the tagline: "Why don't you come over? We may not like Britain, but you will love Romania."
Brexit personas cards