Watch "Got Shorty: Inside the Chase for El Chapo," a special report from CNN's Chris Cuomo, at 8 p.m. ET Sunday on CNN.
How did the diminutive son of a Mexican farming family end up becoming one of the most notorious and powerful drug lords in the world? The story of Joaquin "El Chapo" Guzman's life often inspires legend, in part because of one maddening truth: He simply wouldn't stay caught. Follow the kingpin's life, from his beginnings in Sinaloa to his current incarceration in a high-security prison.
A drug trade superpower is born
Joaquin Archivaldo Guzman Loera, known as "El Chapo," was born in La Tuna, Badiraguato, Sinaloa, Mexico sometime in the 1950s. (Officials have released conflicting birth dates). In the 1970s, Guzman began his life of organized crime, working for prominent drug lords including Miguel Angel Felix Gallardo, the leader of the Guadalajara cartel, who recruited Guzman in the 1980s.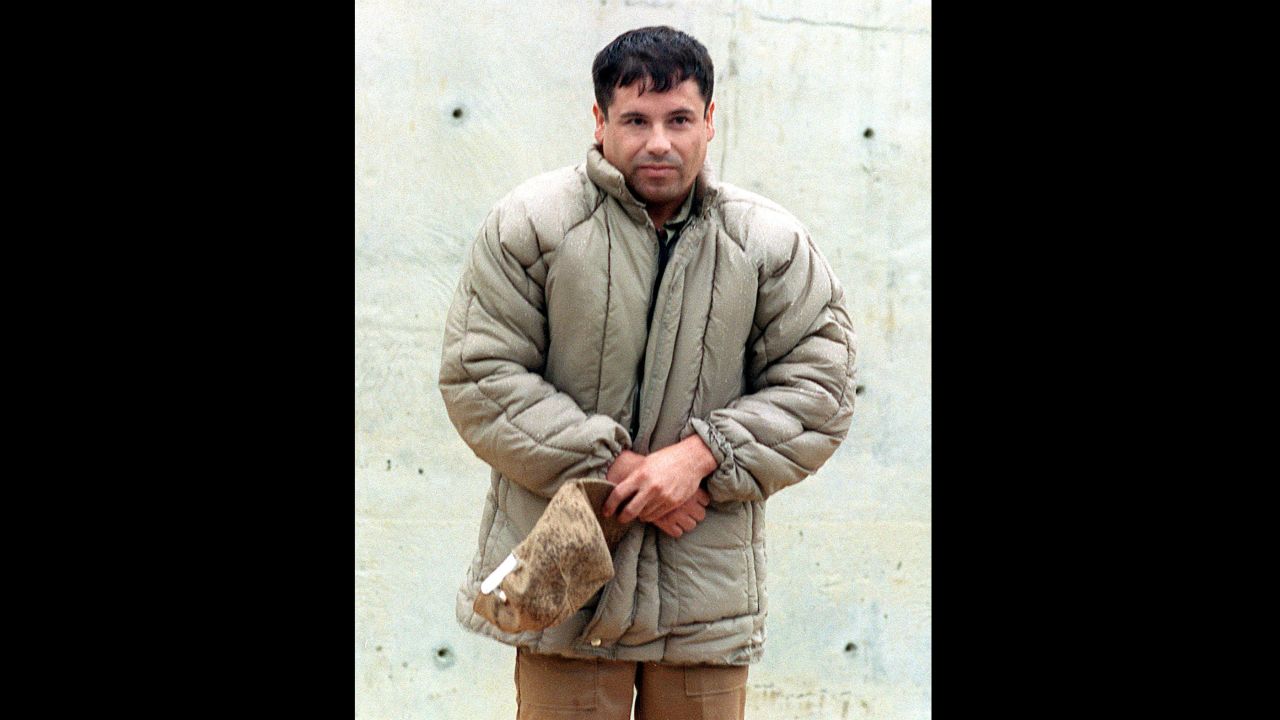 El Chapo climbs the ranks
Guzman's mentor Felix Gallardo was arrested in 1989. At the time of his arrest, the powerful, sprawling Guadalajara Cartel was being split into individually-controlled factions. The faction under Guzman's control became the Sinaloa Cartel, which in the ensuing years moved billions upon billions of dollars in marijuana, cocaine and heroin. It is during this time that Guzman's activities were first detected by the United States.
El Chapo becomes famous
Years of warring between the Sinaloa and Tijuana Cartels came to a violent head in May of 1993 when gunmen from the Tijuana cartel opened fire on a car near the Guadalajara International Airport. They believed Guzman was hiding in the car, but it was actually Juan Jesus Posadas Ocampo, the Cardinal and Archbishop of Guadalajara.
Following Posadas Ocampo's death, the Mexican government launched a manhunt to find his killers. In the process, pictures of Guzman were widely publicized for the first time. This public "outing" forced Guzman to flee to Guatemala. He reportedly paid a $1.2 million bribe to the Guatemalan military to protect him.
His luck runs out
In June 1993, Guzman was located and arrested by Guatemalan authorities near the Mexico-Guatemala border. While in prison, he bribed security guards for special treatment, took a mistress and continued to seamlessly oversee the workings of the Sinaloa Cartel. During this time, the Sinaloa Cartel expanded its influence into the trafficking of methamphetamine.
Daring prison escape
In January 2001, Guzman escaped the maximum security prison in Jalisco, Mexico, after bribing several prison employees. Guzman was wheeled out of the facility in a laundry cart and driven away by a prison maintenance worker. His escape started a years-long manhunt that spanned the entire country of Mexico.
His elusiveness during this time made him a legend. There were rumors of him walking fearlessly into restaurants, confiscating phones, and then paying for everyone's bill before slipping out unscathed. A global intelligence expert told CNN in 2013 that El Chapo actively cultivated a strong (albeit false) "benevolent businessman" persona. Rumors of his ruthlessness and influence inspired folk songs and popular culture.
His continued evasion of the law and the growth of the Sinaloa Cartel led Guzman to be considered the most powerful drug lord in the world.
Years-long manhunt ends
After more than a decade on the run, Guzman was captured yet again in February 2014 at a hotel in Mazatlan, a beach resort town in his home state of Sinaloa. After his arrest, authorities say they were helped by the drug lord's propensity to use intricate tunnel systems for both evading authorities and moving the massive quantities of drugs that made the Sinaloa Cartel so powerful.
Authorities said they had discovered a series of secret tunnels in the city of Culiacan, and one of the houses in the system was Guzman's main local residence. Though he was able to avoid capture there, raids of the residence and the rest of the tunnel system eventually led authorities to Mazatlan, where Guzman had retreated.
He escapes again
Guzman's second escape took only months, but this time he wasn't wheeled out the prison's doors. In July 2015, security cameras in Guzman's cell at the maximum-security Altiplano federal prison caught Guzman entering the shower in his cell and never reappearing. Upon further examination, authorities found something remarkable and very, very on-brand for the kingpin: A nearly mile-long tunnel, complete with lighting, ventilation,and a modified motorcycle authorities think was used to move dirt and sand as the tunnel was being built.
A strange meeting with the stars
In perhaps one of the most bizarre twists of Guzman's time on the run, the fugitive met with movie star Sean Penn and Mexican actress Kate del Castillo in October 2015, just months after his second escape.
Del Castillo is a well-known actress who portrayed a drug trafficker on the popular telenovela "La Reina del Sur" and also appeared on the U.S. television series "Weeds." In 2012, she wrote a controversial and compassionate message to El Chapo over Twitter telling him to "traffic in love." It was del Castillo who apparently brokered the 2015 meeting between Penn and Guzman.
After El Chapo was captured and Penn's interview with the drug lord ran in Rolling Stone magazine, del Castillo told the media she was misled by Penn's intentions.
The meeting wasn't the first time Guzman had shown an interest in show business. Authorities have said Guzman's efforts to have a biopic made of his life helped them track and eventually capture him for a third time.
Foiled again
In January 2016, Mexican authorities and members of Mexico's navy conducted an early morning raid in the coastal city of Los Mochis in Sinaloa. Several of Guzman's associates died in the raid, but Guzman himself was apprehended and promptly returned to the prison from which he had escaped in 2014.
Mexican officials were extremely pleased with his capture. "Mision cumplida (Mission accomplished)," Mexican President Enrique Pena Nieto tweeted after the mission. "Quiero informar a los mexicans que Joaquin Guzman Loera ha sido detenido. (I want to inform the Mexican people Joaquin Guzman Loera has been detained)."
Guzman was taken back to the Altiplano prison, where he says guards inflicted "brutal torture" upon him by depriving him of sleep. The prison facility now boasts hundreds of new cameras and floors reinforced with steel rods.
Fighting extradition
Mexican officials say renovations at the Altiplano prison forced them to transfer Guzman to another facility: A prison in Ciudad Juarez, Mexico, just across the border from El Paso, Texas.
Later that month, a Mexican judge approved the U.S. request to extradite Guzman. Guzman's lead attorney tells CNN his legal team will appeal, and the process could take years to be resolved. The cartel kingpin faces federal charges in seven U.S. states. It's not immediately clear when Guzman will be turned over to U.S. custody, but once he's transferred, Guzman will be sent to Brooklyn to stand trial, U.S. officials have told CNN.
CNN's Catherine Shoichet contributed to this report.