Trash piled meters deep on beaches where children usually swim, water littered with discarded food packaging and plastic bottles.
In recent days, Hong Kong's beaches have been swamped by mountains of trash and environmentalists and residents say it's got to stop.
"Trash on the beach is nothing new in Hong Kong, but this is completely different to what we would normally see," said Gary Stokes, Southeast Asia Director at the Sea Shepherd Conservation Society.
He called the size of the current trash pile "unprecedented."
Labels and packaging seem to indicate that much of the trash comes from mainland China.
"Most of the trash we normally find is local Hong Kong trash," Stokes says. "But this is definitely coming from the mainland."
'Oil spill'
Residents from Hong Kong, Cheng Chau and Lantau islands have shared photos and videos showing trash strewn across beaches and floating in the water.
"There is a tragedy happening in Hong Kong now, and effectively a solidified 'oil spill' of trash/plastic washing up on Hong Kong's beaches," wrote local Doug Woodring on Facebook.
Stokes encouraged people to take photos, particularly of the labels and packaging.
"Trash talks, if you've got a load of mainland trash on the beach, how did it get there? (The government) can go to China and say this is a solid fact, we have a problem, we need your help to address it."
In a statement, Hong Kong's Environmental Protection Department said that "due to the effects of rainfall, marine currents and southwest monsoon wind, more marine refuse would be found during summer than other seasons."
The EPD estimates that the amount of waste being collected is six to 10 times that normally found on Hong Kong beaches in summer.
"We suspect that the floods in mid-June in (mainland China) might have brought the refuse to the sea and then the refuse is brought to Hong Kong by the southwest monsoon wind and the sea currents."
Southern District Councilor Paul Zimmerman said the problem was caused by "both legal and illegal dump sites on the mainland and in Hong Kong from which household waste washes into the sea."
He added that coordinated government action on both sides of the border was needed to tackle the issue, and that while moves could be taken to catch the waste before it reached the beaches, trash on the sand is "a visual reminder for people that waste is a problem."
'Glacier of trash'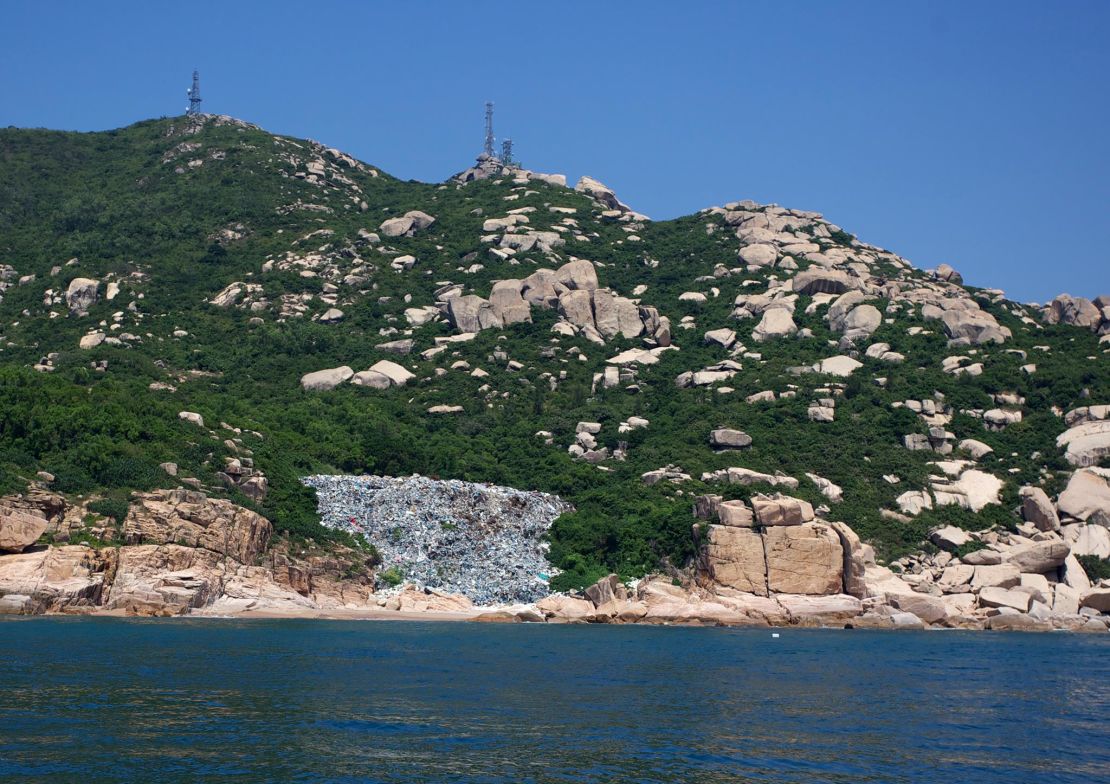 While much of the extra trash does appear to be of mainland Chinese origin, it is unclear just where it's come from. Stokes says that some could be being washed ashore by unusual tide or wind patterns that would usually flow out to sea.
"This could be putting the spotlight on a lot of illegal dumping that was already going on."
Images acquired by Sea Shepherd also suggested another source however: tiny Wai Ling Ding island.
The islands lies just south of Hong Kong, but is administratively part of China's Zhuhai municipality. Photos taken last week show a huge trash dump on the island, which Stokes believes is flowing into the sea and onto Hong Kong's beaches.
"It's pretty much like a glacier of trash that keeps sliding down the hill," he says.
'Not a serious problem'
The uptick in trash washing ashore comes just over a year after a government-commissioned report found that marine refuse "does not constitute a serious problem" in Hong Kong.
Several of the affected beaches are still listed as Grade 1, the highest rank, on an official Hong Kong website.
According to Coastal Watch, an organization under the World Wildlife Fund, as much as 15,000 tonnes of marine refuse are collected in Hong Kong every year.
District Councilor Zimmerman criticized the government for not taking action on marine waste, pointing out that the city had more than 3,000 open air refuse points that have "not kept up with the population size."
"Unless something is done, this is only going to increase, we're going to see more occurrences, especially during the rainy season," he said.
A 2015 report by University of Georgia professor Jenna Jambeck and others that found that China – including Hong Kong – was the world's largest producer of plastic waste.
Mott McDonald, the company that produced the government report, did not respond to a request for comment.