Story highlights
Juno spacecraft has successfully started orbiting Jupiter
It was launched five years ago to study the planet's composition
Juno is a spinning, robotic probe as wide as a basketball court
Jet Propulsion Lab, California
CNN
—
NASA says it has received a signal from 540 million miles across the solar system, confirming its Juno spacecraft has successfully started orbiting Jupiter, the largest planet in our solar system.
"Welcome to Jupiter!" flashed on screens at mission control at NASA's Jet Propulsion Lab in Pasadena, California.
The Juno team cheered and hugged.
"This is phenomenal," said Geoff Yoder, acting administrator for NASA's Science Mission Directorate.
The probe had to conduct a tricky maneuver to slow down enough to allow it to be pulled into orbit: It fired its main engine for 35 minutes, effectively hitting the brakes to slow the spacecraft by about 1,212 miles per hour (542 meters per second).
"NASA did it again," said Scott Bolton, Juno principal investigator.
"We're there, we're in orbit. We conquered Jupiter."
"Through tones Juno sang to us and it was a song of perfection," said Rick Nybakken, Juno Project Manager, referring to the audio signal the probe sent to indicate it was in orbit.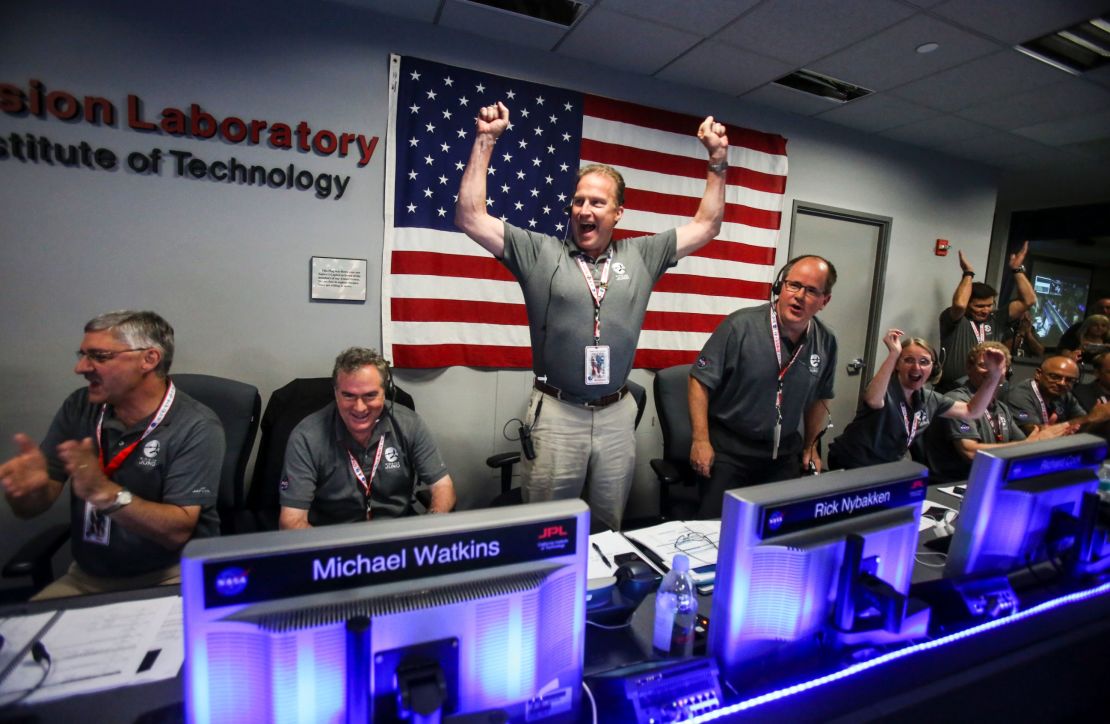 Juno was launched nearly five years ago on a mission to study Jupiter's composition and evolution. It's the first spacecraft to orbit Jupiter since Galileo. Galileo was deliberately crashed into Jupiter on September 21, 2003, to protect one of its discoveries – a possible ocean beneath Jupiter's moon Europa.
Hate your job? NASA wants you to work on Mars
"Preliminary looks are that the spacecraft is performing well ," said Guy Beutelschies, Director of Interplanetary Missions at Lockheed Martin Space Systems, the company that built the spacecraft.
Steve Levin, Juno Project Scientist, looked ahead to turning on the probe's instruments again, after they were turned off in preparation for the tricky orbit maneuver.
NASA's Kepler discovers 1,284 planets
"What I'm really looking forward to is getting up close and personal with Jupiter," he said.