Story highlights
Boeing invested heavily in Iran following lifting of sanctions
Iran oil exports surge -- and cause global prices to plummet
After almost two years of negotiations, a deal was struck: Iran would rein in its nuclear program.
Thursday marks one year since the landmark agreement – called the Joint Comprehensive Plan of Action – between Iran and the P5+1 group of world powers, including the United States, UK, France, China and Russia plus Germany.
Under the deal, Iran must reduce its uranium stockpile by roughly 98%, phase out its centrifuges over the next 15 years, limit research activities, allow heightened inspections and ship spent fuel outside of the country.
In return, many of the international sanction imposed on Iran were lifted.
Twelve months on, what impact has the deal had?
Boeing gets on board…
Boeing was one of the first U.S. companies to sign a major deal with Iran following the lifting of sanctions in January – reportedly selling 100 jetliners to national carrier Iran Air.
It's not the only manufacturer hoping to capitalize on a country sorely in need of modern aircraft, with Iran Air also announcing a deal for 118 planes from rival Airbus.
Signing a multi-billion dollar deal is one thing, but getting it formally approved by the U.S. government is another – with some members of Congress seeking to block the Boeing sale because of Iran's continued support of Bashar al-Assad's government in Syria.
Boeing deal will send 100 new jetliners to Iran
…But European banks don't
Less eager to invest have been European banks, despite personal reassurances from U.S. Secretary of State John Kerry that it is safe to start working with Iran again.
Banks HSBC, Standard Chartered and BNP Paribas have all been stung before – and paid billions of dollars in fines – for dealing with Iran while U.S. sanctions were in place.
"There are other forces at play here," Kerry told CNN of the banking sector's reluctance to invest. "Iran needs to modernize its banking system… and modernize the way it does some business."
Europe's banks too scared to do business with Iran
Oil exports bubble over
Just four months after sanctions were lifted, Iran was pumping out 3.64 million barrels of oil per day, according to the International Energy Agency – the fastest pace since June 2011.
The glut of Iranian oil saw global prices plummet to below $30 a barrel in January this year, though that appears to have risen again to roughly $45 a barrel.
Iran's return to the international oil stage has also exacerbated tensions with neighboring oil producer Saudi Arabia – hardly helped by the fact that the two countries are already fighting proxy wars in Syria and Yemen.
Iran's oil exports have tripled since late 2015
Iran-U.S. relations thaw (kind of)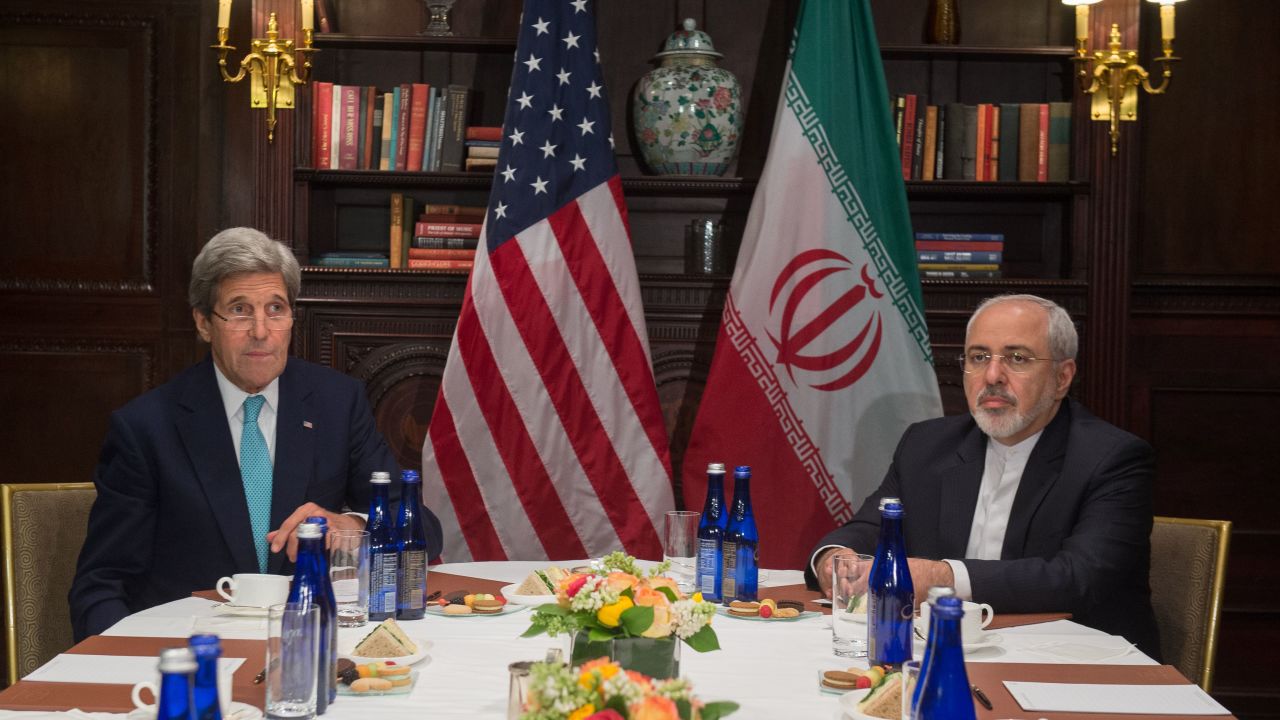 There was a time when a meeting between Kerry and Iranian Foreign Minister Mohammad Javad Zarif would be major international news, but that's not the case since last year's landmark deal.
That said, while relations between the countries have thawed somewhat, they are hardly cozy. Republican presidential nominee Donald Trump often blasts the deal in speeches, saying Iran "made such fools of us."
Iranian hardliners haven't softened their stance on the United States either.
"In the aftermath of the nuclear deal, the Revolutionary Guards have wanted to make it clear to the United States and their own people that the nuclear compromise wasn't a reflection of a weakness," said Karim Sadjadpour, a senior associate at the Carnegie Endowment for International Peace.
At a news conference in Paris Thursday, Kerry said the countries had worked together to secure the release of U.S. sailors from Iranian borders within 24 hours – "that could not have happened prior to this agreement taking place."
But, he added, "Nobody pretends that some of the issues we have with Iran have somehow been wiped away."
Iran nuclear deal at anniversary not the rallying cry GOP sought
Economic success… for some
Iran's economy appears to have improved since the nuclear deal, with the International Monetary Fund predicting the GDP will grow by up to 5.5% this year – exceeding its previous forecast of 1.3%.
But that doesn't mean the benefits are necessarily being felt by ordinary Iranians. A recent poll conducted by Maryland University found that 74% of Iranians believe there have been no economic improvements since the nuclear deal was struck a year ago.
That could affect next year's elections and the future of President Hassan Rouhani, if voters are still not happy with their economic situation in the years following the deal he approved.
CNN's Ivana Kottasova, Matt Egan, Alanna Petroff and Ryan Browne contributed to this report.