Story highlights
Henrik Stenson wins British Open at Royal Troon
Swede clinches first major title at 42nd attempt
Phil Mickelson three shots behind
Pair finish 11 shots clear of field
One minute they were slugging it out in one of golf's fiercest battles, the next minute Henrik Stenson stood over Phil Mickelson in triumph with the Claret Jug won.
The 40-year-old Swede launched a late charge to beat the American by three shots to become the first Scandinavian man to win a major in the 145th British Open at Royal Troon Sunday.
Stenson, the world No. 6, broke the deadlock of an absorbing afternoon by sinking long birdie putts at the 14th and 15th and added two more in the final three holes to card a major record-equaling 63.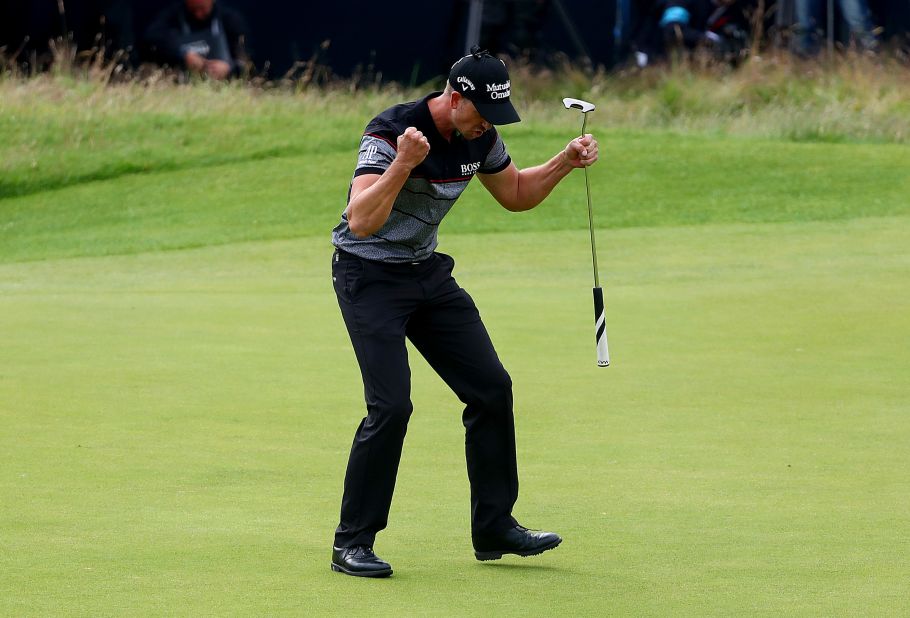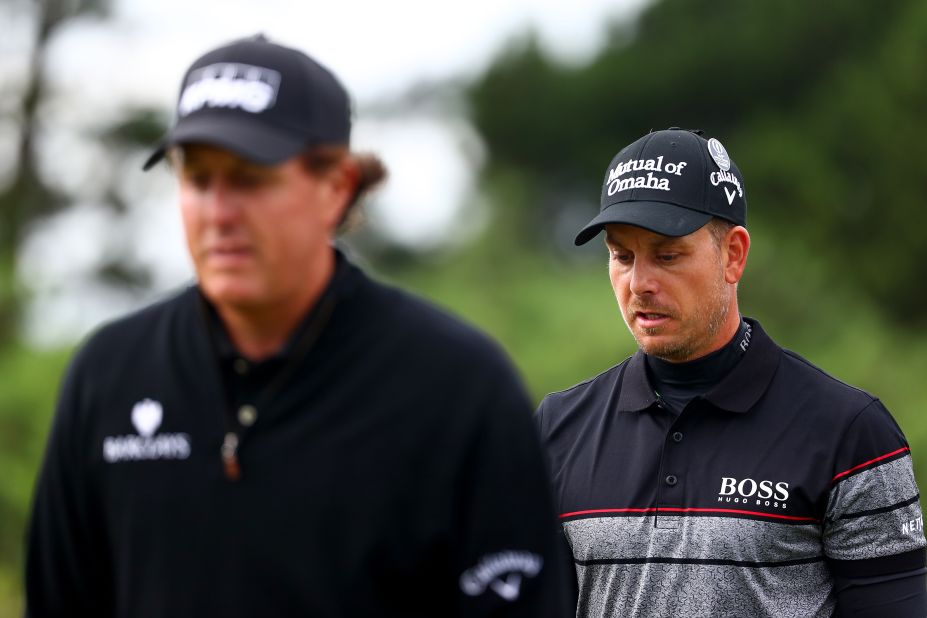 Henrik Stenson wins British Open
His final score of 20- under broke Tiger Woods's British Open scoring record of 19-under, set in 2000, and equals Jason Day's all-time major record set at the 2015 U.S. PGA.
The 46-year-old Mickelson, who narrowly missed a 62 on the opening day, shot a six-under 65 but still fell short in his bid for a sixth major title in the face of Stenson's late onslaught.
What do you make of Henrik Stenson's victory? Have your say on our Facebook page
The pair put on a sublime masterclass of skill and nerve despite the testing, breezy conditions in a showdown which will arguably eclipse the famous "Duel in the Sun" Open when Tom Watson beat Jack Nicklaus in an epic battle at Turnberry in 1977.
The standard of golf effectively split the British Open into two separate events, with the nearest chaser, JB Holmes of America, finishing at six under.
READ: The Open 2016 – as it happened
When Stenson holed his final curving birdie across the 18th green he paused before pumping his fists and hugging his caddie. After waving to the crowd he embraced Mickelson, whose score would have won every other British Open bar four.
Stenson, who finished second to Mickelson in the 2013 Open at Muirfield, beaten by three shots, dedicated the win to a friend from Dubai who died of cancer this week.
"I felt like he was there with me this week," he told reporters.
Stenson's first major title at the 42nd attempt came after two other thirds in the Open in 2008 and 2010. He has also been third twice in the U.S. PGA and fourth in the U.S. Open and PGA.
"I felt like this was going to be my time," added Stenson, who becomes the oldest major winner since Mickelson, who was 43 when he won his Claret Jug.
"It makes it even more special to beat a competitor like Phil. He's been one of the best to play the game, and certainly in the last 20 years."
'Proud'
The former world No. 2 has endured two prolonged slumps in his career when confidence hit rock bottom, notably in the early 2000s. He also suffered heavily after losing a significant sum of money to the fraudster Allen Stanford in a Ponzi scheme.
But he says he feels "privileged" to be the first Swedish man to finally win a major.
"There's been many great players from my country tried in past years and decades and there's been a couple of really close calls," he said. "Jesper Parnevik, in particular, twice. So he sent me a message, 'Go out and finish what I didn't manage to finish,' and I'm really proud to have done that, and it's going to be massive for golf in Sweden with this win."
Stenson began the final day with a one-shot lead over Mickelson but the positions were quickly reversed after the first hole.
He edged clear again on the third, but Mickelson's stunning eagle three at the fourth, after a fading in a long iron to the heart of the green, put them level.
'Flawless'
On the short Postage Stamp eighth, Mickelson put his tee shot to six feet but missed the birdie putt as Stenson made his from longer range.
The Swede took his one-shot lead to the turn, but fell back to join Mickelson with a bogey at the tough 11th before the scrap became more desperate with neither player willing to cede an inch.
But then Stenson landed a significant blow when he drained a long one across the green on the 14th and he dropped another bomb out of nowhere on 15 to rock his rival.
Like a bar-room brawler, Mickelson was still swinging and missed an eagle chance by millimeters on the 16th to stay two behind. A half in par on 17 gave Stenson a virtual ceremonial walk up 18.
He added the gloss in front of the packed grandstands with a 10th birdie to cap one of the most remarkable days of major championship golf.
"It's disappointing to come in second but I'm happy for Henrik," said Mickelson. "He's a great champion and we've been friends for some time."
He added: "It's probably the best I've played and not won. I played close to flawless golf and got beat."
READ: Prestwick – birthplace of a legend
American Steve Stricker ended five-under, while Northern Ireland's world No. 4 Rory McIlroy fired an impressive final 67 to climb to tied fifth at four-under alongside England's Tyrrell Hatton and Spain's Sergio Garcia.
But Troon 2016 will always be remembered as Henrik's high noon.