Story highlights
Russia fails in bid to overturn doping ban
67 Russian track and field athletes prohibited from competing at Riio
Olympic Games begin on August 5 in Rio de Janeiro
Russia and its athletes are dominating the build up to Rio 2016.
The country is banned from competing in track and field events, including the Olympic Games, after an appeal against its exclusion was rejected Thursday.
The sanction follows allegations of a state-sponsored doping program across a range of sports, the fallout of which could see Russia thrown out of the Games altogether.
With so many questions hanging over Russia and the Olympics, here's what you need to know.
Will Russia be in Rio?
Russia finds itself in the last chance saloon as it waits to discover whether it will take part in the Olympic Games in Rio de Janiero next month.
On Sunday, the International Olympic Committee — the organization which oversees the Games' rules and decides who competes every four years – will decide what sanctions to impose on the remainder of the Russian Olympic association and the country's athletes.
However, the IOC finds itself in a no-win situation. If it bans Russia, the IOC will alienate one of the traditional superpowers of the Olympic Games; if it doesn't the organization will be accused of going soft on the curse of doping.
We now know 67 Russian athletes definitely won't be flying off to Brazil following Thursday's Court of Arbitration Sport (CAS) ruling which rejected Russia's appeal to lift a ban on its track and field athletes.
Earlier in the week an independent report had concluded urine samples of Russian athletes had been manipulated across the "vast majority" of Summer and Winter Olympic sports from 2011 through to August 2015.
Ever since the organization that runs track and field — the International Association of Athletics Federation — suspended Russian track and athletes last year because of the doping allegations, the likes of hammer thrower Sergei Litvinov has continued to train in the hope he might compete at Rio.
On Wednesday, Litvinov won the hammer throw at the Russia track and field championships, but the CAS verdict leaves him out in the cold.
READ MORE: Court rejects Russia's appeal over Olympic ban
How does Russia feel about it?
Russia is outraged. Yelena Isinbayeva is the poster girl of the country's track and field team and the two-time Olympic pole-vault champion had hopes of winning a third gold medal in Rio.
"Thank you everyone for the funeral of athletics," the 34-year-old said after the verdict dropped.
She added: "There was hope but it was dashed. Let all those pseudo clean foreign athletes breathe a sigh of relief and win their pseudo gold medals in our absence. They always did fear strength."
The anger also rang through Russia's corridors of power, with Vladimir Putin's press secretary Dmitry Peskov lamenting that the ban will also effect "clean" athletes.
"We are speaking here about field and track athletes, who had been preparing hard for the Olympics, who have nothing to do with doping, who have nothing to do with none of accusations and suspicions, who had regularly been tested by foreign anti-doping agencies.
"We can only express our deep regret," he said before adding "our relevant agencies will analyze the situation quickly and efficiently."
Has anything like this happened before?
This isn't the first time that the Litvinov family has been left in Olympic limbo.
Litvinov's father — Sergei Sr. — was unable to take part in the 1984 Games after the Soviet Union boycotted the Los Angeles event because of Cold War politics.
That was a tit-for-tat response after the U.S. boycotted the Moscow Olympics in 1980 following the Soviet Union's invasion of Afghanistan in 1979.
Four years later Sergei Sr., who now trains his 30-year-old son, won gold in the hammer throw at the 1988 Olympics in Seoul.
The Olympic charter states that "No kind of demonstration or political, religious or racial propaganda is permitted in the Olympic areas."
The IOC might be able to enforce those rules in the "Olympic areas," but the current crisis – as well as the 1980 and 1984 boycotts – demonstrate that the organization has absolutely no chance of regulating the combustible world of geo-politics.
Who is missing out?
At the London 2012 Games, Russia won 16 medals in track and field including seven golds. Sergey Shubenkov would have been a huge gold medal hope for his country in the 110 meter hurdles. The 25-year-old clinched the world title in front of his home fans in Moscow last year.
Tatyana Beloborodova, who won 2012 Olympic hammer gold as Tatyana Lysenko, is another predicted medalist who will be ruled out. She was provisionally suspended from competition following a failed drugs test earlier this year.
Anna Chicherova, the reigning high jump champion, would have also been a medal contender. She was not one of the athletes who appealed the ban as a retest of one of her samples from Beijing 2008 came back positive.
Will any Russian track & field athletes be in Brazil?
The International Olympic Committee will make a decision on Russia's participation in the Games on Sunday. But we do know that two Russians are likely to be in Rio.
One is long jumper Darya Klishina who, because she is based in the U.S., was able to show she was a clean athlete.
"The Doping Review Board has agreed that Russian long jump athlete Darya Klishina meets the exceptional eligibility criteria to compete in international competition as a neutral athlete," the IAAF said on its website.
"Darya Klishina's participation as a neutral athlete in international competition is still subject to acceptance by the organiser of the competition in question, in accordance with the rules of that competition."
Not that it appears that Klishina is likely to be cheered on by many Russians given the reaction to the IAAF's decision back in Russia earlier this month.
Photos: Battling drug cheats
Photos: Battling drug cheats
Photos: Battling drug cheats
Photos: Battling drug cheats
Photos: Battling drug cheats
Photos: Battling drug cheats
Photos: Battling drug cheats
Photos: Battling drug cheats
Photos: Battling drug cheats
Photos: Battling drug cheats
Photos: Battling drug cheats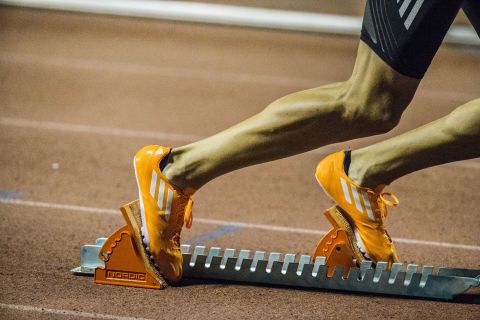 Photos: Battling drug cheats
Photos: Battling drug cheats
Photos: Battling drug cheats
"Hot food, rest, and medical attention await you in German captivity!" tweeted Kremlin pool journalist Dmitry Smirnov in a post that seemingly compared Klishina to that of the Soviets who collaborated with the Nazis during the World War II.
The IAAF's doping review board also approved whistleblower Yuliya Stepanova's application to compete because of her "truly exceptional contribution to the protection and promotion of clean athletes, fair play and the integrity and authenticity of the sport."
Called a "Judas" by Russian President Putin, for having betrayed the country, the 800m runner — a former drug cheat herself, who was banned for two years in 2013 — was key in helping to exposing systematic doping in Russian athletics along with husband Vitaly Stepanova.
What are other athletes saying?
Outside of Russia, the decision to uphold the ban has been well received by athletes, including the world's fastest man. Six-time Olympic champion Usain Bolt thinks it sends out a strong message to drugs cheats.
"If you have proof and you catch somebody, I definitely feel you should take action," he said at a press conference in London.
"If you feel banning the whole team is the right action, then I am all for it. Rules are rules and the doping violations in track and field are getting really bad.
"This will scare a lot of people, or send a strong message that the sport is serious about cleaning up."