Story highlights
After a possible bomb landed in their car, 2 officers drove away instead of jumping out
"If we go, we're not going to take anyone with us," NYPD Sgt. Hameed Armani says
When the suspicious device landed in his New York police car, Sgt. Hameed Armani thought he was about to die.
The object made a clicking noise. Lights from the device started flashing.
"Boss, this is a bomb," his partner, Officer Peter Cybulski, said from the passenger seat.
The horror couldn't have come at a worse place. The officers' patrol car was parked in Times Square, which was packed with tourists and locals Wednesday night.
Armani, in the driver's seat, said he was prepared to die, but refused to let civilians die, too.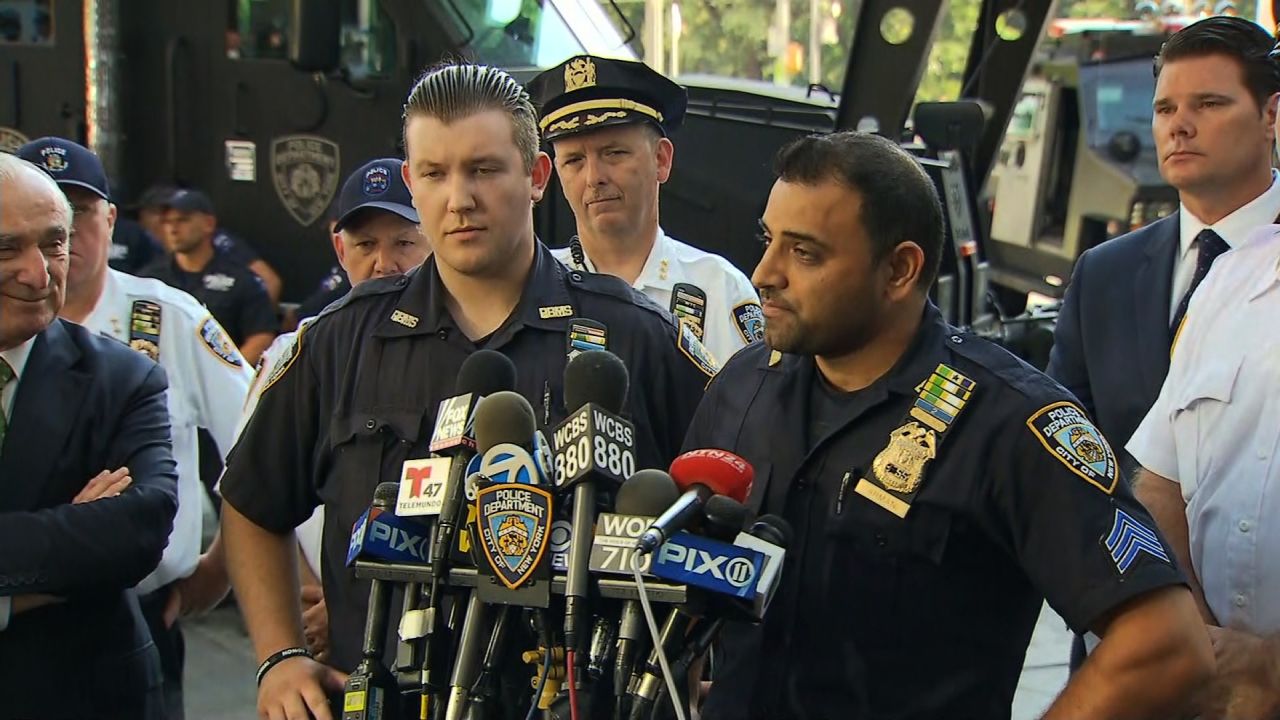 "We both look at each other. I was like, 'We're going to go, but I'm not going to have anybody else go with us,'" the sergeant said.
So, instead of jumping out of the car to save their own lives, the officers drove 1½ blocks away to make sure nothing happened to the crowd of civilians.
During that drive, "We both said our prayers," said Armani, a Muslim immigrant from Afghanistan.
"We thought this was it, we're not going to make it."
That kind of bravery represents "the best of the finest," New York City Police Commissioner Bill Bratton said.
"They put their own lives at risk so that they could save potentially hundreds if not thousands of people in Times Square," Bratton said. He called them "heroes of this department, heroes of this city."
Eventually, the officers found an uncrowded street. Armani got out of the car and placed the device on a sidewalk.
Authorities determined the device was not a bomb but a cylindrical object containing a candle, an electrical component and flashing red lights.
Police: Suspect said he wanted to die
On Thursday morning, police stopped a man suspected of throwing the device into the police car.
The suspect, identified as 52-year-old Hector Meneses, was in a gold SUV in Columbus Circle. He told officers he had a bomb strapped to his chest and wanted to die, said NYPD Chief of Manhattan Detectives William Aubry.
Meneses put on a red helmet, police said.
The threat of explosives in his car prompted a standoff that shut down the busy area during Thursday morning rush hour.
After several hours, police managed to get Meneses out of his SUV. He was taken into custody and wheeled away in a stretcher. The reason for the stretcher was not immediately clear.
Police said Meneses, a cab driver, did not have a criminal history nor a record of being an emotionally disturbed person. It's still unclear why he may have thrown a suspicious device into the police car.
'It was a good day'
The past month has been emotionally grueling for police across the country. A sniper killed five officers in Dallas. Another gunman killed three officers in Baton Rouge, Louisiana.
All this comes amid outrage over the police shooting deaths of Philando Castile and Alton Sterling in Minnesota and Louisiana.
Cybulski, who held the suspected bomb as his partner drove them away from Times Square, said police need to be able to handle anything.
"We come to work every day not knowing – quite literally – what might be thrown at us," he said. "(Armani and I) both looked at each other. We knew exactly what each other was thinking without even having to say it. … We're not going to let this take out someone else with us."
Armani, the visibly exhausted sergeant, was finally able to relax Thursday.
"I was happy no one got hurt," he said. "It was a good day."
He immigrated from Afghanistan with two dreams: a better life for his daughter and the opportunity to become a police officer. Now, the single father can let his 12-year-old daughter know her dad is safe, along with hundreds in Times Square.
CNN's Amanda Wills and Sonia Moghe contributed to this report.