Story highlights
Sam Clark says he lost over 28 pounds in 20 days finding all 143 Pokemon
Others claim the game has helped them overcome anxiety
Catching 'em all is the Pokemon Go player's goal, but in doing so one British man claims to have lost something – more than 12 kilograms (28 pounds) in weight.
In his quest to catch the 142 Pokemon creatures available in the UK, 32-year-old business owner Sam Clark says he walked 141 miles (227 kilometers) in 20 days, the equivalent of five marathons.
Clark, who is married with four children, said his weight dropped from 140 kilograms to 120 kilograms, allowing him to fit into trousers he "hadn't worn for six years."
READ: What parents need to know about Pokemon Go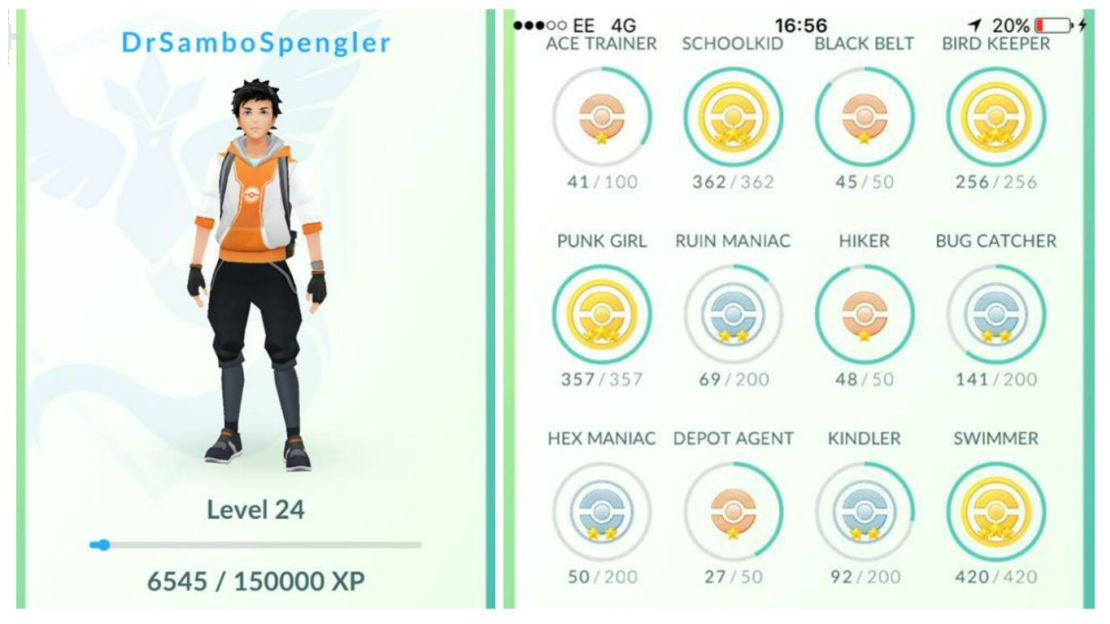 "I've lost two stone [12 kilograms] in weight," Clark told CNN. "I'm the first to admit, I was a bigger guy."
"It's having something just to spark you off, and that's what this game's done. There's no way you can play this game sat at home doing nothing. The only way to play it is to get out and walk."
Tall claim?
While health experts suggest Clark's weight loss claim is a little high, they agree walking can be a surprisingly good way to slim down.
"It is often realistic to lose 5-10 pounds [2-4.5 kilograms] in the first week of a strict diet and exercise plan — however, some of that weight is water weight," cautions nutritionist, author and health journalist Lisa Drayer.
"That being said, walking is a great way to lose weight, especially for those who are just beginning an exercise program. A 200 pound person can burn close to 200 calories from a 30 minute brisk walk."
"If that person walks for 85 minutes above his typical level of physical activity, he or she will lose 1 pound per week."
In the bath
Counting the time the app was running in the background, Clark said he played it for "hundreds" of hours.
Pokemon Go involves searching for up to 142 virtual characters that appear in real-life locations. It sets medals for walking 50, 100 or up to 100 kilometers, while special eggs allow the player to hatch rarer Pokemons by walking up to 10 kilometers.
Clark took his total to 143 by hatching a "Taurus," an exclusive Pokemon normally found in the U.S..
READ: Brooklyn man says he got 'em all
The owner of an electronics repair shop in Portsmouth, southern England, Clark appears to be the first person in the UK to have completed the challenge. Last week a Brooklyn man claimed to be the first person to catch 'em all in the U.S..
"I've had them appear in the bath, when I'm cooking dinner. It's not addictive, it's just enjoyable to play," said Clark.
Controversies
After its staggering global success, Pokemon Go has been criticized for leading players into dangerous situations. In the last month, two players in California fell off a cliff, a man in Baltimore drove into a police car and in Missouri, armed robbers reportedly used it to lure victims into isolated areas.
But Clark, who co-founded online community CyberJam Gaming "to bring gamers together," said his experience has been overwhelmingly positive.
"I'm married, I've got four kids and I have my own shop. It's not like I'm out every day on my own and not doing anything else."
"I will admit that I've been out on a lunch break that should have last half an hour and we were walking round for two and a half hours. But maybe that's a perk of me owning the shop!"
Counter to the negative reputation of gaming, Clark said that the physical nature of Pokemon Go has pushed people to get outside, exercise and make friends.
"The community spirit of this game is great. The people who play this game are the friendliest people you could ever want to meet."
A meet-up he organised in Portsmouth drew nearly 200 Pokemon Go fans – but he expects to see many more since his story has spread.
Helping anxiety?
"People have messaged me saying it's helped with anxiety. I suffer from anxiety and this is getting me outside, so that's helping.
"A lady messaged my wife saying she's been playing the game, she suffers from Post Traumatic Stress Disorder and hasn't been able to go outside for months.
"This game has encouraged her just to start getting out a bit. It's kind of touching."
But his story has also attracted nasty messages from Internet trolls.
READ: Could Pokemon Go save this economy?
"I've been called a virgin, a geek, a jobless loser. People have read the storyline but not read who I am. I'm a business owner, I've got kids and I'm married."
"A lot of people have said it's sad playing the game, well I'll be as sad as I want to be – if this helps me lose weight, I'll carry on."