Story highlights
Helicopter had brought aid to besieged city of Aleppo, Russian Defense Ministry says
Up to 300,000 people trapped in rebel-held eastern Aleppo
A Russian helicopter was shot down Monday after delivering aid to the Syrian city of Aleppo, killing all five people on board, Russian state media reported.
It was the biggest single loss of life for Russia in Syria since Russian warplanes started carrying out airstrikes in September 2015 in the country ravaged by war for five years.
Aleppo siege: Why latest developments are so significant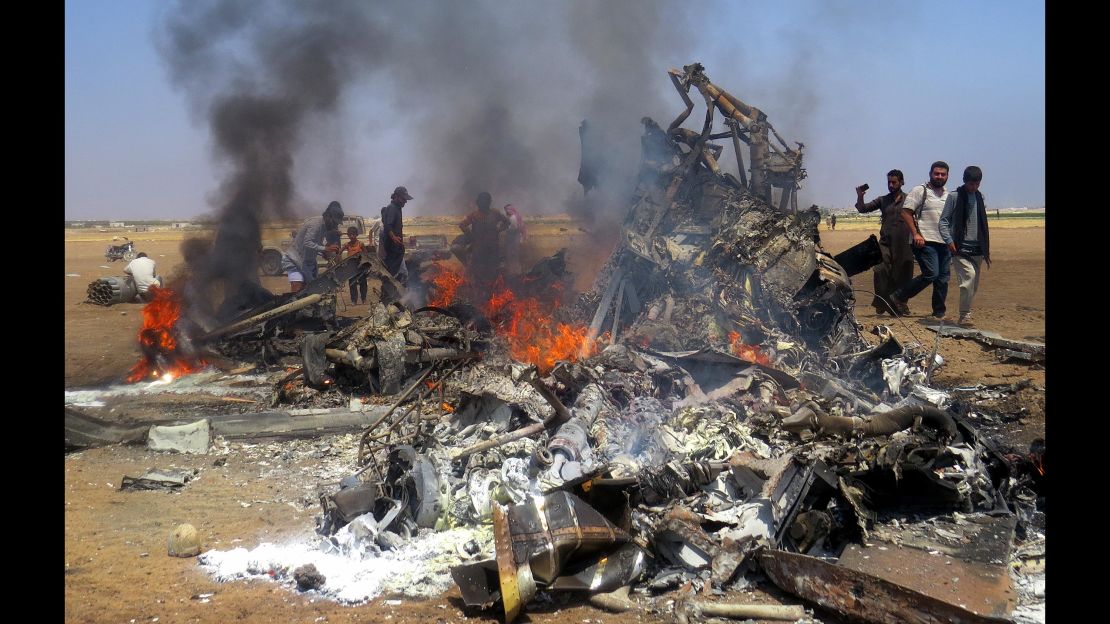 The Russian Defense Ministry said the Mi-8 helicopter was shot down by ground fire in Idlib province as it returned to base, state TV reported.
"Those who were aboard the helicopter, according to information from the Defense Ministry, have died heroically because they were attempting to steer the machine to minimize the casualties on the ground," Kremlin spokesman Dmitry Peskov told the state-run Sputnik news agency.
Rocket pod found near wreckage
Video footage showed dozens of men cheering around the flaming wreckage, some of them taking photographs with their phones and others yelling, "Allahu Akbar" ("God is great").
An empty rocket pod lay next to the wreckage, raising questions about whether the helicopter was carrying aid.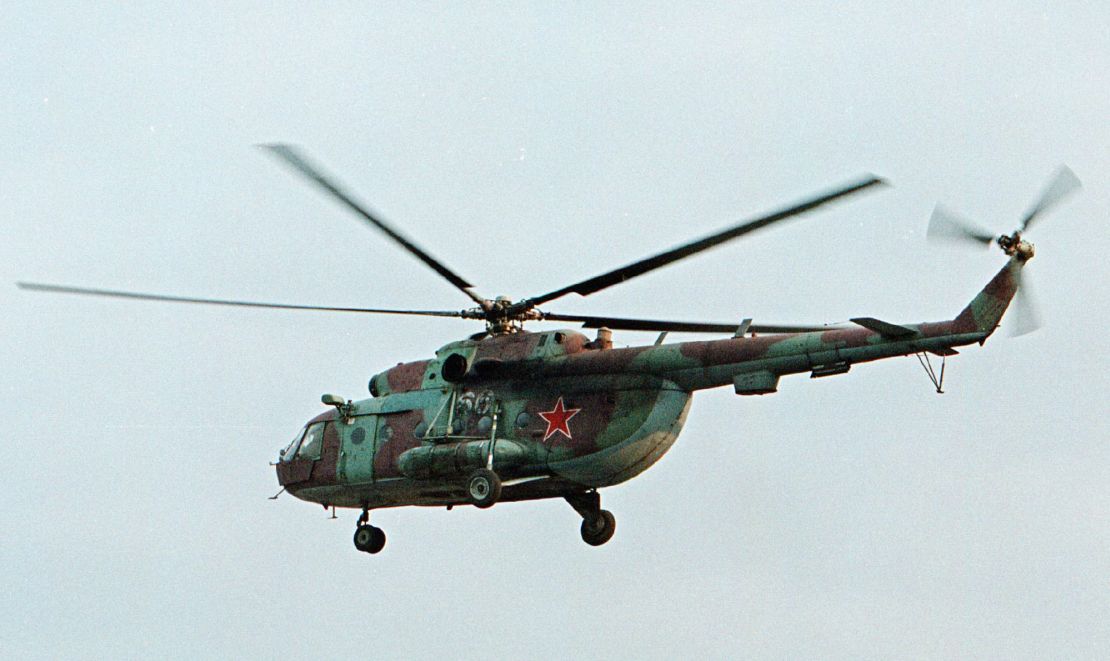 But it's "possible the Russian helicopter was carrying both empty pods and aid, just as it is possible that the pods were empty because the rockets had been fired earlier in the flight," said Jeremy Binnie, IHS Jane's Defence Weekly Middle East and Africa editor.
Syrian families trickle out of Aleppo, reports say
Russia's air campaign in Syria is widely seen by Western leaders as an attempt to prop up the regime of Syrian President Bashar al-Assad.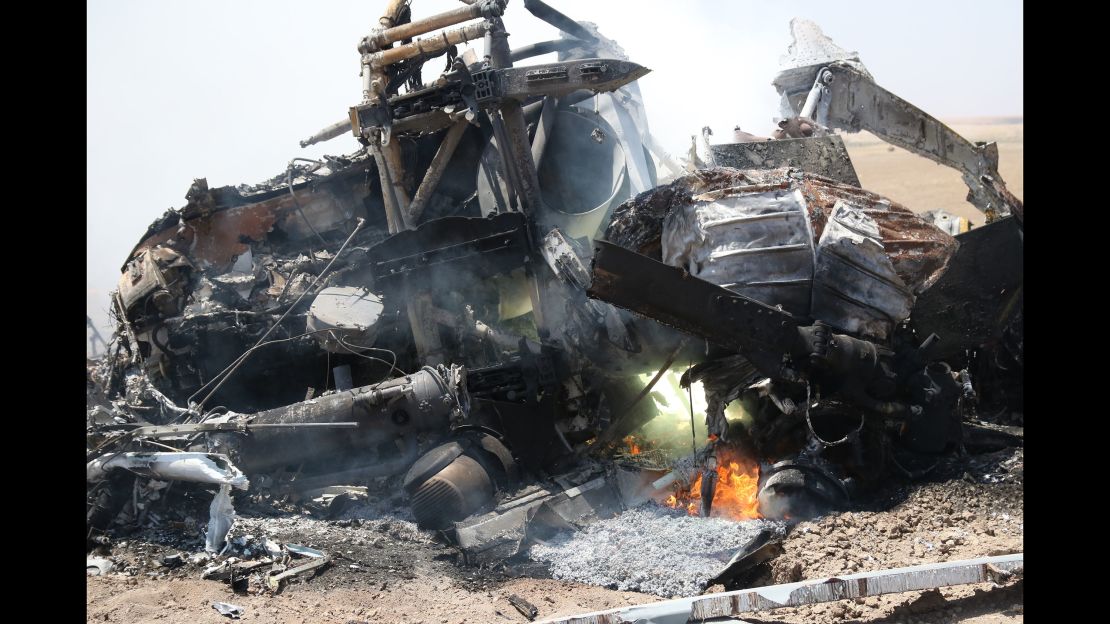 No one has so far claimed responsibility for the downing, and Russia hasn't indicated who might be behind it.
Members of Jabhat Fateh Al-Sham have a strong presence in Idlib province, as do other rebel groups fighting against the Syrian regime. Jabhat Fateh Al-Sham, formerly called al Nusra Front, recently severed its ties to al Qaeda.
Sustained attack
The helicopter downing comes amid deadly fighting and a humanitarian crisis in eastern Aleppo, where rebels are trying to break a Syrian government siege.
Here's what's going on in Aleppo by numbers:
6,000 people killed or injured
Some neighborhoods in Aleppo have been under fire for more than 80 consecutive days, leaving 6,000 people either dead or injured, according to the Syrian Observatory of Human Rights.
The UK-based monitoring group said rebel-held areas in the city's east have faced sustained attack by regime artillery and airstrikes, while rebel and Islamic factions have shelled regime-controlled areas in western neighborhoods.
Up to 300,000 people may be trapped
The United Nations has warned of a potential humanitarian catastrophe as regime troops backed by Russian air power tighten their grip on the ruined city. It estimates that between 200,000 and 300,000 people remain trapped in the besieged eastern part of Aleppo.
Humanitarian disaster feared for what is left of Aleppo
For those left in the area, life is grim, CNN correspondent Ian Lee reports.
The siege has essentially cut the area off from vital supplies, and the shelves of once-bustling food markets are empty. Fuel is running low, and there is concern that ambulances will stop coming to people's aid and that hospital generators will have nothing to run on.
People are reusing medical supplies that should be disposable, such as syringes, CNN sources say.
169 civilians fled through corridors
The Syrian and Russian governments say three humanitarian corridors have been opened to allow for the distribution of badly needed food and medical aid to civilians and to provide residents – along with rebels who choose to surrender – the opportunity to leave. The Syrian regime and Russia say four more corridors will soon be made available.
The Russian military said that 169 civilians and 69 militants fled through the corridors over the weekend, the state-run Russian news agency Sputnik reported.
But CNN sources on the ground there say that the corridors are barely being used as an escape route.
They say they believe people are too scared to flee, fearing what the regime might do to them once they get out.
U.S. Secretary of State John Kerry suggested Friday that the corridor approach could potentially be a "ruse," telling reporters it carried "the risk … of completely breaking apart the level of cooperation" between the United States and Russia.
Russia says it has prepared 14 tons of humanitarian cargo for those who leave the city, with 2.5 tons of food and other essentials already supplied.
4 hospitals bombarded