It's early morning in the Ngong Hills, on the edge of the Great Rift Valley, and a group of athletes huddle together in prayer in tracksuits and long pants. It's notoriously chilly this time of year. 
The runners set off from their camp, a converted orphanage, at a modest pace, hopping over puddles and dodging boda boda bikes. 
Ngong is a haven for Kenyan runners, the most storied middle-distance champions on the planet, and it's not unusual to bump into an Olympian on the dirt roads here. 
But these runners are refugees. They have no flag or country. They fled war and famine – overcoming enormous odds to be contenders for the world's biggest stage at the Rio Olympics.  
An extraordinary experiment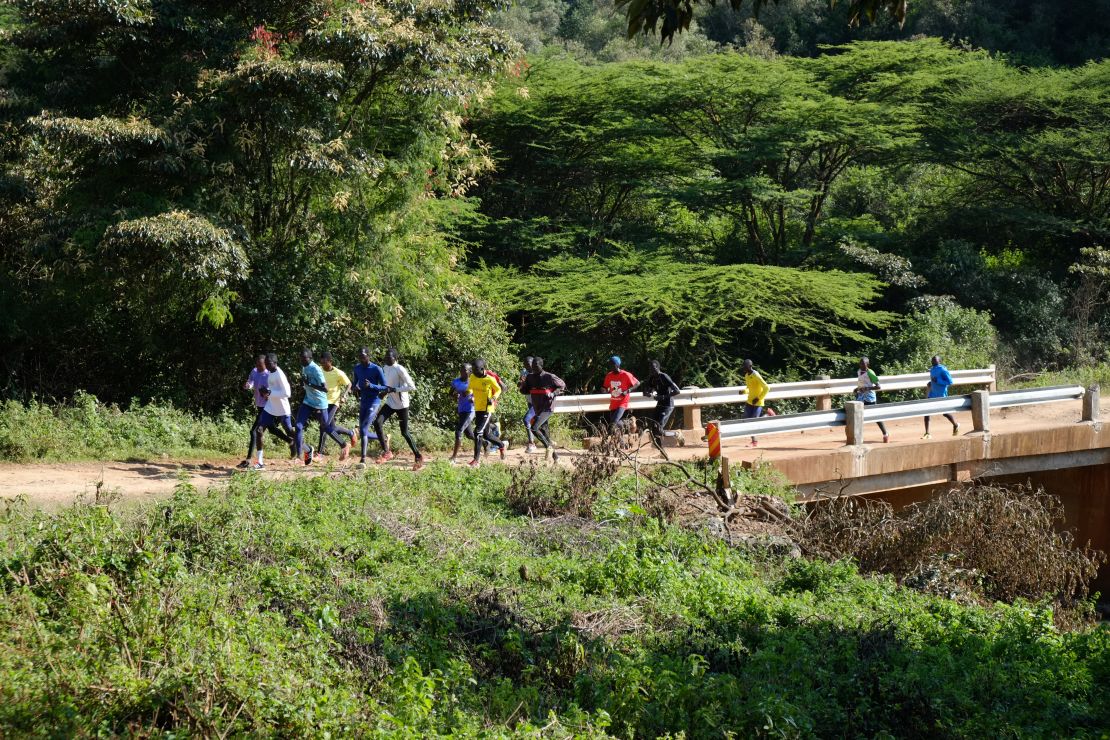 "When they came here first we went out training with the elite athletes at the stadium and they started laughing at them and said, 'coach, what are you doing with these people?' That was very discouraging," says John Anzrah, the refugees' coach.   
Anzrah competed for Kenya in the Los Angeles Olympics in 1984 and World Championships. He knows something about the pressure of high-level competition. 
He was given eight months to turn raw talent from refugee camps into contenders. It normally takes up to five years, he says. 
"As a coach, this has been my biggest challenge. If I succeed with this, then I don't think that anything is impossible," he says.
The runners are part of an extraordinary experiment.
Since the first modern Olympics in 1896 in Athens, the event has always highlighted competition of nation states. But in Rio, for the first time ever, a refugee team will be competing, representing all of those around the globe who have no nation.
Come August 5, the team will enter the Maracanã stadium in the parade of nations holding the five-ring Olympic flag as their standard.
Running for a dream
Rose Nathike has been running her whole life.
She has a distinctive running style, her fists unclenched, slicing the air with her hands. It's not the lithe stride of some east African middle-distance runners. Nathike is compact and powerful, grimacing as she churns by on the dirt murram track.
"All I want is good form running. Start on that side and do six hundred then two by three hundred. I'm not timing you, just good form," Coach Anzrah tells Nathike, his arms and legs mimicking a sprint.
Her event is the 800 meters, which is just short of half a mile. It calls for a combination of speed and endurance. And the training is notoriously difficult.
But not for Nathike.
"Life was so much hard compared to training in this place. The life in Kakuma camp was so hard," she says.
Thirteen years ago, she ran from soldiers in Chukudum, South Sudan. First she fled her village on foot with her family and then squashed in the back of a truck. The South was still ensnared in a brutal civil war with Khartoum. More than two million civilians died in the decades-long conflict.
But Nathike made it out alive to Kakuma refugee camp, on the fringes of northwest Kenya.
Learning to run in a refugee camp
Viewed from above, Kakuma looks like an orderly town with neat rows of mud or brick houses and gleaming tin roofs.
But like all refugee camps, it is a mirage. The people living here, mostly from South Sudan, depend on food handouts. They can't travel without a permit and the resettlement process is slow. 
"Life in Kakuma refugee camp is very hard because we are facing a lot of challenges. Sometimes there is violence. Maybe sometimes you can be mistreated. Maybe sometimes people can abuse you," says Nathike. 
But Kakuma is where she first learned to run.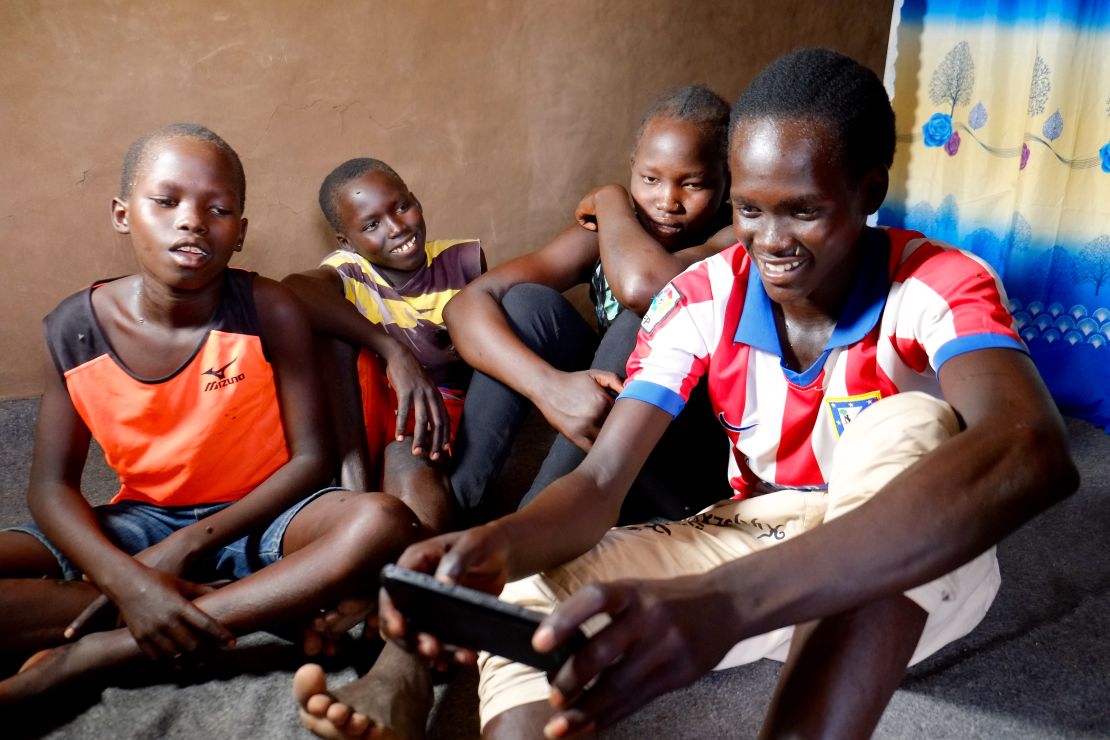 "Rose always loved to run," says Nathike's brother Tom. "She used to run to that hill near us every morning and then come back and rest. Then, in the evening, she would run again."
With Nathike now away at training, eighteen-year-old Tom takes care of their three other siblings, who are between the ages of ten and fifteen. Their father is a soldier, somewhere in South Sudan.
"It is really hard taking care of ourselves, but there is nothing we can do, I am the eldest now," he says.
Arriving divided – and leaving united
The International Olympic Committee and the Tegla Loroupe Foundation held a series of trials for refugees in the camp to whittle down potential contenders.
"We drove around with a speaker on top of a car," says Elvis Okiya, who works for the Lutheran World Foundation. "We have so many refugees who want to do sports, and it gave them hope."
They held 400, 800, 5,000 and 10,000-meter races inside the dusty camp. Rose Nathike entered the 5,000 and won. Soon she would be on her way to Ngong.  
Their training camp is at the top of a muddy track flanked by a boarding school and smallholdings. 
The refugees arrived divided, but very soon that changed.
"When they first came here they kept within their own groups. I had to take a Dinka athlete and make them sleep in the same dorm room as a Nuer athlete," says Coach Anzrah, naming ethnic groups from South Sudan that recently fought a brutal civil war.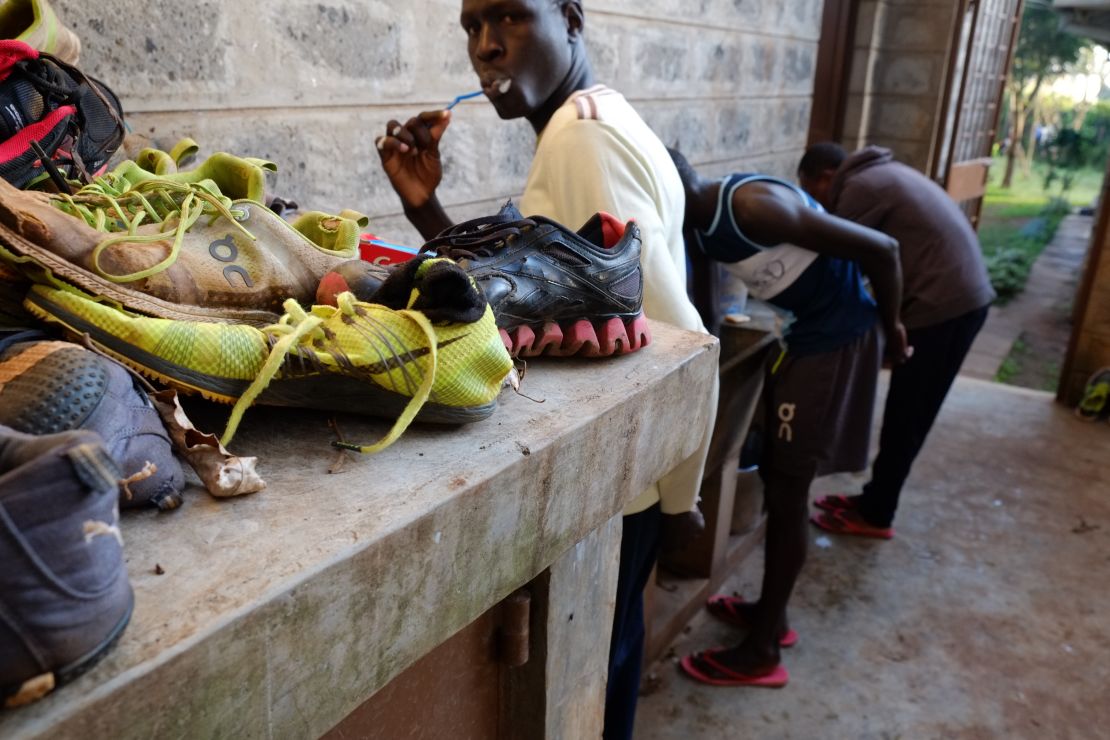 They trained together, did chores together and took turn leading the training runs every morning.
"We have come together as a team. We have come together through training. Sport can bring peace," says Nathike.
Many of the athletes had no shoes or sports gear when they arrived. Most had never left their refugee camps. And few knew anything about running.
"One of the runners took out his spiked track shoes for a cross-country run," recalls Anzrah. They were football players or sports enthusiasts – undiscovered raw talent, whereas Kenyan high school athletes join elite coaching programs already polished and practiced.
"If these young athletes lived in their respective countries and they had peace and proper training, maybe their talent could win a gold medal in Rio. Maybe it is talent that has gone to waste because of war," says Anzrah.
From refugees to Olympians