Flour. Pasta. Milk.
Three basics people all around the world have in their kitchens.
Three staples always in stock in groceries and supermarkets for any home cook looking to rustle up a family meal, pancakes or a quick, nutritious drink.
But in Venezuela, you can get these products only if you're lucky or have the connections and the cash. A lot of cash.
READ: What went wrong in Venezuela?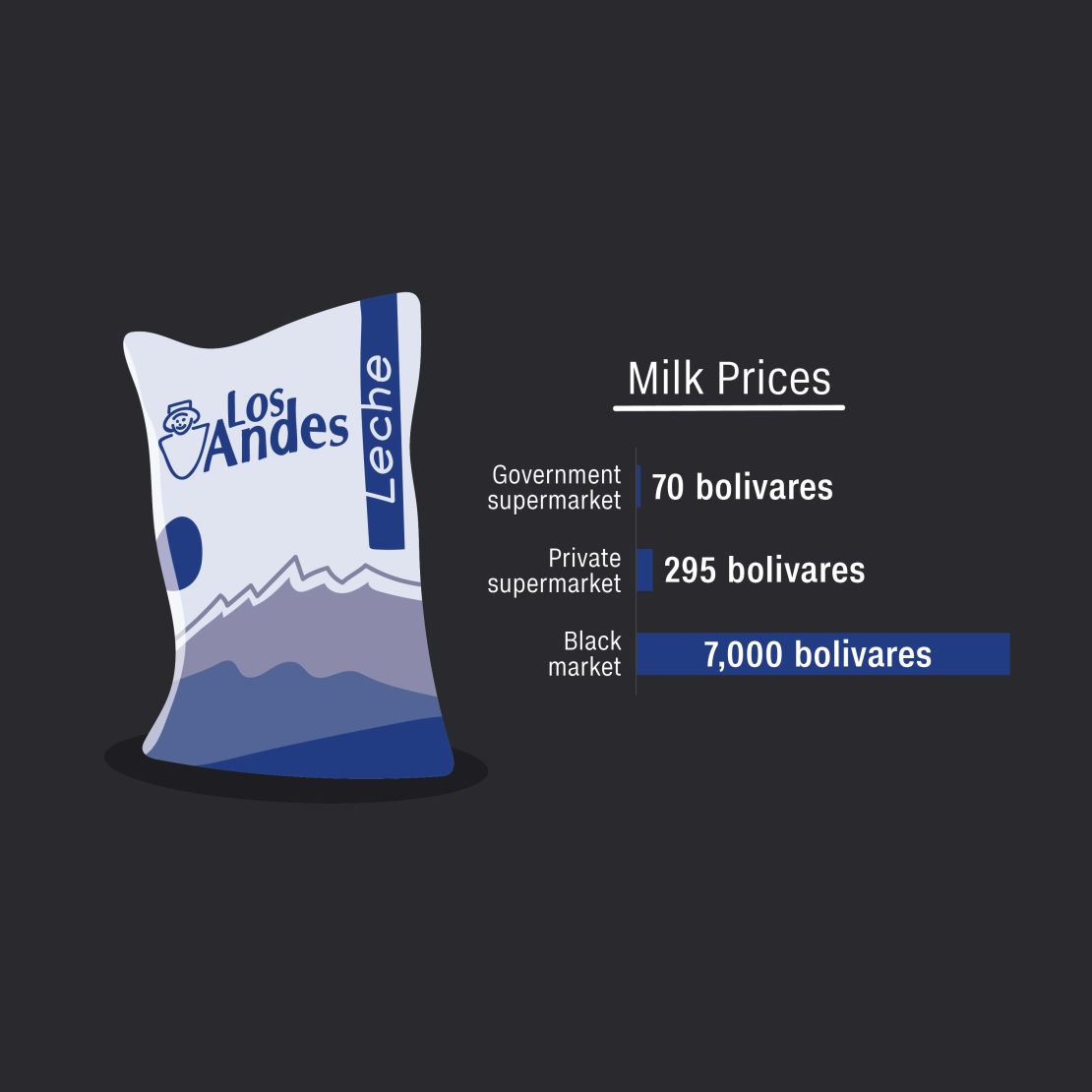 There's hardly ever fresh milk on the shelves. The same for powdered milk, which can sell on the black market for 100 times its official price. We found milk being sold for 7,000 bolivares – more than $700 at the official currency exchange rate, though if you have U.S. dollars you can exchange them on the black market at vastly more favorable rates, perhaps getting 1,000 bolivares to the dollar.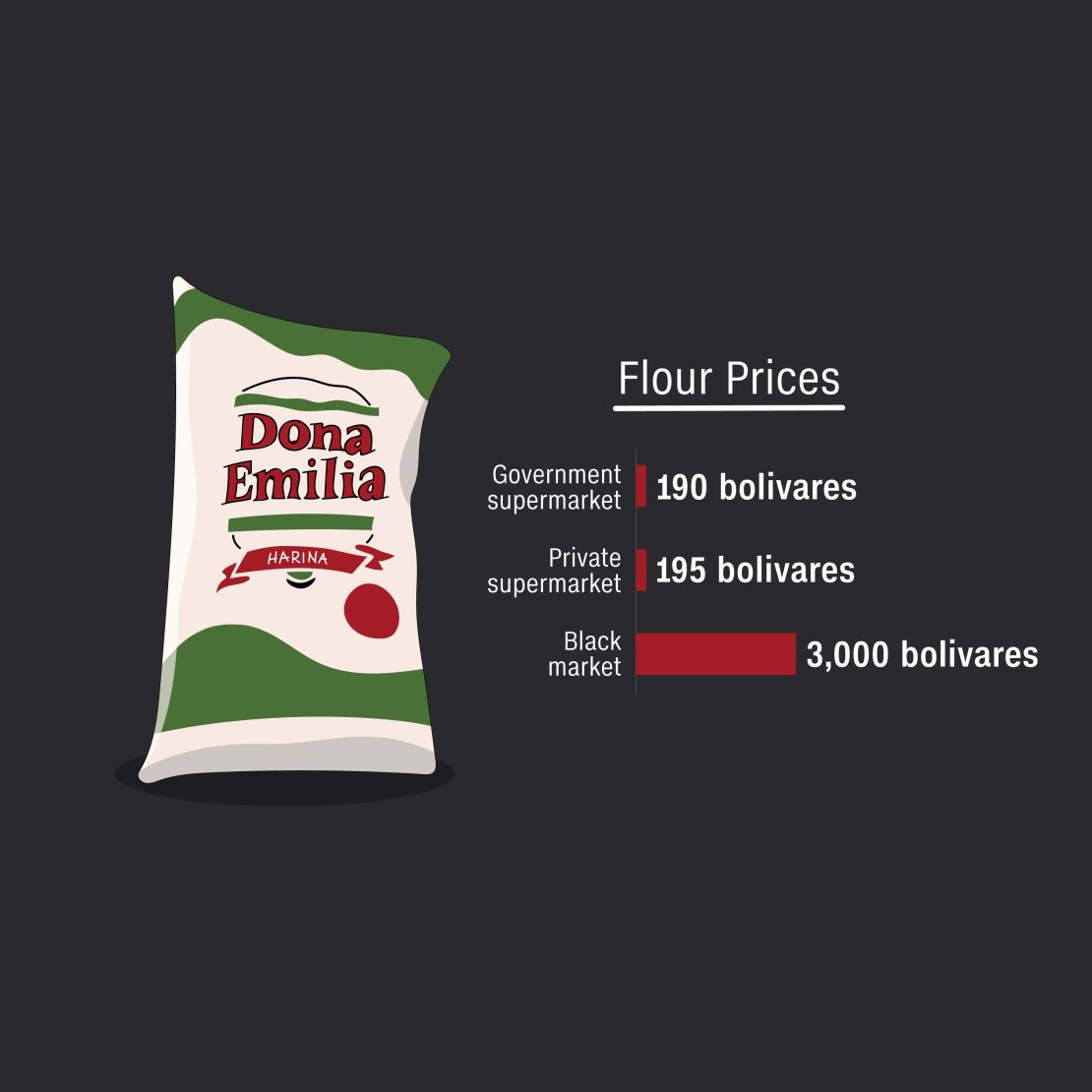 It's the same story for the maize flour that's the key constituent of arepas, traditional unleavened Venezuelan bread that is stuffed with any number of fillings. If it's ever available in a government supermarket it should cost 190 bolivares for a 1 kg (2.2-pound) bag, and not too much more at a privately run grocery. But on the black market, it can be about 15 times as expensive.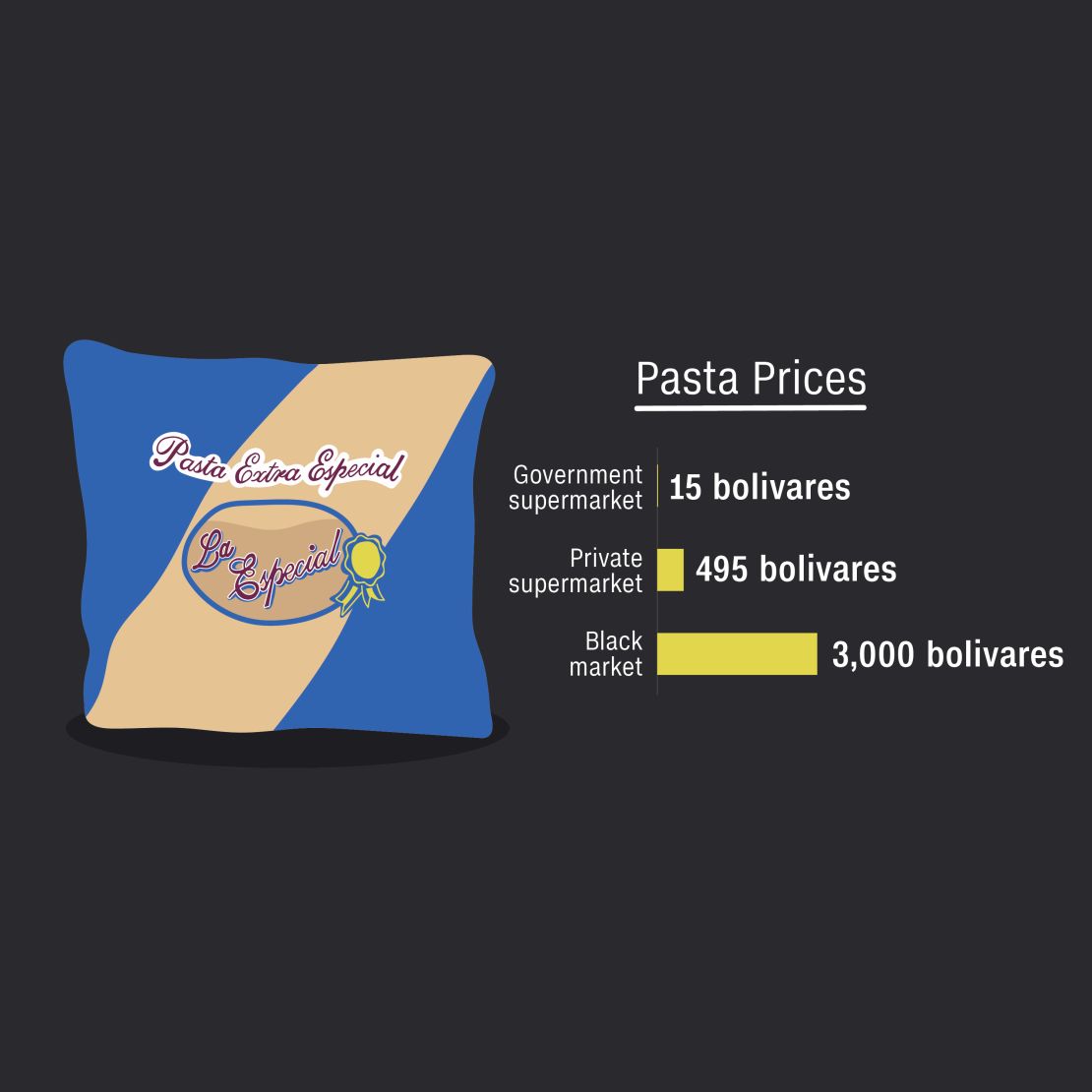 Supplies are so limited that CNN recently found a 1 kg bag of dried pasta selling for an astronomical 200 times its official price in Caracas.
Getting the food on the black market is illegal and can be dangerous. And it is just too expensive for so many people in Venezuela. Just buying these three staples – one bag each of flour, pasta and milk powder – could swallow up almost an entire month's pay for those on minimum wage, about 15,000 to 20,000 bolivares.
And that's why, of course, so many people have no option but to go to the public supermarket for their subsidized food. There are stringent rules. They wait for the day of the week when it is specified that they may shop according to their identity card, they try to work out which store may have what they need, then stand in line for hours upon hours, and still they may come out with next to nothing.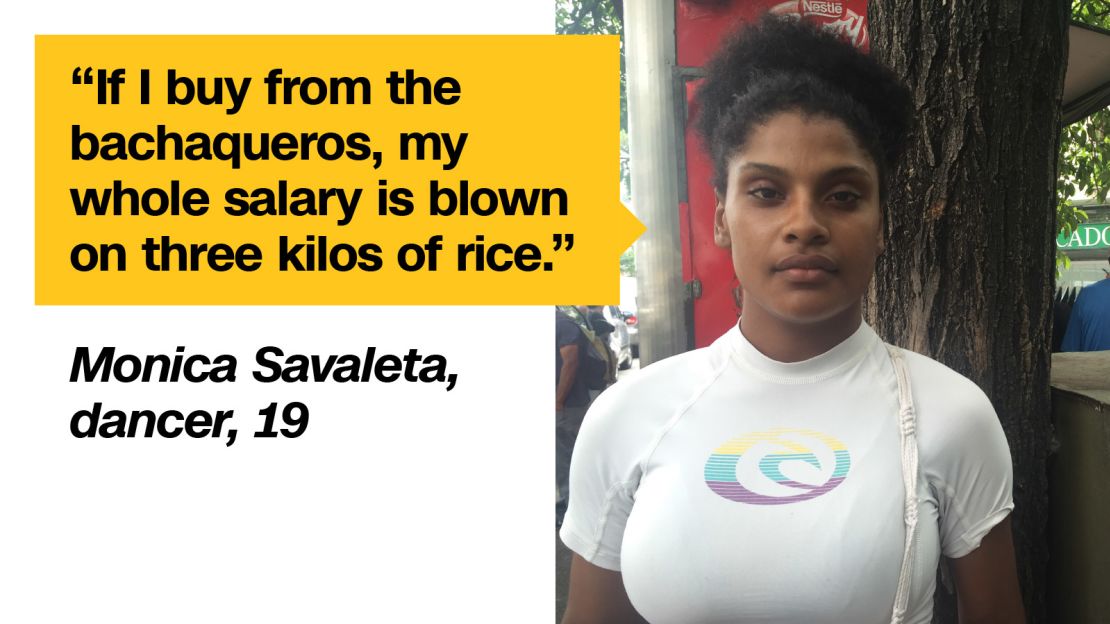 "I've been waiting in line since 3 a.m. and have only managed to get two tubes of toothpaste, so, I guess I'm going to have to eat toothpaste tonight," said Monica Savaleta, a 19-year-old dancer.
For her, going to the black market sellers known pejoratively as "bachaqueros" or profiteers, is not feasible. "I make between 12,000 and 15,000 bolivares a month. If I buy from the bachaqueros, my whole salary is blown on three kilos of rice."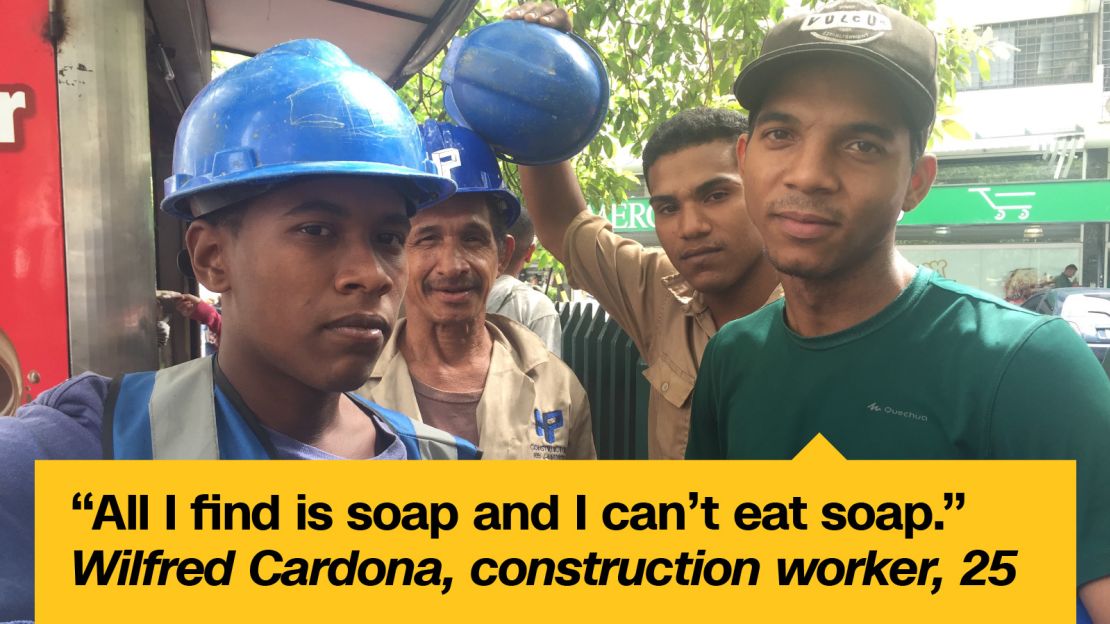 Wilfredo Cardona, 25, makes considerably more as a construction worker – about 40,000 bolivares a month. But often that doesn't help. "I came to buy flour, rice and sugar and haven't been able to find anything," he said. "All I find is soap and I can't eat soap."
"Best case scenario, I can get a kilo of chicken, a kilo of meat and one bag of rice and one of corn flour on my salary. That's it."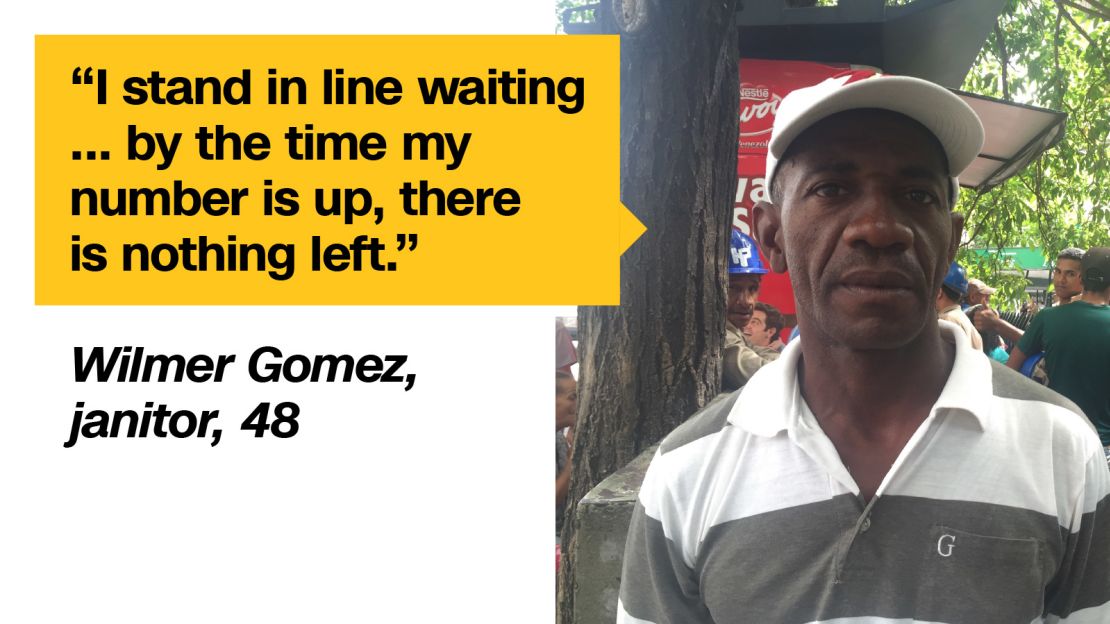 It's the same for Wilmer Gomez, a janitor who is 48. He goes from store to store, neighborhood to neighborhood looking to eke out his 24,000 bolivares monthly salary.
"I stand in line waiting for the regulated products and by the time my number is up there is nothing left."
"I've been looking for food all day today. This morning I found four bottles of oil in one place, bar of soap in another and laundry detergent in another. Hoping to find some corn flour now."
CNN's Flora Charner reported from Caracas, with Rachel Clarke writing and reporting from Atlanta.