Story highlights
Lawyer Wang Yu has been released on bail
She was detained along with dozens of others in June 2015
Wang apparently "confessed" in a video interview
A prominent Chinese human rights lawyer has been released on bail after she appeared to confess in a video published online.
In the video, Wang sits outside in a t-shirt, talking casually as soft guitar music plays over the footage. Speaking to a person off camera, she renounces her legal work and blames "foreign forces" for using her Fengrui law firm to undermine and discredit the Chinese government.
"I won't be used by them anymore," Wang says in the video, which experts say may have been made under duress.
Wang's lawyer, Wen Donghai said he only became aware of his client's apparent release after he saw the video. He told CNN he had no further information about her status or current whereabouts. "What I know is as much as you do."
On Tuesday, Wang's colleague Zhai Yanmin, another lawyer, was sentenced to three years in prison.
A court in Tianjin in northern China found Zhai guilty of having conspired and plotted to subvert state power, according to the state-run Xinhua News Agency.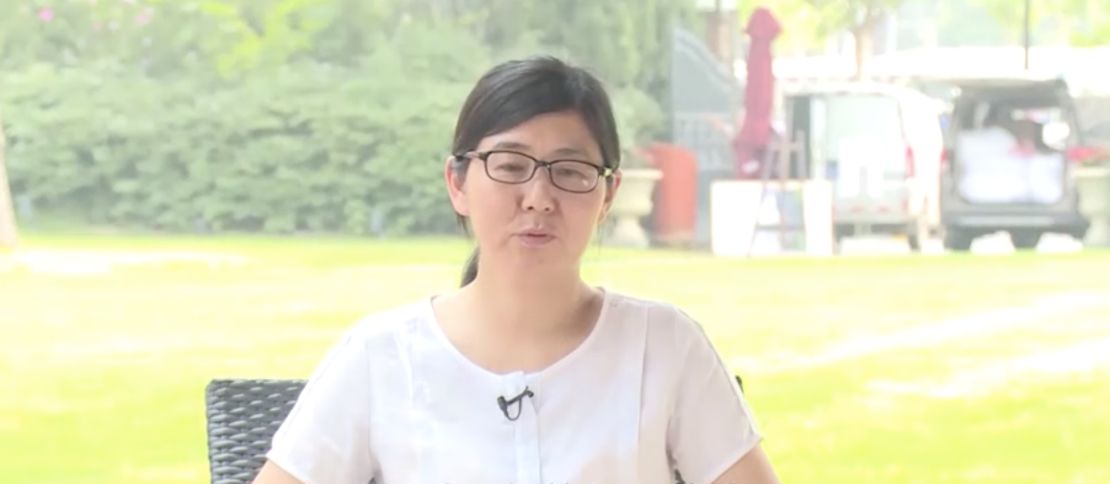 Confession 'not logical'
Video of the apparent confession by Wang was posted by two websites in Hong Kong – Phoenix TV and Oriental Daily – as well as by The Paper, a state-owned publication based in Shanghai.
Wang's statements echo those in other televised purported confessions, which have become more common since Chinese President Xi Jinping took power three years ago.
"It is very unusual for someone said to have been recently released on bail to appear in such an interview," Patrick Poon, a researcher at Amnesty International, told CNN.
"As far as we know, her lawyers and family didn't know about her release and still cannot reach her."
Poon added that it was "legitimate for us to question whether the 'confession' was genuine or not."
He pointed to the fact that Wang was previously charged with subverting state power, which can result in life imprisonment, before being abruptly released on bail.
"Suddenly she appeared in a videotaped interview, it's not logical," said Poon.
Authorities in Tianjin, where Wang was being held, and China's Ministry of Foreign Affairs did not immediately respond to requests for comment.
Wang was detained along with scores of other lawyers and activists in July last year.
According to monitor China Human Rights Lawyers Concern Group (CHRLCG), more than 300 lawyers, law firm staff, human rights activists and family members have been questioned, surveiled or detained in the past year.
The United States has denounced the charges laid against the lawyers as "politically motivated."
"The United States remains concerned by the Chinese government's continuing efforts to harass, intimidate and prosecute defense lawyers and human rights activists for their work," the U.S. Embassy in Beijing said in a statement Monday.
Growing trend
Wang's is the fourth prominent "confession" by a legal activist in China in recent months.
Swedish human rights advocate Peter Dahlin appeared on state-run CCTV in January in what his organization called an "apparent forced confession," before he was expelled from China.
Dahlin works for the Chinese Urgent Action Working Group – which provides legal counsel and training for those in need.
On the broadcast, he apologized for causing harm to the Chinese government.
"I apologize sincerely for this. And I'm very sorry that this ever happened," he said.
China insisted that Dahlin worked for an illegal organization whose activities threatened China's national security.
In June, Hong Kong bookseller Lam Wing-kee told CNN he was taken by "special forces" and kept in solitary confinement for five months. A confession he made on state television "had a director and a script," he said.
In recent months, several Hong Kong outlets have published interviews with previously detained activists in which they apologized for or confessed to their alleged crimes.
The video interview with Wang released by Hong Kong's Phoenix TV and Oriental Daily comes in the wake of an interview with 24-year-old legal assistant Zhao Wei published by the South China Morning Post in which she said she regretted her activism.
Zhao's husband told the Guardian he had been unable to meet with his wife and questioned the authenticity of the Post's interview.
David Bandurski, the editor in chief of Hong Kong University's China Media Project, said the incident "raises very serious questions about the newspaper's commitment to editorial independence" following its purchase by Chinese e-commerce giant Alibaba.
In a statement posted online, the paper said questions raised over the interview were an attempt "to paint the South China Morning Post in a negative light. "
CNN's Serena Dong contributed reporting from Beijing.