Story highlights
Mayors, police officials among those who have surrendered to national police
President Rodrigo Duterte names scores of officials in Sunday speech
Almost 50 Filipino officials, including mayors and police officers, have surrendered in response to being called out by the country's president as being connected to illegal drug trade Sunday.
Following the name-and-shame speech by President Rodrigo Duterte, in which over 150 officials were called out by name for alleged links, 18 mayors and 31 police officials have turned themselves in, Philippine National Police (PNP) spokesman Dionard Carlos told CNN.
Duterte had given those named 24 hours to surrender, a deadline which has now expired.
Carlos said more are expected to report in to the police later on Monday.
Duterte, who took office at the end of June, has been aggressively pursuing an anti-crime agenda – with a special focus on ridding the country of illegal drugs.
CNN affiliate CNN Philippines named Lorna Mupas, a judge, and former mayor Rasmyiah Macabago as among those who have surrendered.
Flimsy basis?
Facing questions from reporters that there was not enough evidence against those accused, PNP Chief Ronald Dela Rosa said it was true that the basis for holding them was flimsy.
"It is true (that there is not enough evidence against them). But what can I do? The president named them and they came to me and surrendered. I can't just turn them away… So now that they're here, we'll process them."
He said the list was the result of a "workshop" by intelligence committees including the PNP, military, and the Philippines Drug Enforcement Agency (PDEA).
"(The list) is not based on rumors or gossip. It didn't come from people whispering to the president's ear, 'Sir, this person is a political opponent, this one didn't support you in the election, so include him… the president isn't that shallow."
Former mayor of Cebu City Mike Rama released a short statement on Facebook, protesting his innocence and pledging to help authorities with anti-drug investigations.
"The news that my name was mentioned by President Duterte is saddening," the statement read, calling the accusation "untrue."
"I will fully cooperate with the authorities to immediately clear my name… My unwavering support for President Duterte's campaign will continue."
The outlet also reported that two local mayors, Cipriano "Goto" Violago Jr. and Jed Patrick Mabilog, had made statements saying that they were unconnected with the drug trade and would help Duterte's officials with their investigations.
Mabilog ensured his constituents that he is "credible and clean," saying he wants to keep his honor and integrity intact.
Name and shame
On Sunday, Duterte named over 150 government officials who he says are complicit in the country's drug trade.
Among those named in the speech in the southern city of Davao – once Duterte's mayoral stomping ground – were government officials, members of the judiciary, congressmen and police officials.
While some are retired, many on his list were active officers, according to CNN affiliate CNN Philippines.
All active police officers named have been suspended, but the speech did not expand on the allegations Duterte was making against the officials on the list.
Due process?
Duterte insisted those accused Sunday have access to a fair trial, although the same protection has not been afforded to many victims of the country's month-long war on drugs.
"(The accusations) might be true, it might not be true … They should have due process, presumption of innocence," he said.
Human rights groups have repeatedly criticized the Duterte administration's heavy-handed approach and say that the methods apparently sanctioned by the government have resulted in hundreds of extrajudicial killings.
The Philippine Daily Inquirer's "Kill List," regarded as one of the most accurate records of the killings of suspected drug dealers by police and vigilantes, recorded the deaths of 524 people suspected of drug crimes between June 30, the day Duterte assumed office, and August 4.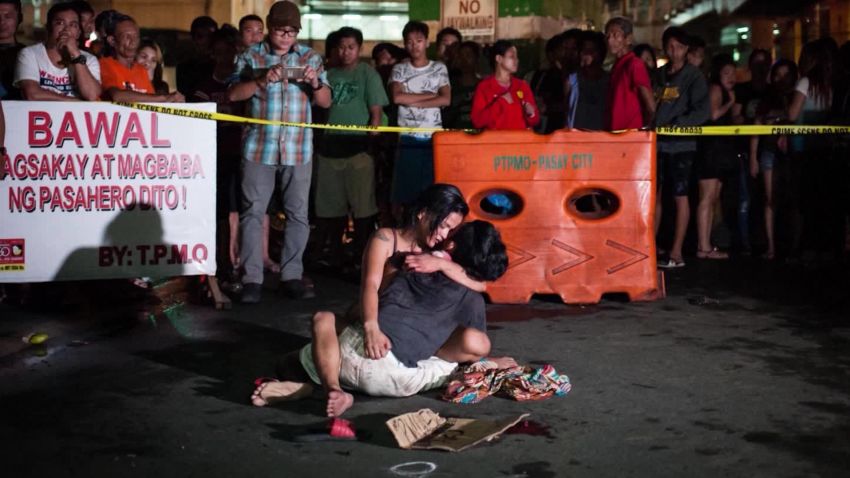 Death toll rising in Philippines' war on drugs
Philippines' Rodrigo Duterte: Public 'can kill' criminals
During his speech, Duterte said he knew several people on his list personally, but read them out regardless as duty "compelled him to disclose their names."
Before reading the list of names, he said the accused would be suspended, any firearm permits they held rescinded, and ordered them to surrender to the Philippines National Police (PNP).
"Once you hear your name mentioned here, you are now relieved of your present assignment. Report to the PNP within 24 hours or I will order the entire armed forces and the police to hunt for you," he said. The judges he named were ordered to report to the Supreme Court.
Drug war fallout
On Tuesday, Albuera Mayor Rolando Espinosa Sr. surrendered after being accused of links to the illegal drug trade. "(PNP Chief) General Dela Rosa would kill me if I didn't turn myself in", he said at a news conference, CNN Philippines reports.
Espinosa's lawyer, Romeu Sterotoulas, told CNN Philippines that his client has nothing to do with illegal drug operations in his town.
The so-called "Duterte effect" has seen a massive spike in extrajudicial killings of those suspected of involvement in the drug trade.
Duterte and Philippines prosecutors maintain that the shoot-to-kill policies are legal and that many of the suspects died in shootouts with police.
In his speech, Duterte said there were as many as 600,000 people connected to the drug trade in the country, including both dealers and users, and blamed the high number on the complicity of "government personnel" who are "into the (illegal drug trade)."
CNN's Kathy Quiano and journalist Charie Villa contributed to this report.