Story highlights
The FDA granted experimental drug esketamine its fast-track "breakthrough therapy" designation
Scientists believe ketamine remodels the nerves, and this is why it works as an antidepressant
The Food and Drug Administration put the experimental drug esketamine (also known as ketamine) on the fast track to official approval for use in treating major depression, Janssen Pharmaceutical announced Tuesday. This designated "breakthrough therapy" would offer psychiatrists a new method for treating patients with suicidal tendencies and would qualify as the first new treatment for major depressive disorder in about half a century.
In some quarters, though, this potentially effective medicine can't escape its reputation as "Special K," a street drug known for producing a high similar to an out-of-body experience – and sometimes used as a date rape drug.
Ketamine's origin story
Ketamine was first synthesized in 1962 by Calvin Stevens at Parke Davis Laboratories, according to Encyclopedia Britannica. It received FDA approval for use in humans in 1970, and shortly after, Army doctors used the drug on American soldiers fighting in Vietnam as an analgesic and sedative. Yet its minor hallucinogenic side effects soon warned doctors off treating people. Today, ketamine's most common use is as a veterinary anesthetic.
And yet the drug has an honored place on the World Health Organization's Essential Medicine List as an anesthetic and has been used off-label for pain, post-traumatic stress disorder, anxiety and depression. The most recent new research has looked at ketamine's possible effects on symptoms of obsessive-compulsive disorder.
How does this useful drug affect the brain?
"We don't exactly know how it works," said Dr. Julie Coffman of the department of internal medicine, hospice and palliative medicine at OhioHealth Riverside Methodist Hospital, who is not affiliated with Janssen or any pharmaceutical company.
She explained how depression causes damage to nerves and their transmission pathways. Scientists believe, based on animal studies, that ketamine actually remodels the nerves.
Ketamine triggers neuroplastic processes, in which new connections among brain cells are made, said Dr. Dan Iosifescu, an associate professor of psychiatry and neuroscience at Icahn School of Medicine at Mount Sinai, which is named on a license patent for using ketamine to treat depression.
"What's unique about ketamine is, this happens in hours or days, while with other depression medications, this happens in weeks to months," Iosifescu said.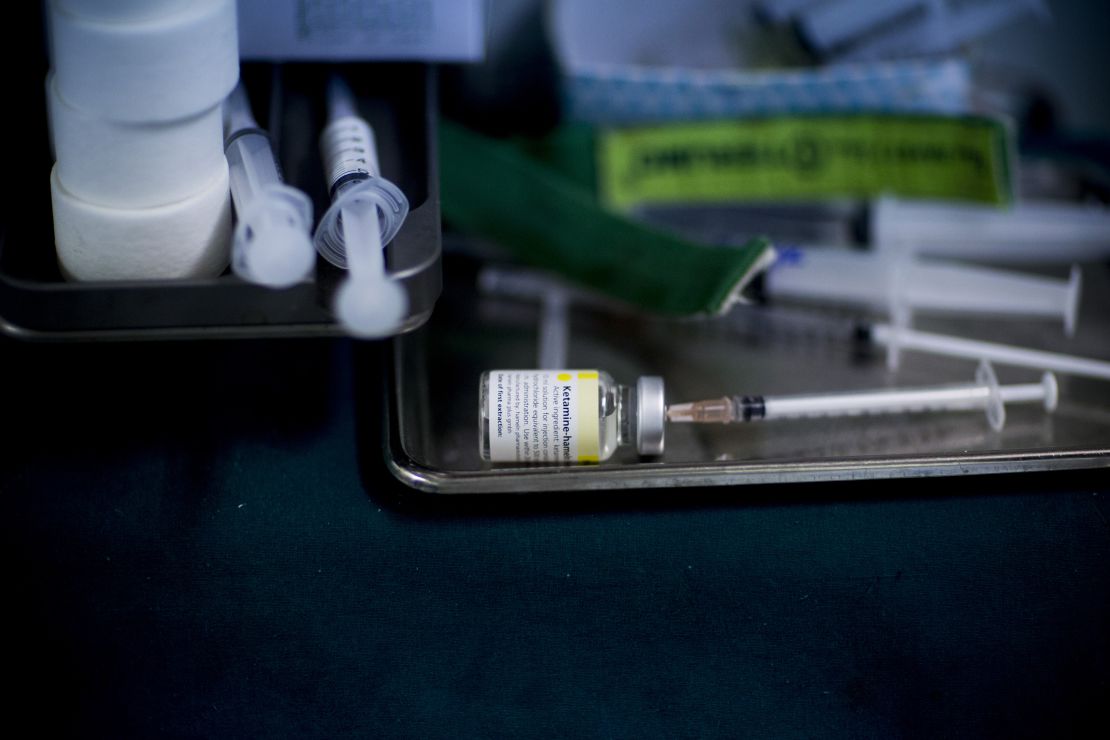 As described in a published report by Coffman, she used ketamine when treating a patient who had treatment-resistant depression; none of the antidepressants he had tried alleviated his symptoms. A single oral dose of ketamine "had a very positive effect," Coffman said, and helped improve his anxiety symptoms. "Even from his family's standpoint. They noticed a marked improvement," Coffman said.
Janssen is working on clinical trials for two indications for esketamine: one for treatment-resistant depression and another for depression with suicidal thoughts. The company plans to present its phase III data for treatment-resistant depression in 2018 and file with the FDA that year.
A concern with using ketamine to treat depression is that it can reverse tolerance to opioids, Coffman said. Essentially, patients will get a higher dose of pain medicines, she explained, so any psychiatric uses would require "close oversight" by a multidisciplinary team of doctors.
Iosifescu said the short-term effects are known, but the long-term effects remain mysterious.
Another concern is the similarity between prescription ketamine and the street drug, a substance of abuse.
These are all reasons why Janssen's formulation will be provided and administered in doctors' offices or clinics, not distributed by pharmacies.
"We want to make sure patients are protected," said Dr. David Hough, a psychiatrist and medical leader for esketamine research at Janssen. He explained that when patients are treated with esketamine, their blood pressure may increase, they may feel dizzy, and there may be other physiological effects immediately after use, so experts would like patients to be observed for a two-hour period.
There's also the public's perception of the potential for abuse, an important concern that Hough doesn't want to interfere with the drug's more important potential as a therapy for suicidal patients.
"I was a practicing psychiatrist for many years and saw many patients," Hough said.
"Over 41,000 people end up dying by suicide every year in the U.S.," he said. That's more than those who die from breast cancer every year. And suicide is increasing, he pointed out. "It's sort of an un-talked-about thing."
Current oral antidepressants take four to six weeks to work, while esketamine takes effect in the first four hours. According to Coffman, the effects of ketamine are not only dramatic but also long-lasting, with some patients experiencing positive results for up to 30 days after a single dose.
With suicide now a silent epidemic, will ketamine's bad reputation prevent it from fulfilling its possible promise as a much-needed treatment gap for depression?
"It's really groundbreaking," Hough said.