Story highlights
NEW: Ruling by highest administrative court could affect cities across France
More than 30 French towns had banned the full-length swimsuit
Mayors do not have the right to ban burkinis, France's highest administrative court ruled Friday.
The Council of State's ruling suspends a ban in the town of Villeneuve-Loubet, near Nice, and could affect cities around the country that have prohibited the full-length swimsuit.
More than 30 French towns have banned burkinis, which cover the whole body except for the face, hands and feet.
Officials say banning the burkini – worn mostly by Muslim women – is a response to growing terror concerns and heightened tensions after a series of terror attacks.
Last month, a truck rampage killed more than 80 people in Nice, and attackers stabbed an 86-year-old priest in northern France.
Human rights activists argue that burkini bans are illegal, and that pushes to outlaw the garment are Islamophobic.
They hailed Friday's ruling as a significant step.
"By overturning a discriminatory ban that is fueled by and is fueling prejudice and intolerance, today's decision has drawn an important line in the sand," Amnesty International Europe Director John Dalhuisen said in a statement.
But it's unclear how other towns with burkini bans will respond to Friday's decision. If mayors continue to enforce and enact such decrees, they could face similar legal challenges.
No matter what, battles over the burkini in the court – and in the court of public opinion – are far from over.
Friday's decision was an initial ruling by the Council of State while it continues to prepare its more detailed judgment on the legal issues in the case.
Meanwhile, French Prime Minister Manuel Valls has said he supports banning burkinis. And former French President Nicolas Sarkozy, who plans to run again for the nation's top job, has said he would immediately enact a national ban of the swimsuits.
Photo sparks outrage
Critics of the bans say they discriminate against the women they claim to protect.
"These bans do nothing to increase public safety, but do a lot to promote public humiliation," Dalhuisen said. "Not only are they in themselves discriminatory, but as we have seen, the enforcement of these bans leads to abuses and the degrading treatment of Muslim women and girls."
Earlier this week, photos of police enforcing a ban in Nice spread rapidly on social media. The images show armed officers apparently ordering a woman to remove part of her clothing.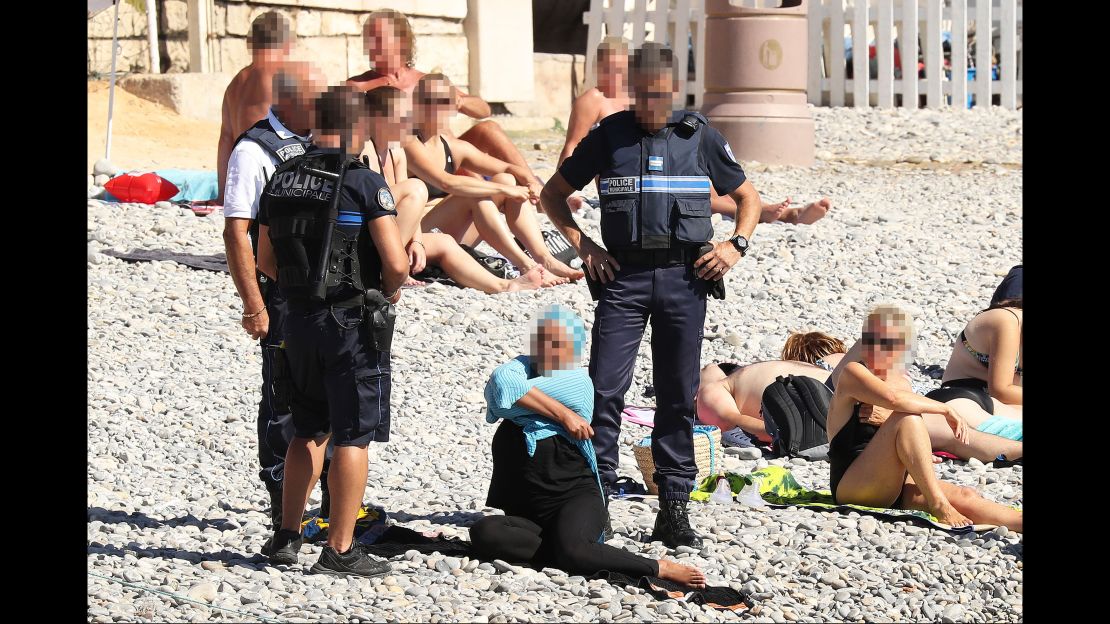 Authorities in Nice say the officers were simply exercising their duties. Deputy Mayor Christian Estrosi denounced the photos, saying they put the officers in danger.
"I condemn these unacceptable provocations," he said.
Online and in the streets, the bans have sparked protests and criticism around the world.
In London, demonstrators created a makeshift beach Thursday outside the French Embassy for a "Wear what you want beach party."
Jenny Dawkins, a Church of England priest, told CNN she joined the protest after seeing a photo of the incident in Nice.
"I think it's a frightening image," she said. "I find it quite chilling to see an image of a woman surrounded by men with guns being told to take her clothes off."
What are France's burqa laws?
In April 2011, France became the first European country to ban wearing in public the burqa, a full-body covering that includes a mesh over the face, and the niqab, a full-face veil with an opening for the eyes.
And much like the recent burkini bans, opinion in the country is divided between those who see the laws as an infringement on religious freedom, and those who view the Islamic dress as inconsistent with France's rigorously enforced secularism.
Those breaking the burqa law face fines of 150 euros (about $205) or public service duties.
The law was upheld by the European Convention on Human Rights in 2014 after a 24-year-old woman brought the case to court, claiming it infringed on her religious freedom.
The government also previously banned Muslim headscarves and other "conspicuous" religious symbols in French schools in February 2004.
CNN's Elaine Ly, Tatiana Reiter, Ben Marcus and Bianca Britton contributed to this report.