Editor's Note: Dana Santas is a certified strength and conditioning specialist, experienced registered yoga teacher and mind-body coach known as the Mobility Maker. She's the yoga coach for the Toronto Blue Jays, Philadelphia Phillies, Tampa Bay Rays, Atlanta Braves, Tampa Bay Lightning and others in Major League Baseball, the National Hockey League, the National Football League, the National Basketball Association and the Professional Golfers' Association.
Story highlights
Dana Santas wanted more than a treadmill stuck in a corner
Her family created a home gym that's become their favorite "room"
Have you ever owned a piece of at-home exercise equipment that became a massive, expensive clothes hanger? I have. Like many who make good-intentioned commitments to working out at home, I set myself up for failure by going too big, too soon. After only a month, I lost the motivation to run in place on my treadmill, like a hamster on a wheel, in the corner of a room. Thankfully, I came to realize that a smaller-step, progressive approach is more sustainable, enabling you to match your budget and space allocation to your growing dedication and needs.
Start small: Accountability, interest and ease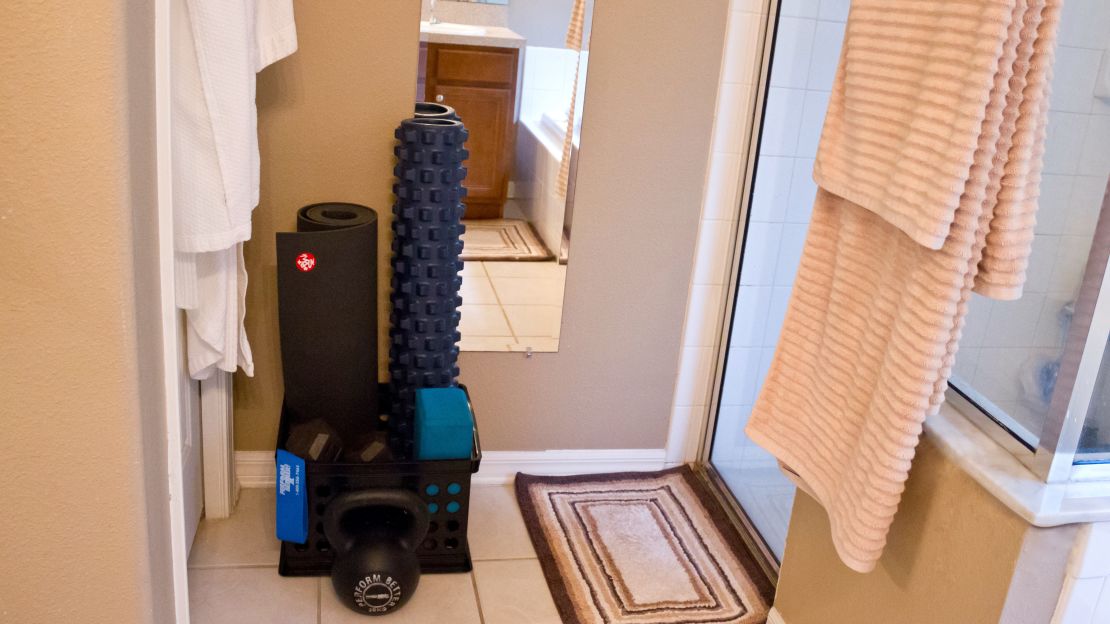 Many years after abandoning the treadmill, I recommitted to working out at home with a few cost-effective multipurpose tools: yoga mat, yoga block, dumbbells, kettle bell, mini band and foam roller. Although the crate holding these things didn't take up much space, by placing it conspicuously next to my shower, I saw it every morning. And when I used a dry-erase marker to write workouts on the bathroom mirror, they'd literally stare me in the face.
To ensure that I couldn't claim lack of time, boredom or being overwhelmed as excuses, I initially limited workouts to five to 10 minutes and stuck with familiar exercises I enjoyed that could be done barefoot in pajamas. These included my favorite morning yoga movements, foam rolling and basic dumbbell exercises such as bicep curls, tricep kickbacks and shoulder presses.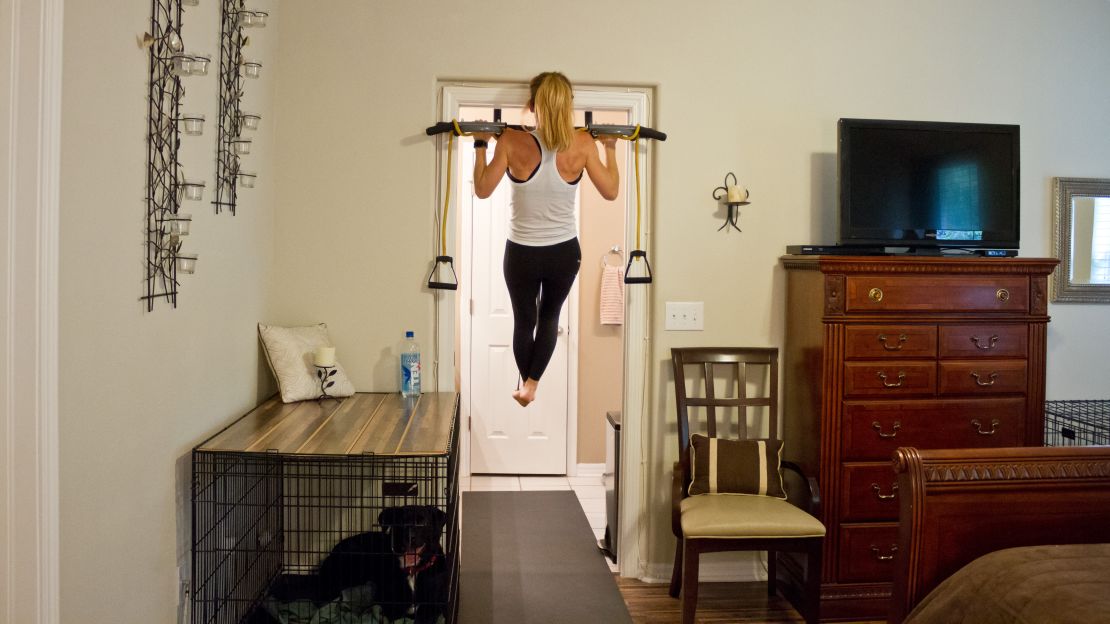 Because I wanted to improve my upper-body strength and coveted the idea of being able to do a pull-up, I took an additional measure to keep myself accountable and interested by hanging a pull-up bar in the master bathroom doorframe. After making a rule that I had to do a band-assisted pull-up every time I walked under it, within a few months, I could do multiple unassisted pull-ups in a row.
Let necessity lead the way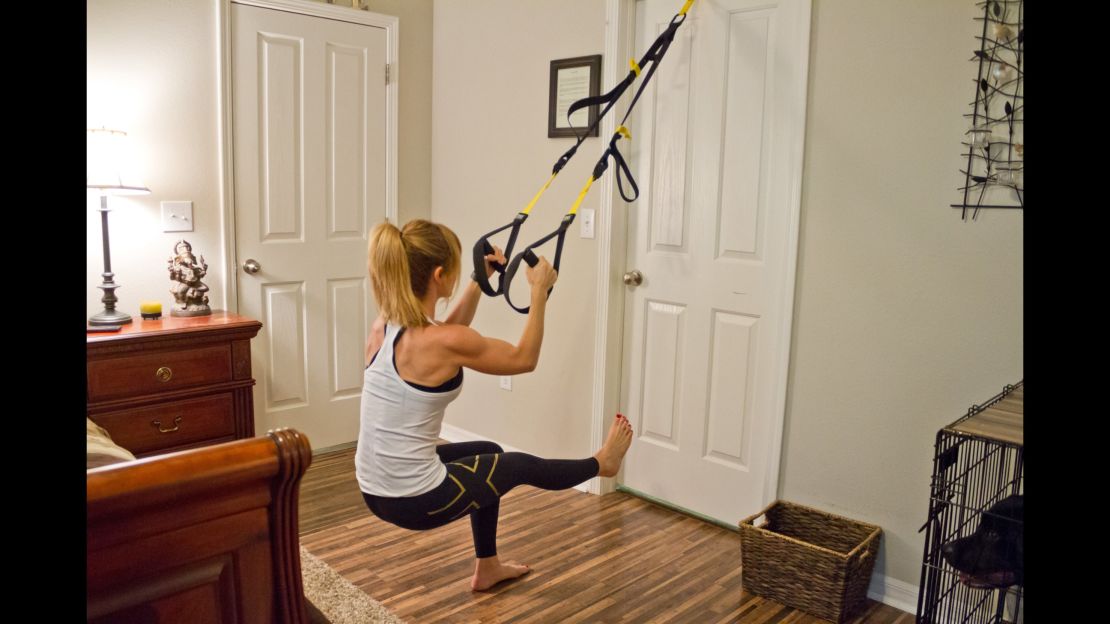 As a reward for six months of working out at least five mornings per week, I added a training tool to my crate. After concentrating on upper-body strength, I felt I needed something multifunctional that could increase opportunities for total-body exercise within the confines of my bedroom and bathroom. The TRX suspension trainer could hang on a door and offered the perfect solution, considering that its inventor, Randy Hetrick, a Navy SEAL, created it as a means of overall conditioning in the space-confined conditions of deployment.
I started with simple exercises from the manual, but empowered by the success I'd had creating workouts based on my yoga interest and experience, I also experimented with yoga movements, both supported and resisted by the TRX.
Dedicating to dedicated space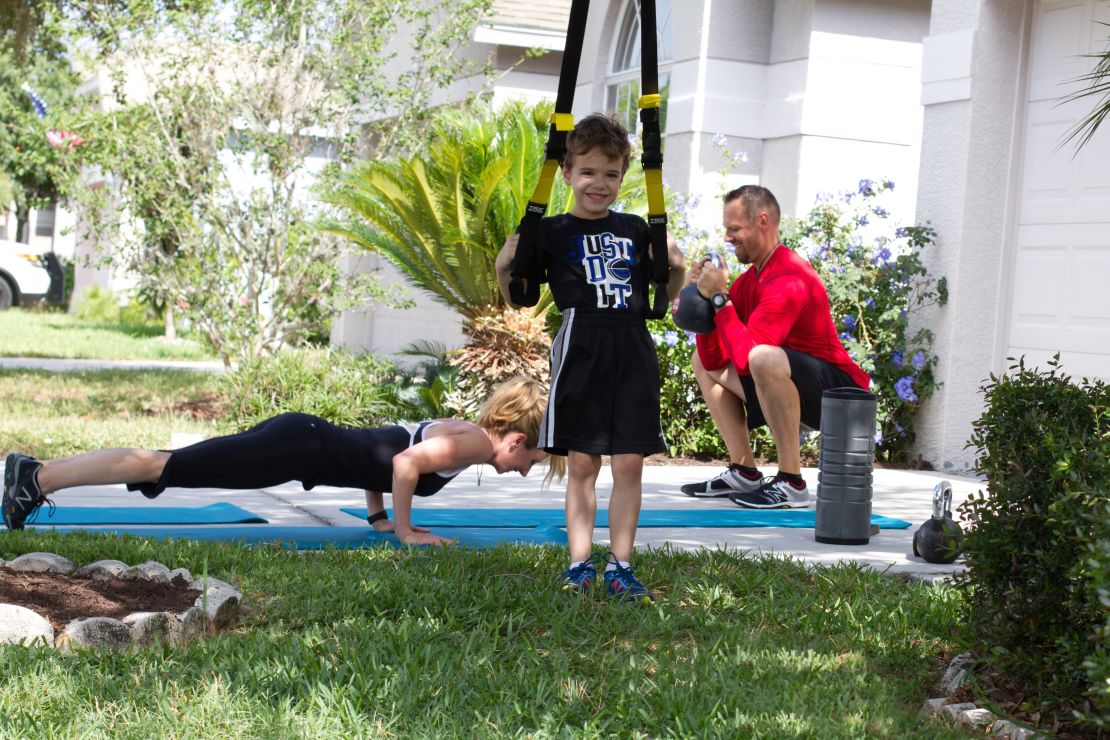 Although I enjoyed the suspended body-weight workouts, within a year, I began craving more weight-training exercises. So I expanded to a weight-lifting bar with plates on my lanai.
Now that my home workouts were no longer confined to the privacy of my bedroom and bathroom, my husband and children began joining me. Soon, our weekends included family workouts that spilled out into our yard and driveway. They were fun bonding experiences that promoted a healthy lifestyle commitment to our kids.
With our dedication to home workouts now evident in numerous places inside and outside our house, creating dedicated space was a logical next step. Consequently, 18 months after I set the milk crate next to my shower, we converted our garage into a home gym that quickly became our family's favorite "room" in the house.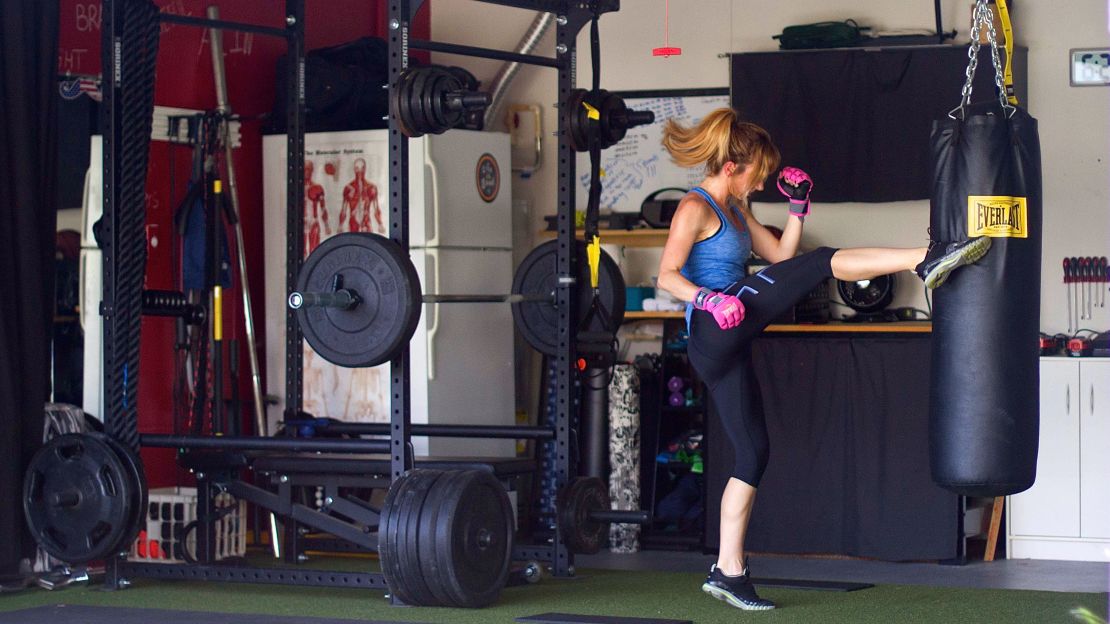 As our budget and opportunities allow, we continue to build out our gym. At first, we turfed only half the garage, but nine months later, we were able to install higher-end turf over the entire floor space. And, periodically, we make family decisions to add functional training equipment, like the heavy bag.
Beyond physical benefits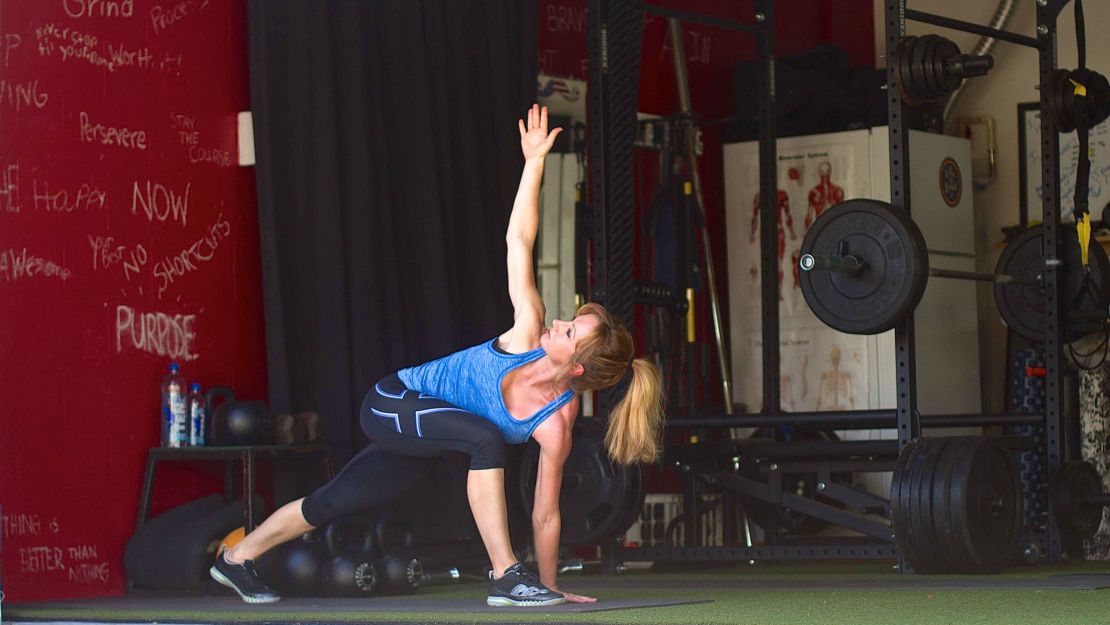 To make our workout space feel less like a garage, we painted one wall vibrant red. One day, our youngest son wrote "Happy" on the red wall in chalk. Since then, our family and friends have contributed to the motivational words on the wall. Through the progressive step-by-step process, the concept of working out at home evolved from a difficult-to-sustain chore to an empowering aspect of our family's lifestyle, forever changing how our children view personal fitness.
This life-altering phenomenon is not unique to our home gym. My friend Bert Sorin, owner of Sorinex Exercise equipment, grew up in a house where his father, Richard "Pops" Sorin, had a gym in their garage. According to Bert, "Seeing my dad in there really pushing himself, I learned, and internalized, that fortifying your body was not only important but the norm in our family. Because of that example, eating well and exercising is really the only way I know how to live this life."
Clearly, the Sorin garage gym had an impact on father and son, inciting Richard to start Sorinex in 1980 and Bert to take over the business in 2014.
Ready to commit?
Here are five considerations for growing your commitment to home workout space:
1. End goal: Although you should employ progressive steps to create dedicated workout space, keep your end goal in mind. Are you trying to supplement your gym workouts or ultimately replace a gym membership? Your long-term intentions will impact your other considerations.
2. Training needs/experience: If you're new to working out, you may be tempted to dive into the latest DVD program, but remember, working out at home is easiest to sustain over the long term when you feel empowered to do it yourself. It might make more sense to hire a personal trainer for a few sessions in your home to show you how to use basic multifunctional equipment and create workouts for you.
3. Budget/equipment: Start small with multifunction, low-budget items that interest you and fit unobtrusively in your space. You can find myriad items online at sources like performbetter.com or even amazon.com. As you build your commitment, consider tradeoffs in space and budget. To convert our garage into a gym, we invested in a backyard shed and storage unit for yard equipment and various holiday decorations. We offset that expense by eliminating gym memberships. For bigger equipment purchases, you can save by purchasing previously owned items.
4. Location/space size: Initially, you should use high-traffic personal space to help keep you accountable before growing into a dedicated space. Make sure any space you commit to serves your overall needs without interfering with other demands of your household. Will noise level be an issue (e.g., Is the baby's room next door)? Are ceilings high enough? Is there enough light? Studies have showed that natural light exposure can boost energy and mood, and even improve sleep. So a good argument can be made for situating your workout space in a garage or three-season room.
5. Time frame: Be careful to avoid the too-much-too-soon trap, but also avoid letting the growth of your commitment stagnate. Keep an active measure of your success by answering these two questions at the end of each week: On a scale of one to five, how much did you enjoy your workouts? Out of seven days, how many times did you work out?
If either of those answers falls below three more than twice in a month, rethink your workout strategy based on the other considerations noted above. But if your numbers go up or stay consistently positive, reward your dedication monthly or quarterly by adding equipment or expanding your space with your end goal in mind.