Editor's Note: Throughout the 2016 election cycle, CNN's #GetPolitical series is profiling influential cultural figures about the issues they are about.
Story highlights
Bassem Youssef is a heart surgeon turned political satirist
He rose to fame in Egypt amid the Arab Spring
Political satirist Bassem Youssef, who has become known to many as "the Jon Stewart of Egypt," is lamenting "xenophobic" rhetoric from Republican presidential nominee Donald Trump.
Speaking to CNN, Youssef slammed those who spread "propaganda" that encourages what he said is the "systematic dehumanization" of refugees.
"This kind of rhetoric — spreading fear and suspicion against the other – is not something new. We're used to it in the Middle East," Youssef said. "You always need something to hold on to, an enemy to direct your hatred to, to cover up your incompetence and cover up your failure."
One year ago Friday, a photo of the body of 3-year-old Syrian toddler Alan Kurdi went viral. Kurdi, who escaped Kobane, Syria, with his family, died and was washed ashore on a Turkish beach after a boat carrying refugees sank in the Mediterranean Sea.
The image galvanized the debate over the world's role in aiding Syrian refugees, and has risen to the fore of American politics, as Trump has vowed to send them back from the US to the war-torn nation if he's elected president.
US welcomes its 10,000th Syrian refugee head of schedule
Youssef, who knows firsthand what it's like to be an immigrant, is now diving into American politics and satirizing American democracy in "The Democracy Handbook," a web-based show on Fusion, where he seeks to give Americans a Middle Eastern perspective on US politics and challenge mainstream perspectives on the Arab and Muslim world.
"I can't even being to express my sorrow and sadness towards those people," Youssef said. "(Leaving their countries) is not a luxury thing for them. This is out of necessity, out of survival."
Youssef urged Trump and those who oppose refugees "to look at them as human" and "understand their sorrow and their agony."
"It is this systematic dehumanization of the other is why we have a negative outlook on refugees," he added.
A message left with Trump's campaign was not immediately returned Friday afternoon.
A target himself
"Tickling Giants," a documentary that premiered at the 2016 Tribeca Film Festival, chronicles Youssef's journey.
The heart surgeon turned political satirist hosted the Egyptian TV program "Al-Bernameg," which means "The Program" in Arabic. The show was inspired by Stewart's "Daily Show" and both Stewart and Youssef made special guest appearances on the others' shows.
Check out: #GetPolitical — A CNNPolitics original series
In early 2011, when the Arab Spring came to Egypt, thousands rallied in Tahrir Square, where protests led to the ousting of longtime Egyptian President Hosni Mubarak.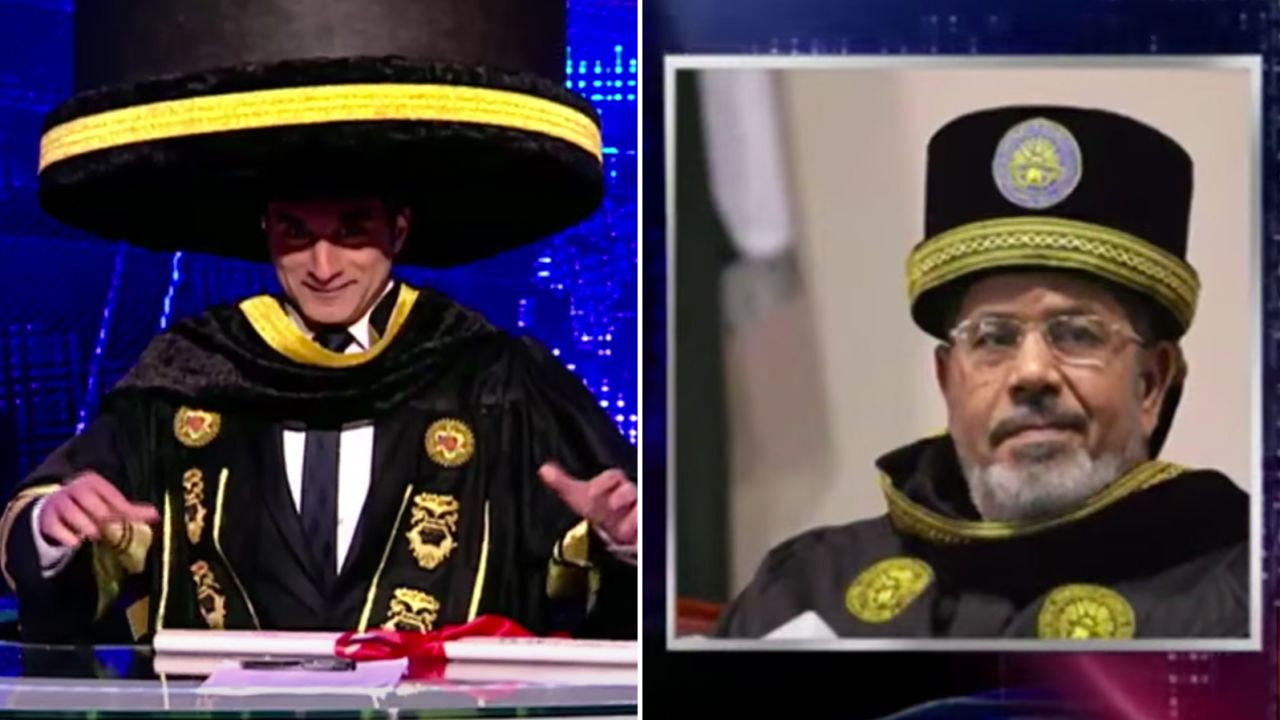 Youssef, a longtime critic of the Egyptian government, quickly became a thorn in the side of the Egyptian government.
His show criticized the administration of Muslim Brotherhood-backed President Mohamed Morsy, addressed social taboos and used humor to call out authorities for undemocratic practices.
"I had my share of problems under the Muslim Brotherhood regime and the regime that followed and we ended up being interrogated, jammed, taken off the air once, jammed again, taken off the air twice," Youssef said.
In 2013, Youssef was accused of insulting Islam and Egypt and a warrant was issued for his arrest. He was later released on bail.
But following intense pressure from the government, Youssef abruptly announced the suspension of the show in June 2014.
Fearing for his own safety and his family's, Youssef left Egypt and moved to the United States.
"Satire is very strong, especially in the face of fear and propaganda because it dissects trough their lies and nonsense, and it give people a more objective view of what's happening," Youssef said.