Story highlights
The women came in asking to report a crime, then began stabbing officers, police say
Al-Shabaab suspected to be behind the attack, police say
Three veiled women were killed by Kenyan police after they launched an attack Sunday on a police station in the port city of Mombasa, a local commander said.
A petrol bomb was thrown and officers were stabbed in the attack on Mombasa's Central Police Station, which Mombasa county police commander Patterson Maelo described as a terrorist incident.
The attack began when the women, their faces covered with buibui, a black shawl worn by many Muslim women in east Africa, entered the police station complaining their phones had been stolen, Maelo said.
One of the women then threw a petrol bomb, while the other two stabbed police officers. Police responded by shooting the women, killing them, he said.
The women were wearing bulletproof vests, he said. Images from the scene showed bomb detector units checking the women's bodies for explosives.
Police later said one of the women was wearing a suicide vest that did not detonate.
Two police officers were injured in the attack and were in stable condition Sunday at a local hospital, he said.
No group has yet claimed responsibility for the attack, but Patterson said suspicion was falling on Al-Shabaab, an Islamist group in neighboring Somalia that has repeatedly carried out terror attacks on Kenyan soil.
Three suspects were arrested later in connection with the attack, police said, after two of the attackers were identified and police found the suspects at the residence of one of those women.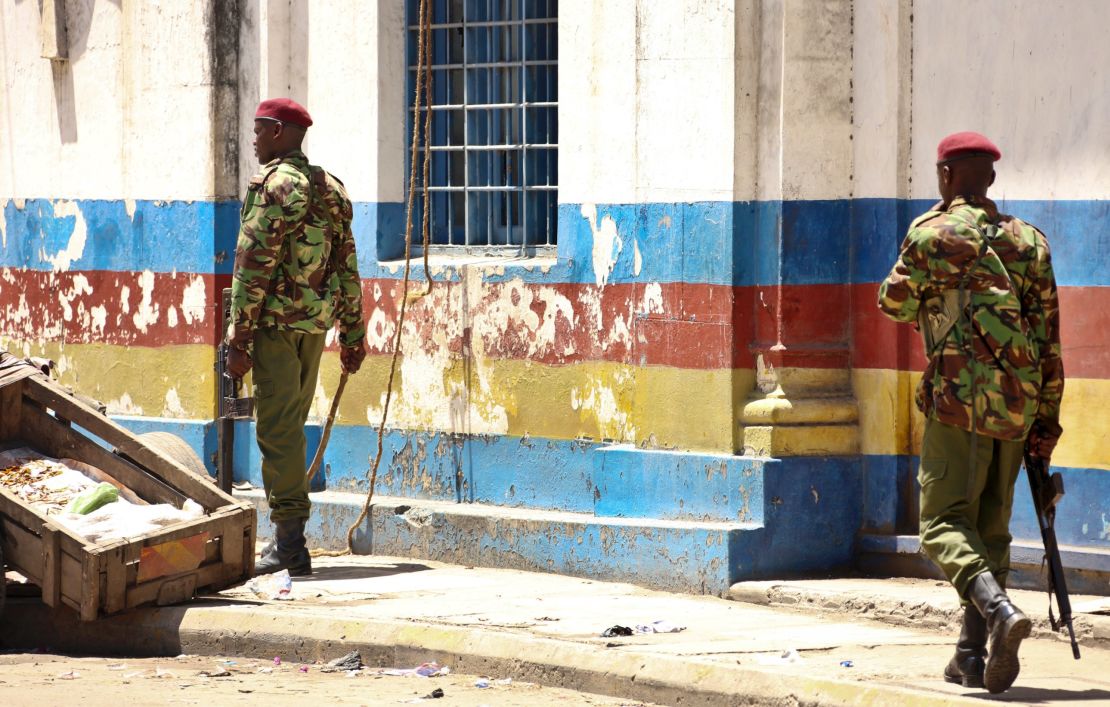 Major attacks in recent years include a massacre at Garissa University in April 2015, in which nearly 150 people were killed, and the 2013 attack on Nairobi's Westgate shopping center that killed at least 67 people.
Kenyan airstrike in Somalia kills Al-Shabaab intelligence chief
Kenya is a major contributor to an African Union force fighting Al-Shabaab.
Coast Regional Commissioner Nelson Marwa said security in the area would be boosted in the wake of the attack. He called on the public to be vigilant for suspicious activity.
Journalists Dihoff Mukoto reported from Mombasa, Kenya and Briana Duggan reported from Nairobi, Kenya. Tim Hume reported and wrote from London, and CNN's Natalie Gallon contributed in Atlanta.