Story highlights
A customer set up a GoFundMe page for Fidencio Sanchez, 89, who pushes a popsicle cart
Thousands of people donated
Fidencio Sanchez, 89, has been selling paletas, or popsicles, in Chicago's Little Village neighborhood for as long as almost anyone can remember.
He shuffles up and down the streets, pushing a freezer cart stocked with icy treats and ringing a bell to attract customers.
Sanchez always has a smile on his face. And his work ethic is unwavering. But his aging knees are not keeping up.
"I feel my body is starting to give up on me," he told CNN. "At some point, it's not going to have the capacity that it used to. But I don't want to stop working."
Soon he won't have to worry so much. A customer was so moved by the hard-working Sanchez that he bought 20 paletas for $50 and then created a GoFundMe page for him, seeking $3,000. On the page is a photo of the stooped Sanchez in a yellow Poncho Paletas cap, struggling to push his cart.
Within hours, support from all over the world started to pour in. Three days later, donations exceeded $250,000. By the end of the fundraiser, fans of Sanchez had raised more than $380,000. This week, the two people who set up the campaign presented Sanchez with the check.
Sanchez told ABC he hopes to buy a house for him and his wife, and may indulge in some hearing aids.
A few popsicles become a movement
"It broke my heart seeing this man who should be enjoying retirement still working at this age," said the customer, Joel Cervantes Macias. "I think the picture pulled at a lot of heartstrings … and that is one of the reasons a lot of people are donating. It shows that people appreciate hard work."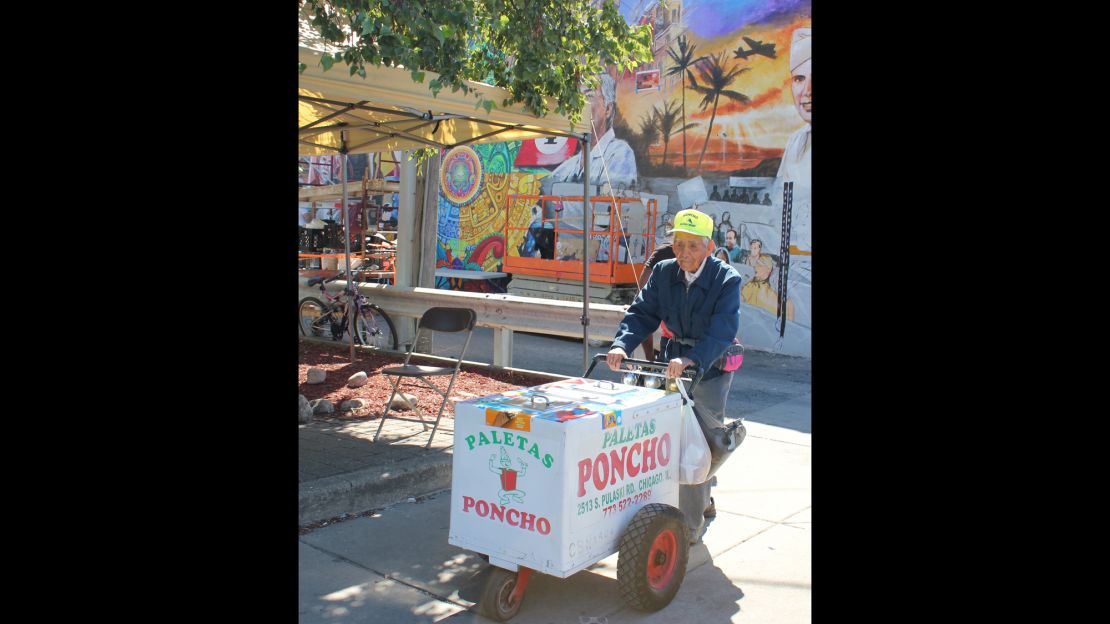 Last week, CNN caught up with Sanchez as he walked to work in this neighborhood southwest of Chicago's downtown Loop, wearing his yellow cap and pushing a cart full of popsicles.
"I'm very grateful and very happy," he told CNN when asked about his unexpected windfall. "And I'll stop working soon."
Well, maybe. While most people his age would probably retire immediately, Sanchez said he's still not sure he is ready to stop working. It's what's he's done all his life. Sanchez said he was orphaned at 6 months and has been working to support himself since he was 13 – first in the fields of his native Morelos, Mexico, and since 1990 in Chicago.
Recent years have been hard on him and his family, though. His wife can no longer work, and their daughter, who cooked meals for them every day, recently died. Children are not supposed to die before their parents, Sanchez said.
"When she died I felt so much pain," he told CNN, fighting back tears. "I thought, 'What am I going to do now?'"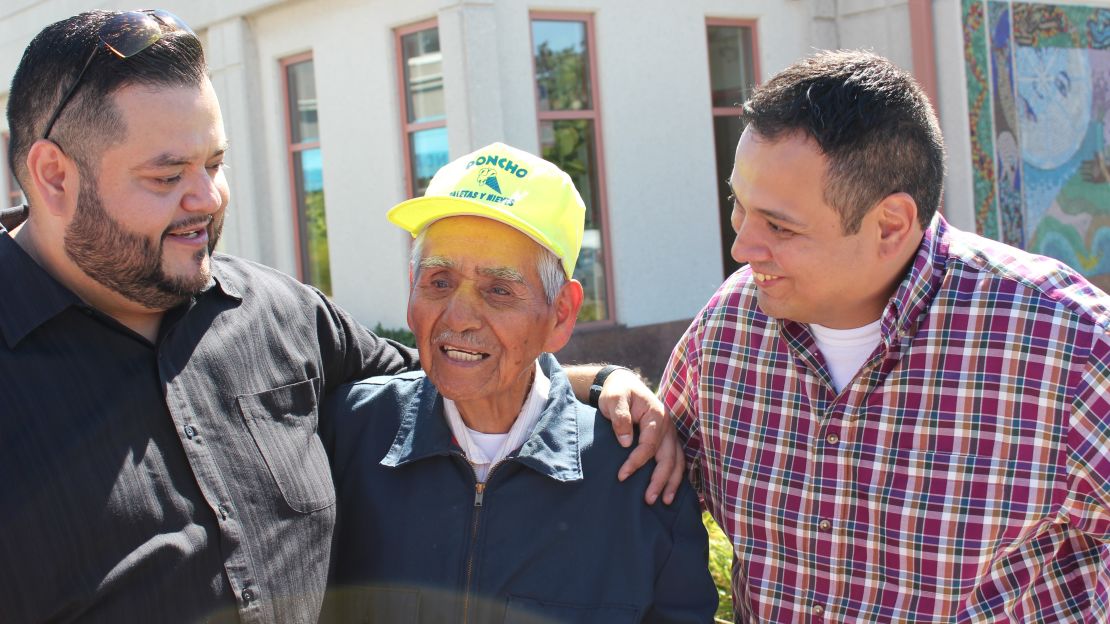 A movement becomes a 'miracle'
Gilberto Bahena, Sanchez's pastor at his neighborhood church, calls the outpouring of financial support a miracle.
"It's for sure an answer to their prayers," Bahena said. "This man has really been faithful to the Lord. This man has a good heart."
Blanca Gutierrez, Sanchez's boss and the owner of the popsicle business, said the elderly man is one of the hardest workers she knows. Sanchez works year-round, even through Chicago's bitterly cold winters, she said.
And while Gutierrez has been concerned about Sanchez working at his advanced age, she hasn't had the heart to tell him to stop.
"I didn't want to tell him that I wasn't going to give him a cart (of popsicles) because I know he would feel sad," she told CNN. "He says he wants to die walking."