Story highlights
At least one person confirmed dead in Taiwan, as strong winds persist in China
Meranti is the strongest typhoon since Haiyan devastated the Philippines in 2013
NEW: 800-year-old bridge washed away
Typhoon Meranti struck China after pounding Taiwan, making landfall early on Thursday near Xiamen in Fujian Province.
Morning light revealed empty streets covered in broken glass, from shattered windows on surrounding office buildings.
"I have never seen anything so scary in my entire life," 72-year-old Ma Wenhua, who lives and works in Xiamen, told CNN. "We had to put so many buckets out to catch all the leaks."
Despite the winds lessening after landfall, they were strong enough to knock down trees, break windows and push a large inflated moon down the city's streets. The moon had been part of a display to mark the Mid-Autumn Festival.
An 800-year-old Song dynasty wooden bridge was washed away in Yongchun county in Fujian, the local tourism bureau reported.
"The whole city is heartbroken! The bridge had withstood a long and stormy history but had no luck with Meranti," a statement said.
The powerful storm first raked southern Taiwan, bringing torrential rains and winds of up to 230 mph (370 kilometers per hour) – faster than a Formula One race car.
One person died and 44 people were injured as the typhoon surged over the island, according to a Taiwan Red Cross spokeswoman.
"Typhoon Merandi is away from the Taiwan main island, but still our staff and volunteers are in the mobilization preparation," she said.
More than 900,000 households had lost power, the spokeswoman confirmed, while another 500,000 had issues with water supply. Hundreds of thousands were also waiting for repairs, she said.
Meranti is the strongest typhoon since Super Typhoon Haiyan devastated the Philippines in 2013.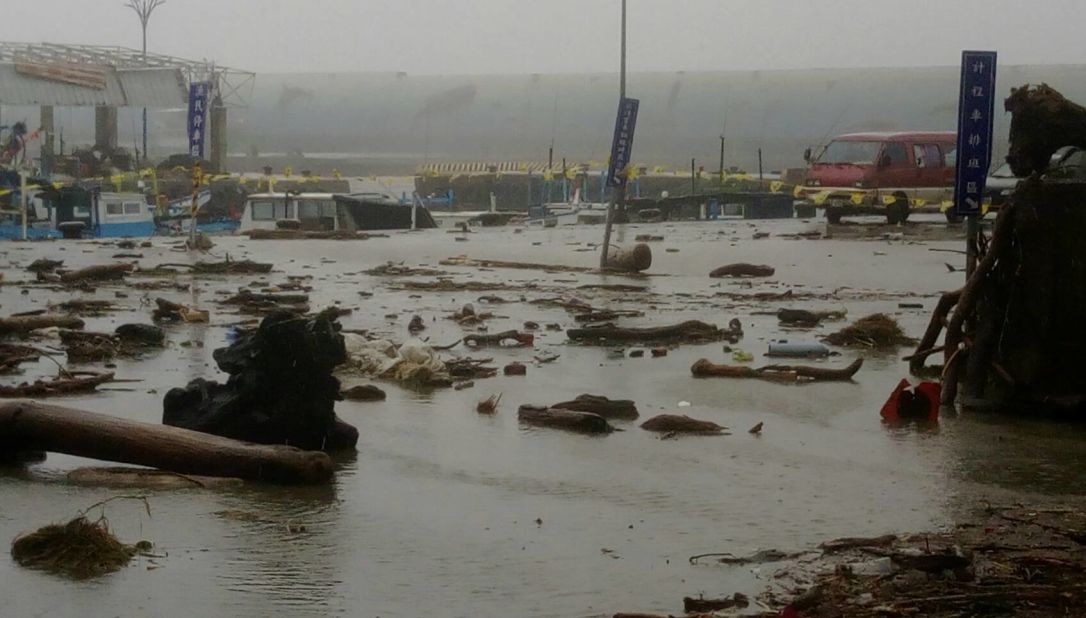 Super Typhoon Meranti slams Taiwan
Heavy rains, wind to continue in China
When it made landfall over mainland China, the storm's maximum sustained winds were 145 mph (230 kph) with gusts of up to 175 mph (280 kph).
"The storm was most intense from 1 a.m. til 3.30 a.m. where our hotel was swaying significantly back and forth. Water was streaming into our rooms," CNN correspondent Matt Rivers said from Xiamen.
It is a holiday in China and many people were home or traveling to see family. Winds were still blowing harshly in Xiamen and other coastal cities.
"There's only been one other tropical system in modern history that was able to get to a strength of over 110 mph (180kph) and sustain that for over 24 hours," CNN meteorologist Tom Sater said.
By the time the typhoon reached China, however, it had already slowed significantly due to its interaction with Taiwan, Sater said.
"It's those outer bands that interact with (Taiwan's) high terrain – the outer bands are like the exhaust system of a car, if the eye is the engine … it just rips apart the exhaust system and it starts to choke. It did a good thing for China," he said.
Meranti's strength had prompted China to issue its highest warning for high ocean waves as emergency crews and officials prepared for the deluge.
Despite Typhoon Meranti weakening quickly as it continues to move inland, heavy rainfall and flash flooding, as well as dangerous winds, will continue for the next 48 hours.
Mudslides will be possible in eastern China.
Taiwan's long history with typhoons
Despite being a frequent target for powerful Pacific typhoons, Taiwan has a track record of limiting their deadly impact. But storms often turn deadlier as they move toward China.
The flatter terrain – prone to storm surges and inland flooding – and higher population density often result in a great number of deaths or displacement of people.
In July, Super Typhoon Nepartak hit in almost the same location as where Meranti traveled. Nepartak caused at least three deaths in Taiwan and cut power to more than 500,000 but became much deadlier as it moved to the mainland.
Despite weakening to a tropical storm, Nepartak and its associated heavy rainfall of up to 10 inches killed more than 80 people.
CNN's Matt Rivers reported from Xiamen, Ben Westcott wrote from Hong Kong. CNN's Steven Jiang, Brandon Miller, Joe Sterling, Sandi Sidhu, Yazhou Sun and Michael Guy contributed to this report.