Story highlights
Aleksander Cerefin elected UEFA president
48-year-old runs large legal firm in Slovenia
He is seventh elected president of UEFA
Succeeds banned Michel Platini
European football's governing body, UEFA, has elected a new president to succeed banned Frenchman Michel Platini.
Aleksander Cerefin, a Slovenian lawyer and head of the country's football association, beat Dutchman Michael van Praag by 42 votes to 13 in UEFA's election held in Athens on Wednesday.
He assumes the presidency amid continued rumblings over a Champions League breakaway involving the continent's top clubs.
Who is Ceferin?
Aleksander Ceferin is probably someone to avoid picking a fight with – whether that's verbally or physically.
The Slovenian is a 48-year-old lawyer who heads up one of the biggest legal firms in the Balkans, having replaced his father as company director in the family business.
Ceferin's manifesto for the UEFA presidency detailed that he specializes in criminal and commercial law, with a self-proclaimed "strong track record of defending human rights," while he has also applied his legal skills to the world of sport as well.
Secondly, he just happens to be a black belt in karate.
Now the father of three is entering a different arena after becoming the seventh elected president of UEFA, the richest continental federation in the world.
Read: Neymar and Messi deliver Celtic thrashing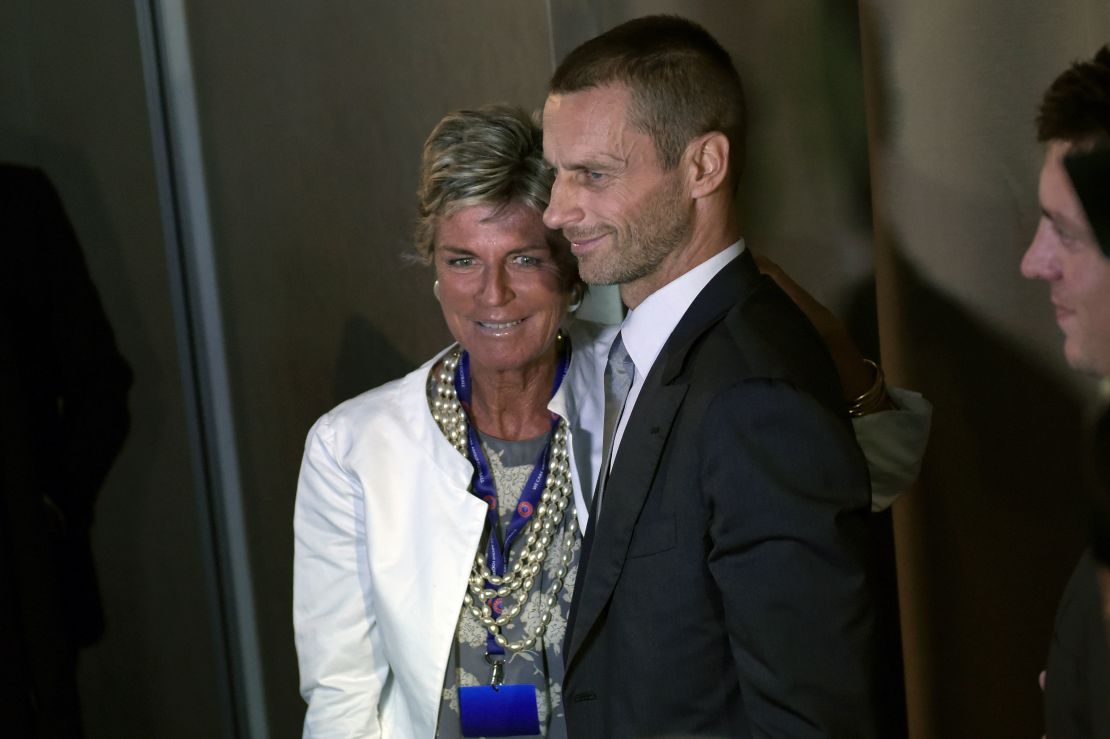 A former committee member of reigning Slovenian champion Olimpija Ljubljana, Ceferin took a significant step up the administrative ladder when becoming president of the country's football association (NZS) in 2011.
In 2015, he was re-elected on a second four-year term.
Under his control, Slovenia has slipped down FIFA's rankings – from 26th in the year he took charge to 59th today – but facilities have certainly improved.
In May, the NZS opened its new national football center – replete with three pitches and a multipurpose sports training facility – near the city of Kranj, 30 kilometers north of the capital Ljubljana.
The ceremony was attended by Gianni Infantino – and Ceferin's relationship with the FIFA president was the subject of speculation in the run-up to Wednesday's election.
Some reports claimed Infantino – who replaced scandal-hit Sepp Blatter as head of world football in February 2016 – wanted Ceferin to win the election, leading to denials from both men.
Read: FC Rostov's Champions League fairytale
Nonetheless, the conspiracy theorists were keen to highlight the fact that Tomas Vesel, Slovenia's state auditor and an associate of Ceferin, was appointed the chairman of FIFA's Audit and Compliance Committee two months after the football center's opening.
Ceferin, who is fluent in four languages and was little known prior to his campaign, will of course point to his own manifesto as the reason for an election victory that now makes him a FIFA vice-president.
Champions League cause
Ceferin's campaign appealed to Europe's lesser nations by taking on the might of top clubs such as Real Madrid and Barcelona when stating his opposition to the habitual threat of a European super league – he said he would "make sure that UEFA competitions never become closed leagues or tournaments."
Ceferin took up the cause just as UEFA was adding more power to Europe's footballing elite. In an effort to squeeze more money out of its marquee tournament, UEFA announced last month that as of the 2018-19 season half of the 32 Champions League spots would be earmarked for the top leagues in Germany, Italy, Spain and England.
With four spots guaranteed for each of the top four leagues as ranked by UEFA, the move would yield less competition – and crucial TV revenue – for the rest of Europe.
It remains to be seen whether Ceferin will attempt to counterbalance those measures during his rein.
"The European Club Association congratulates Aleksander Čeferin on his election and looks forward to continuing the constructive collaboration based on mutual respect and unity with Europe's football governing body under his leadership," said the organization which represents European clubs."
"ECA wishes him all the best for his upcoming challenges in representing the interests of European football at the highest level."
Proportionality
Along the same lines, Ceferin also appealed to UEFA's more cash-strapped members by proposing the introduction of proportionality when it comes to financial sanctions. For example, a fine of $100,000 would be a far greater headache for the Faroe Islands FA than its English counterpart.
Winning the election may have proven to be the easy bit for Ceferin, who stated – among a raft of ambitious aims – his desire to make UEFA the "best sports organization in the world."
He will have just two and a half years to start making that happen, as he completes the truncated term of his predecessor Michel Platini – whose implication in FIFA's ongoing corruption scandal triggered Wednesday's vote.
Read: Blatter under investigation by FIFA
The Frenchman was banned from football for eight years – now reduced to four on appeal – after being found guilty of ethics breaches due to a $2 million payment he received from Blatter.
Blatter's own suspension allowed Infantino to head up football's world governing body and Ceferin might play close attention to that, given that the Swiss-Italian's previous post had been secretary-general of UEFA – the organization the Slovenian now heads.