Story highlights
NEW: Video shows same man near explosion site and place where pressure cooker found
NEW: Pressure cooker device found near explosion site rendered safe
A day after a bombing injured 29 people in a New York City neighborhood, surveillance videos show the same man near the site of the explosion and another location where a pressure-cooker device was found four blocks away, multiple local and federal law enforcement sources told CNN.
Saturday's explosion shook New York City's Chelsea neighborhood, packed with restaurants, subway stations, shops, businesses and art galleries, and sent panicked people scrambling for cover. Police continued to scour the area on Sunday for clues about who was responsible for the explosion and a motive.
A few blocks away from the blast site and shortly after the explosion occurred, investigators found one possible lead: a pressure cooker, with dark-colored wiring sticking out, connected by silver duct tape to what appears to be a cellphone, officials said.
Surveillance videos from Saturday shows the same man near both sites, multiple sources told CNN.
3 attacks on US soil
By Sunday morning, 26 people who had been admitted to hospitals were released as city officials appealed to the public for help in finding those responsible. Authorities cordoned off the street where the explosion occurred, south of Midtown in western Manhattan.
The blast occurred on the same day an explosion went off near a Marine Corps charity run in New Jersey and a man stabbed nine people at a Minnesota mall, leaving many across the country on edge. Authorities are investigating all three incidents as possible terror acts.
The Department of Homeland Security is actively monitoring and participating in the investigations in New York and New Jersey. Investigators found similarities between the explosives used in both states, according to multiple law enforcement officials, but authorities said they have not concluded the incidents are linked.
"We do not have any specific evidence of a connection, but that will continue to be considered," New York City Mayor Bill de Blasio said. "We're not taking any options off the table."
In New York, law enforcement officials and the mayor said that without knowing who's responsible or what the motive was, it's too soon to call the Saturday bombing a terror attack.
"We know it was a very serious incident, but we have a lot more work to do to be able to say what kind of motivation was behind this," de Blasio told reporters Sunday. "Was it a political motivation? Was it a personal motivation? We do not know that yet."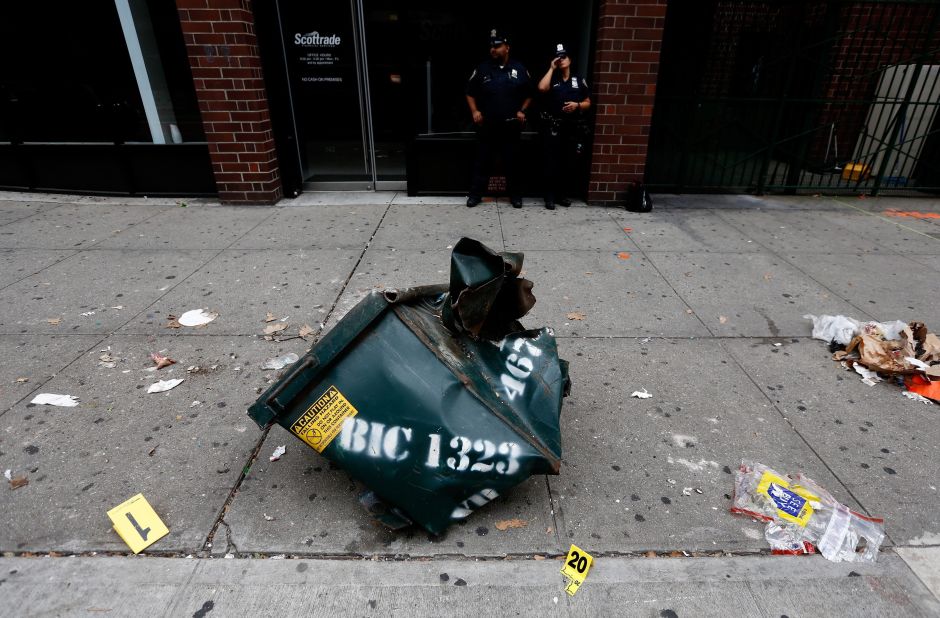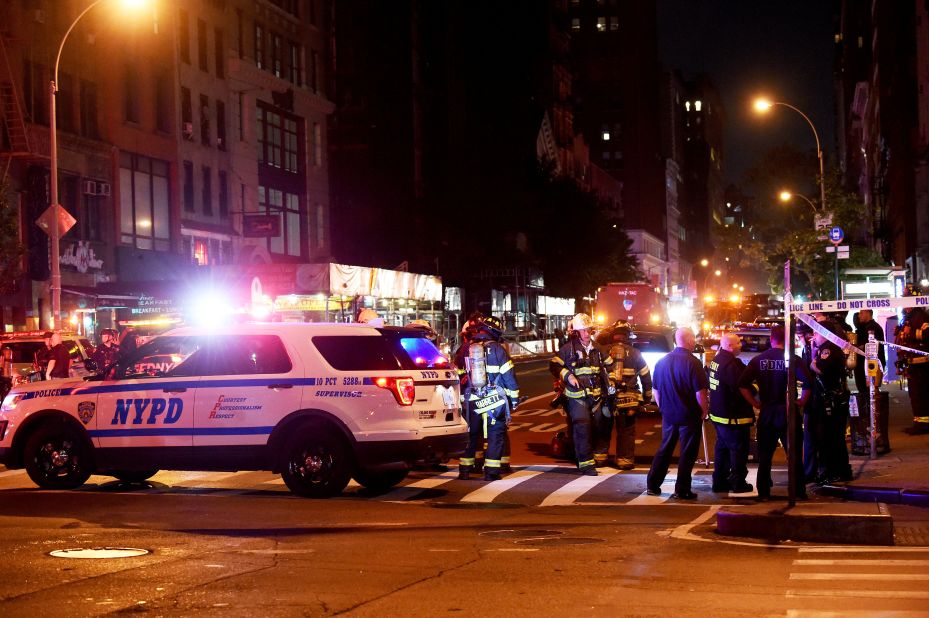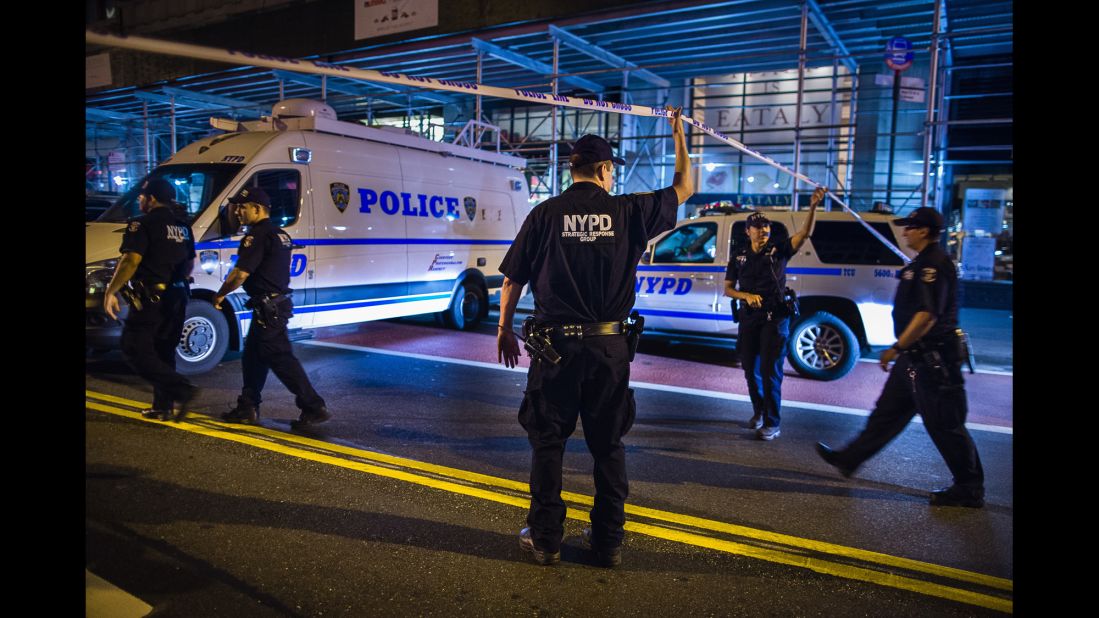 Explosion in Manhattan
Suspicious device found nearby
The blast occurred around 8:30 p.m. at 23rd Street between 6th and 7th Avenues. Investigators believe the blast was caused by an explosive device in or near a dumpster, a law enforcement source told CNN. Four blocks away on 27th Street, a pressure-cooker device was found with a piece of paper with writing on it close by, officials said.
Surveillance video shows a man dragging what appears to be a duffel bag with wheels near the site of the West 23rd street explosion about 40 minutes before the blast, according to multiple local and federal law enforcement sources.
About 10 minutes later, surveillance video shows the same man with what appears to be the same duffel bag on West 27th street, multiple law enforcement sources said.
In the video, the man leaves the duffel bag where police later found the unexploded pressure cooker. After he leaves, the video shows two men removing a white garbage bag believed to contain the pressure cooker from the duffel bag and leave it on the sidewalk, according to a senior law enforcement official and another source familiar with the video.
Investigators have not determined if those two men are connected to the man with the duffel bag on both streets, the sources said.
The device was transported to the NYPD Bomb Squad facility at Rodman's Neck Range in the Bronx.
NYPD and FBI Bomb technicians rendered the device safe. A forensic examination of the device and its components will be conducted at the FBI Laboratory at Quantico, Virginia.
'I could feel it in my chest'
As investigators combed through surveillance video for clues, police officers and federal agents searched the streets with flashlights, robots and dogs early Sunday to ensure there were no other devices in the area.
Authorities cordoned off the street where the explosion occurred. A small crowd watched from behind police tape Sunday as investigators gathered at the blast site. Some onlookers said residents who live on the block still hadn't been allowed to return to their homes.
Danilo Gabrielli, 50, was watching TV at his 23rd Street apartment about a block away from the explosion site when he heard the blast. He rushed to see what had happened and found a chaotic scene.
"We smelled something, like an intense sulfur smell, and saw smoke coming out of this building. I saw pieces of metal – not large, but not small either. A few friends of mine saw glass there."
Gabrielli said "the entire neighborhood is real scared."
"It's a real quiet neighborhood – not like the center of the city or the Wall Street area. It's tiny bars, where you go to grab a drink, grab a bite to eat, watch a film. We were worried."
Nearby resident Sam Smith, 50, said he was closing the shades of his apartment when the blast hit.
"All I saw was a big light, and then I heard the explosion," he told CNN as waited for word about whether he could return home Sunday morning. "I could feel it in my chest. It took me an hour and a half before I could hear again."
Some social media users said the sound of the explosion was heard as far away as Hoboken, New Jersey, across the Hudson River.
'Bigger than ever' NYPD presence
Investigators are still searching the scene for evidence and transporting it to the FBI lab in Quantico, Virginia, for review, FBI Assistant Director in Charge William Sweeney Jr. said Sunday.
Meanwhile, New Yorkers will see an increased police presence around the city, de Blasio said.
Stepped-up security across the city is common as world leaders arrive for the United Nations General Assembly meeting, which is underway. But now it will be even more intense, de Blasio said.
"You should know you will see a very substantial NYPD presence this week – bigger than ever," de Blasio said.
New York Gov. Andrew Cuomo added that 1,000 additional New York State Police officers and National Guard troops will be deployed to patrol bus terminals, airports and subway stations.
The increased policing, Cuomo said, is "just to err on the side of caution."
"I want New Yorkers to be confident when they go back to work on Monday that New York is up and running and we're doing everything that we need to do," he said.
CNN's Emanuella Grinberg and Catherine E. Shoichet wrote this story in Atlanta. CNN's Mallory Simon, Erin McClam, Joe Sutton, Richard Quest, Rachel Crane, Jean Casarez, Max Blau, Steve Visser, and Sonia Moghe contributed to this report.