Story highlights
VBB3 records average speed of 341.4 mph
Previous Venturi models set 2010 record
Ruling body FIA has yet to verify new time
Blink and you'll miss it – the Venturi Buckeye Bullet 3 has beaten the world record for an electric vehicle, at a cool average speed of 341.4 mph, according to the French automobile company.
The Venturi team, which in 2010 set the fastest time for a battery-powered car with the 307 mph achieved by the previous model, the VBB-2.5, surpassed that on the Bonneville salt flats in Utah on Wednesday.
It recorded a top speed of 358 mph, propelled by a 3,000-horsepower engine that Venturi says makes it the world's most powerful electric car.
The car, which is more than 11 meters long, is a joint project of Monaco-based Venturi Automobiles and engineering students from Ohio State University.
"It's a relief because we were waiting for this result for three years," Venturi owner Gildo Pallanca Pastor told the company's website. "Heavy rain and bad weather conditions on the Salt Flats prevented our success.
"It shows that our partnership between students and a manufacturer can bring a lot in this new automotive industry in terms of research and development."
To achieve the new record, the team had to complete two runs of the 11-mile course within one hour, with the average time taken for record purposes.
Venturi will now await final confirmation of the milestone from world motorsport's governing body, the FIA, which was not immediately available for comment when contacted by CNN.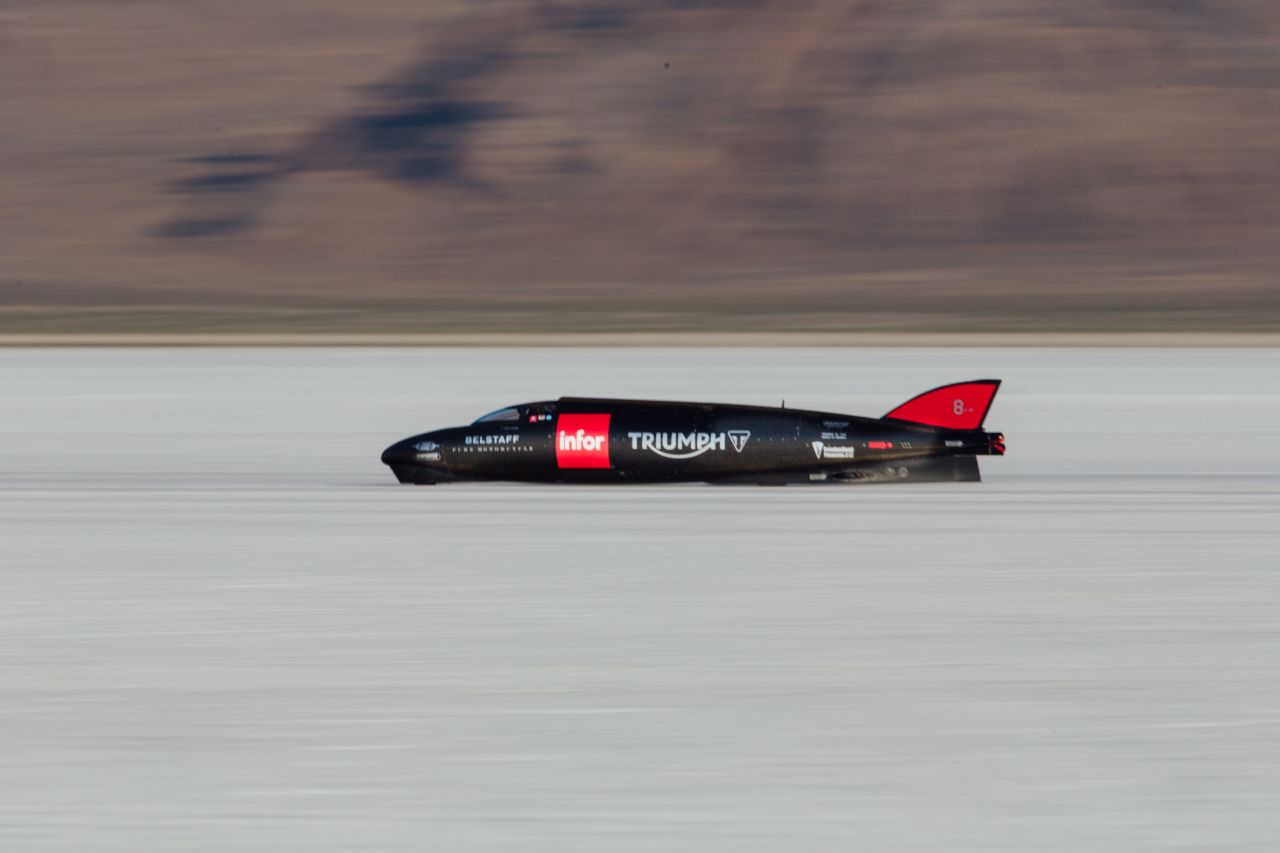 Triumph's tilt at world land speed record
Meanwhile, Triumph's bid to set a motorcycle land speed record at Bonneville has been put on hold after adverse weather conditions.
Read: Two wheels. 1,000 bhp. 400 mph?
The team had hoped to break the leading time of 376.3 mph, held since 2010 by California's Rocky Robinson.
"I know people will be disappointed at this news, but the safety of the rider, Guy Martin, and the wider team supporting the Triumph Infor Rocket Streamliner has to be our prime consideration," Triumph designer Matt Markstaller told the team website.
Visit cnn.com/motorsport for more news and videos
"The course conditions on the salt flats have forced us to wait for another window of opportunity."
The Streamliner passed 274.2 mph in a trial run last month, becoming the fastest motorcycle made by Triumph.