Story highlights
England national coach loses job
Allardyce caught in undercover sting
Sam Allardyce's reign as coach of England's soccer team has ended after just 67 days following an undercover sting by a British newspaper.
The 61-year-old was caught on camera seemingly admitting that he knew of ways to skirt FIFA rules on player ownership.
The scandal came to light after the video recorded by undercover reporters from The Daily Telegraph was published Monday.
The Telegraph conducted a series of meetings with Allardyce where journalists posed as businessmen intending to invest in the English Premier League's lucrative transfer market.
Allardyce met with FA chairman Greg Clarke and chief executive Martin Glenn Tuesday, and said he "offered a sincere and wholehearted apology."
"Further to recent events, the FA and I have mutually agreed to part company," Allardyce said in a statement Tuesday.
"It was a great honor for me to be appointed back in July and I am deeply disappointed at this outcome.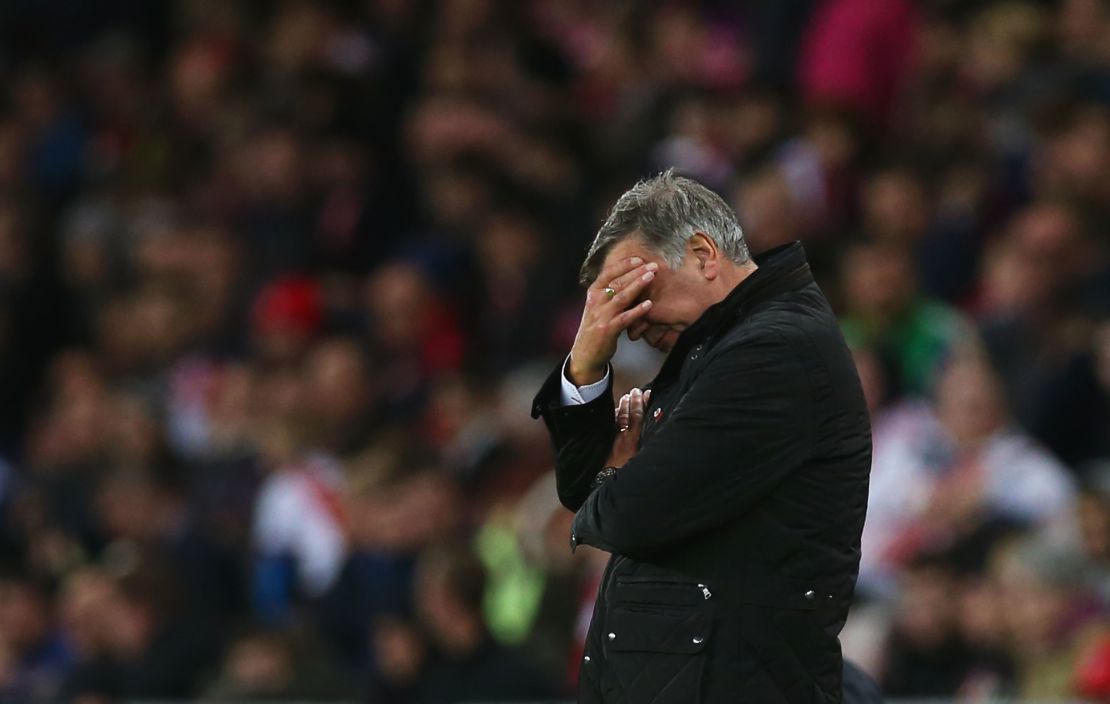 "Although it was made clear during the recorded conversations that any proposed arrangements would need the FA's full approval, I recognize I made some comments which have caused embarrassment.
"As part of today's meeting, I was asked to clarify what I said and the context in which the conversations took place. I have cooperated fully in this regard.
"I also regret my comments with regard to other individuals."
'Error of judgment'
In a statement issued on its website, the FA said: "Allardyce's conduct, as reported today, was inappropriate of the England manager."
It added: "He accepts he made a significant error of judgment and has apologized. However, due to the serious nature of his actions, the FA and Allardyce have mutually agreed to terminate his contract with immediate effect.
"This is not a decision that was taken lightly but the FA's priority is to protect the wider interests of the game and maintain the highest standards of conduct in football. The manager of the England men's senior team is a position which must demonstrate strong leadership and show respect for the integrity of the game at all times."
Undercover
Appointed as England manager by the Football Association (FA) just two months ago, Allardyce is heard in the video published by the Daily Telegraph describing how it is "not a problem" to sidestep the "ridiculous" rules concerning third party ownership of footballers.
Third party ownership is when a company or person owns a share of economic rights to a footballer. Since 2015, football's world governing body FIFA has implemented a worldwide ban on third party ownership.
Read: FIFA scraps anti-racism task force
Allardyce described how players' agents are "doing it all the time" because "you can still get around it […] the big money's here" – a reference to England's cash-rich Premier League.
Allardyce's representatives have not responded to CNN's request for comment.
In 2008, the FA banned third party ownership, effectively preventing companies from buying a stake in a footballer. Previously, part of a player's transfer fee would be paid by an agent or investor, meaning the club wouldn't have to pay the full fee required.
Read: How Luis Suarez angered women
In the Telegraph video, Allardyce is heard saying how Enner Valencia, the £12 million ($15.5 m) Ecuador international he signed while manager of West Ham in 2014, was initially third party owned.
Allardyce, who was reportedly paid in excess of $3.9 million (£3 million) per year by the FA, was also heard criticizing the previous England management.
Have your say on our Facebook page
He said his predecessor Roy Hodgson was "too indecisive" and would "send all (the players) to sleep" because he didn't have the "personality."
Gary Neville, an assistant to Hodgson, is labeled "the wrong influence" and should have been told to "sit down and shut up."
Speaking of the FA's decision to develop Wembley, the England football team's nation stadium, Allardyce says it was "stupid" and a "waste of money" due to the debt it has created.
Visit cnn.com/football for more news and features
The FA was very critical of FIFA's governance record during the time of Sepp Blatter's tenure and former England international Gary Lineker tweeted: "We can get on our high horses about FIFA etc. but we have a large glass house of our own."
Lineker added: "Biggest issue for Sam Allardyce is advising on getting around 3rd party rules. As well, of course, very poor judgment. "
Allardyce will be replaced on a temporary basis for the next four matches by former international player Gareth Southgate, England's under-21 coach.