Story highlights
Two Drumstick products are being recalled after positive Listeria test in factory
No one has been reported sick and products have not been found with Listeria
Nestlé launched a nationwide recall of some of its Drumstick ice cream cones after getting positive tests for Listeria in a California factory where the treats are made.
No one has been reported sick and none of the Drumstick products have tested positively for Listeria, according to the US Food and Drug Administration.
The company got positive test results for Listeria on its equipment located on a production line at its facility in Bakersfield, California, according to a company statement.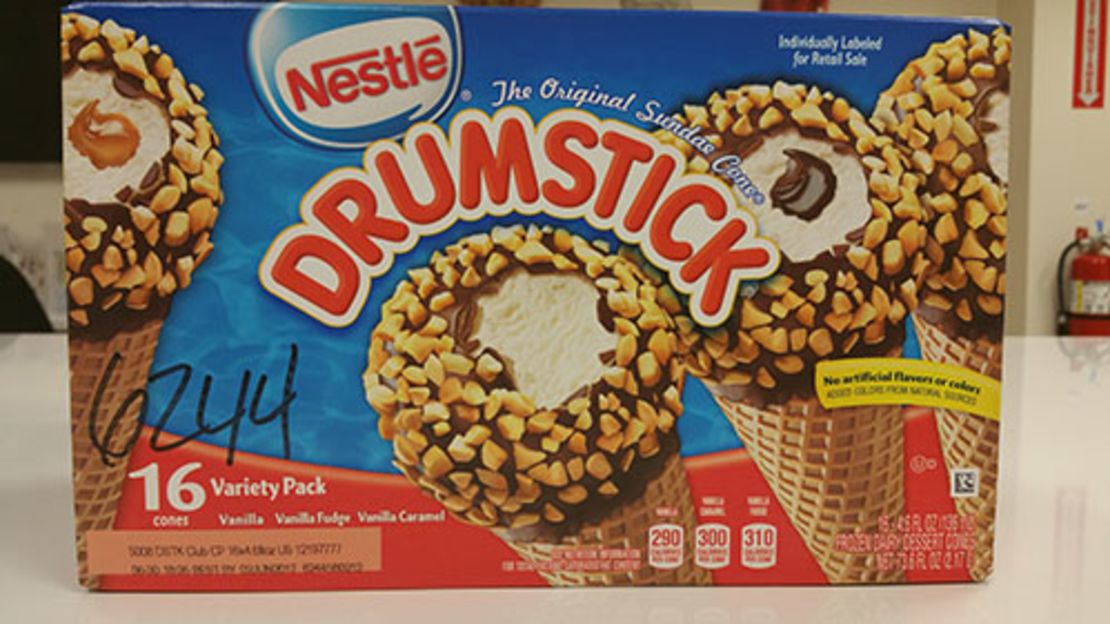 The voluntary recall includes the Drumstick Club 16 count Variety Pack and the 24 count Vanilla Pack, which were made between August 31 and September 17. The affected product identification codes are available on the FDA site.
Nestlé said it detected the problem through its internal testing, but that the products were inadvertently shipped to stores due to an error "logging receipt of the test result."
The company urged customers not to eat the ice cream and to return them to where they were purchased or to contact Nestlé Consumer Services.
Listeria can be deadly
Listeria can cause serious and sometimes fatal infections in young children, the elderly and others with weak immune systems.
Symptoms include high fever, severe headache, stiffness, abdominal pain and diarrhea. Although some people might suffer only short-term symptoms, Listeria can also cause miscarriages and stillbirths for pregnant women.
In the United States, an estimated 1,600 people become seriously ill with Listeria each year; about 16% of these cases result in death.
What to do when food is recalled
Nestlé: It's not like the Blue Bell recall
Last year, Blue Bell ice cream recalled all of its products after a deadly outbreak of Listeria. In all, 10 people in four states were infected and hospitalized, and three people died in Kansas.
Nestlé stated that while both recalls involve Listeria and ice cream, the similarities ended there.
"Our situation is much different from Blue Bell's in a number of significant ways, including: (1) we have received no reports of human illnesses; (2) we have no listeria findings in the ice cream itself (just the equipment); (3) we have only one product line affected; (4) we have only one facility affected; and (5) we self-identified this event and took precautionary steps to recall product.," it said in a statement.