Story highlights
Workers begin clearing camp with excavator
Thousands are still left in the camp
A team of workers in France began the long-awaited demolition of the "Jungle" migrant camp on Tuesday, pulling down tents, shacks and other makeshift shelters that thousands have called home over the past two years.
CNN journalists saw a team of "cleaners," as French officials call them, in orange jumpsuits and hardhats tearing down the temporary structures and disposing of migrants' possessions, dropping mattresses, pillows and blankets into a dumpster with an excavator.
Opinion: How failure after failure let down refugees in Calais
Thousands are still left in the camp, and aid workers traveled tent to tent to make sure no one was left inside before workers come in.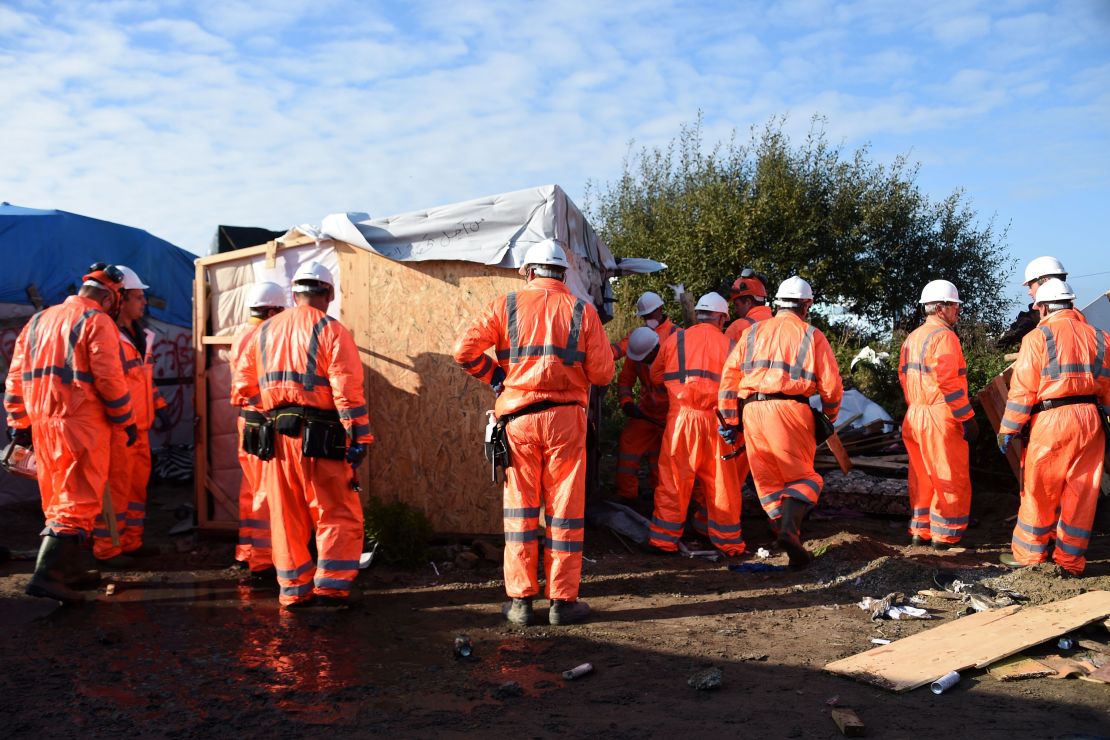 More than 3,100 migrants have been bussed out of the Jungle since authorities began a sweep Monday, sending them to regions around the country to begin a months-long resettlement process. Among them were more than 500 children.
Workers were scheduled to move in at 8 a.m. local time, but Calais officials delayed the operation until the afternoon to have a security cordon placed around the camp.
The Jungle: What you need to know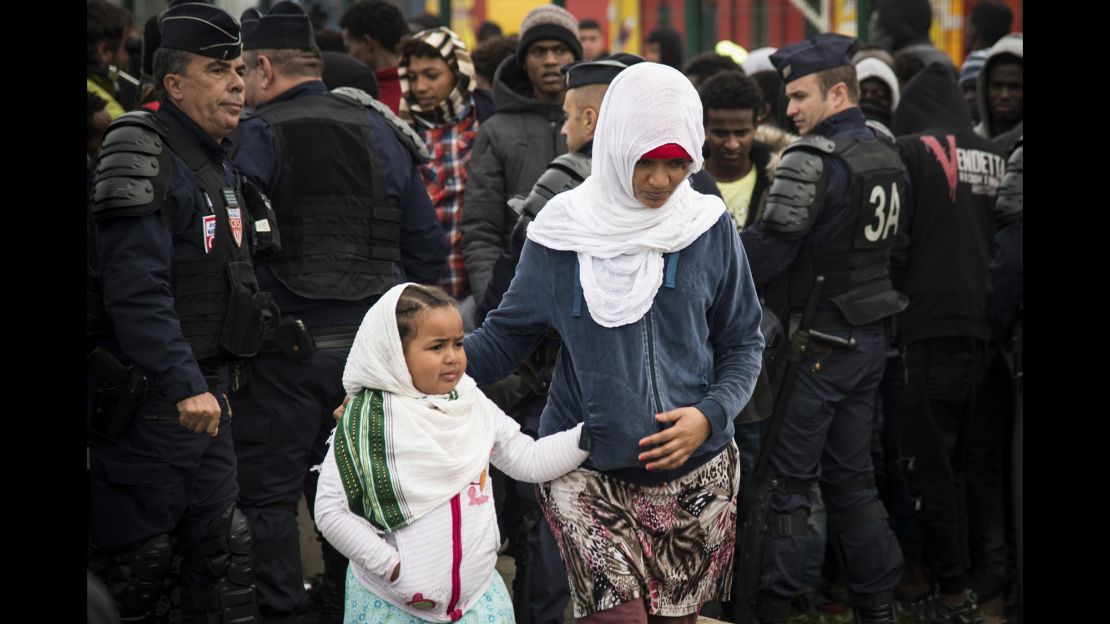 France has for more than a year vowed to raze the 4 square-kilometer camp, but its requests to do so had been shot down several times in court.
The Jungle sweep in numbers
This is what happened on Monday, according to French officials:
- More than 2,300 migrants were bussed from the camp to other French regions
- The migrants were sent to 80 "orientation camps" where they can file asylum claim
- 400 minors were sent to temporary shelters
- There were 1,200 minors altogether; those left are staying in shipping containers for shelter
Authorities dismantled part of the camp early this year, but it failed to stop more and more migrants from arriving, with high hopes of crossing the Eurotunnel from Calais to reach the UK, just over 30 miles away.
The Jungle has become a gritty symbol of Europe's migrant crisis and has been a thorn in the French government's side. But to a tight-knit community there, it is also a symbol of determination and resilience – more than 70 business have sprung up in the Jungle, including restaurants, cafes, bars, hairdressers and barbers, and leaving is not as simple as packing up and moving on.
One shabby home with a sleeping bag for a door had the words "Please do not destroy my home" scrawled across its front.
Hundreds of tents, tired from months of wear, were seen abandoned as more migrants streamed out with all their belongings.
'I'm going to England'
The temporary shelters have housed thousands of people who have reached Calais after long and often treacherous journeys to Europe from countries including Syria, Afghanistan, Somalia and Sudan.
The French government aims to get everyone out within a week or so, and to clear the site completely by the end of December.
But some appear determined to stay in the Jungle for now, at almost any cost. A handful of people were involved in skirmishes with riot police at the site Monday evening, throwing stones at officers who responded by firing tear gas at them. Scuffles seemed to be breaking out Tuesday morning among a group of migrants surrounded by police.
Earlier in the day, two Afghan residents of the camp told CNN they would not leave the camp, because to do so would mean turning their backs on a long-held dream to make it to Britain.
"I'm going to England," 15-year-old Afghan teenager Hussein said. "I don't like France. My family is in England."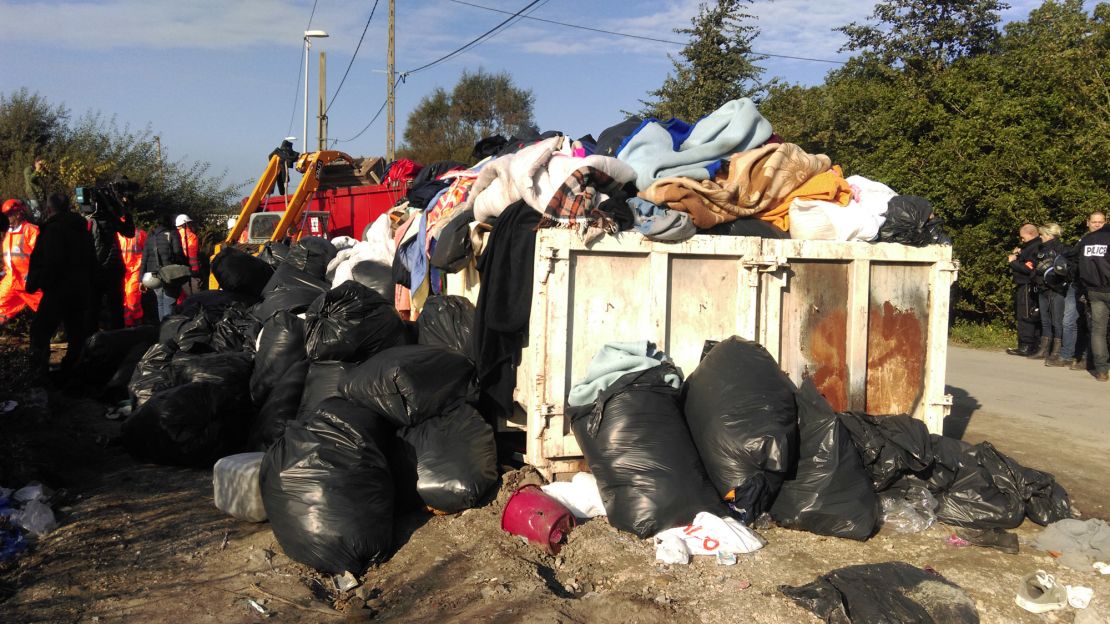 His friend, who declined to give his name, said he would be going to the UK and would refuse to leave the Jungle.
It remains unclear just how French authorities will deal with those who refuse point blank to move out; before the evacuation program began, Interior Ministry spokesman Pierre-Henry Brandet said migrants would not be forced to board buses and leave the town.