Story highlights
A malfunctioning slot machine showed winnings of $43 million
Woman actually won $2.25, state commission says
It was a selfie she thought was worth nearly $43 million.
Katrina Bookman hit the jackpot on a slot machine in late August at Resorts World Casino in Jamaica, Queens. She even took an excited self-portrait with the machine displaying her winnings: $42,949,672. It would have been the largest slot machine jackpot in US history.
"I can't even describe the feeling. It's like my whole body just got numb," Bookman told CNN affilate WABC.
But when she came back the next day to find out the exact size of her jackpot, a casino employee crushed her excitement.
"I said, 'So what did I win? He said, 'You didn't win nothing,'" she told WABC.
The New York State Gaming Commission said that Bookman's machine had malfunctioned. The machine, like all the ones in the casino, has a disclaimer stating, "Malfunctions void all pays and plays."
Instead, the casino offered Bookman a complimentary steak dinner.
"All I could think about was my family," Bookman told WABC, her voice breaking. She grew up in foster care and raised 4 children as a single mother.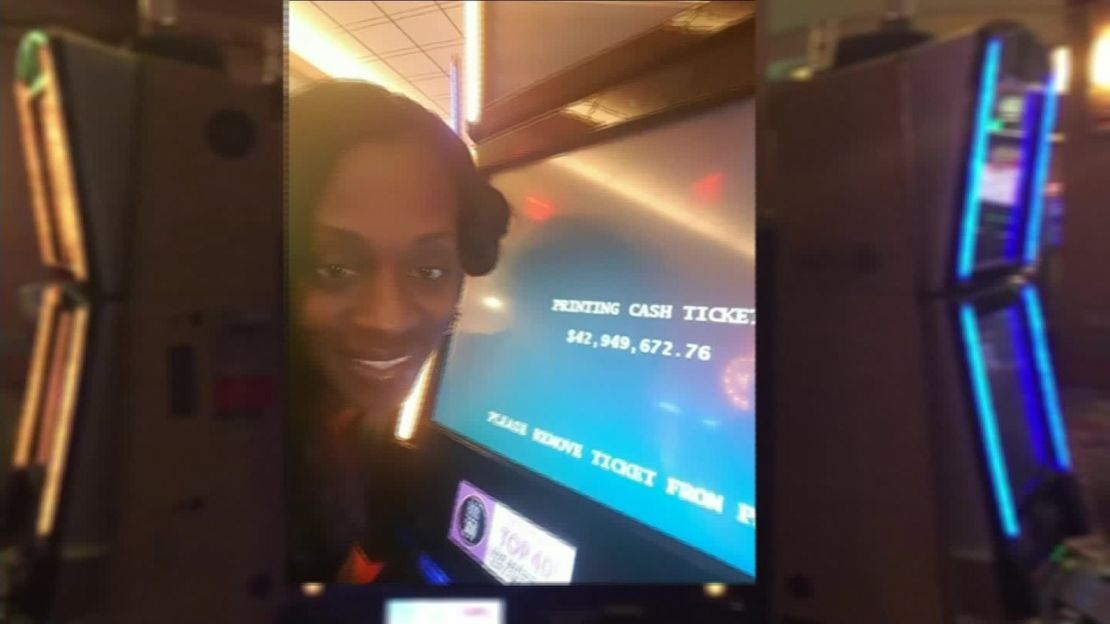 The New York State Gaming Commission told WABC that they immediately pulled the machine from the casino floor to fix it, and it is now up and running once again. The commission said that by law they can only award Bookman her actual winnings of $2.25, printed by the machine.
"They win, and now the house doesn't want to pay out. To me that's unfair," says Bookman's attorney, Alan Ripka. He's fighting for the casino to pay Bookman the maximum amount allowed by the Sphinx slot machine – $6,500.
"The machine takes the money when you lose. It ought to pay it when you win," Ripka said.
Resorts World spokesman Dan Bank told CNN: "Upon being notified of the situation, casino personnel were able to determine that the figure displayed on the penny slot was the result of an obvious malfunction – a fact later confirmed by the New York State Gaming Commission.
"After explaining the circumstances to Ms. Bookman, we offered to pay her the correct amount that was shown on the printed ticket. Machine malfunctions are rare, and we would like to extend our apologies to Ms. Bookman for any inconvenience this may have caused."
The casino couldn't send a portion of its revenue to a New York state education fund, as mandated by law, if had to pay out massive jackpots like the one displayed on Bookman's machine, Bank said. In five years, the casino has generated more than $1.6 billion for the fund, he said.
But Bookman remains frustrated.
"I should win the max. And I feel like I should treat him (the casino employee) to a steak dinner," she said.