Editor's Note: Hannah Kim is chief of staff and communications director for US Rep. Charles B. Rangel, D-New York. She is the founder of Remember727. The views expressed here are hers.
Story highlights
Hannah Kim is taking a journey to record memories of Korean War veterans
It's painful to see how many take American freedoms for granted, she says
Every day as I walk into the US Capitol I thank God for the opportunity to serve the country I love so much and live the American Dream. When I return from work and watch the news about Congress, I often pinch myself. Only in America can a daughter of an immigrant family from Korea become the spokeswoman and chief of staff to a national leader. It is not only my greatest honor but also a testament to the sacrifices of the veterans to whom I am indebted.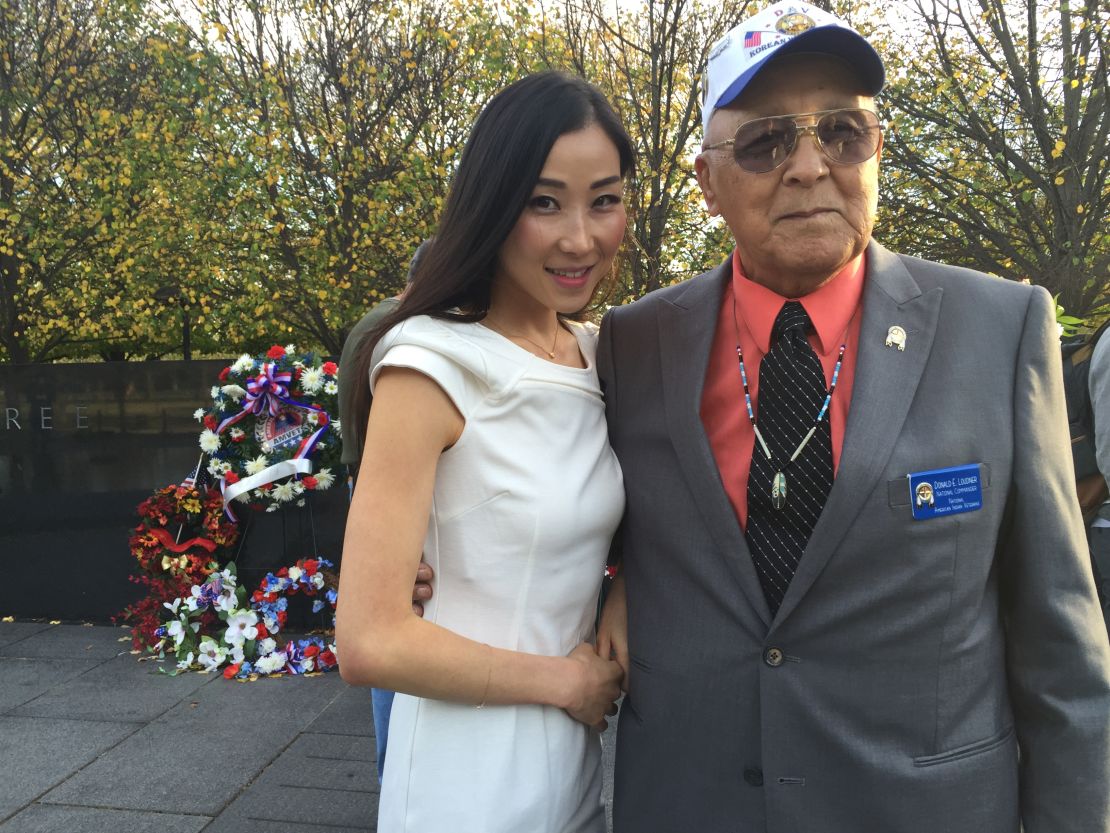 In fact, I often remind my boss – who is a Korean War hero – that without him and his comrades, I literally would not be here.
Following the greatest generation of World War II, 5.7 million Americans fought in the Korean War for a country and people they did not know and halted the spread of communism. More than 30,000 never returned home, and more than 100,000 came back wounded. Thanks to their contributions, South Korea was able to rise from the ashes of war to become the 11th-largest economy in the world today.
In stark contrast, North Korea remains the world's most repressed economy and state. I am grateful I was not born above the 38th parallel and am among the 2 million Korean-Americans now thriving in the land of the free.
Yet, as etched in the hearts of the veterans and inscribed throughout our nation's memorials, "Freedom Is Not Free." It has always deeply pained me to realize how many of us often take it for granted.
Remembering the sacrifices of those who fought for us – in my case, especially Korean War vets – is our moral obligation. That is one major reason why while in graduate school, I lobbied my boss to pass a bill that consequently established July 27 as the National Korean War Veterans Armistice Day. And as the founder of Remember727, since 2008 I have annually gathered hundreds of people at the Lincoln Memorial Reflecting Pool next to the Korean War Veterans Memorial to commemorate Armistice Day – to remember the so-called "Forgotten War" and to recognize its veterans.
On November 11, hundreds of millions of people worldwide will observe the 11th hour of the 11th day on the 11th month that marked the signing of the agreement that ceased the hostilities in 1919 during World War I, the "war to end all wars." Originally called Armistice Day, Congress changed it to Veterans Day after the Korean War in 1954 to honor all veterans who served.
Veterans Day gives us a chance to salute the more than 20 million living veterans, including the 2 million active service members in the military. Whether they fought in the jungles of Vietnam, or deserts of Iraq and Afghanistan, our troops have defended our way of life and democratic principles. Despite our flaws, America is still the greatest country on Earth and we owe it to them.
Nothing brings me more joy than to spend time with my "grandpas" on Veterans Day. I love seeing the smile of an Honor Flight veteran after I give him a kiss and a hug for his service. I have seen some tear up. I cry when they tell me stories of war. Their eyes glisten when I beg for more.
Get our free weekly newsletter
Sign up for CNN Opinion's new newsletter.
So after my boss retires at the end of this year, I am embarking on a trip around the world to 23 of the nations that fought in the Korean War – Australia, Belgium, Canada, China, Colombia, Denmark, Ethiopia, France, Greece, India, Italy, Luxembourg, the Netherlands, New Zealand, Norway, the Philippines, Russia, South Africa, South Korea, Sweden, Thailand, Turkey, the United Kingdom – in search of the veterans who are almost 90 years old and to collect their stories. I feel compelled to express my gratitude before it is too late. If it were not for them, I would not be living in a free world, living the dream I could not have even imagined was possible.
While we all strive for a world without wars, the reality is that there are brave men and women in uniform fighting them on our behalf. They have put their lives on the line to protect us. The least we can do is to say thank you on Veterans Day.