Story highlights
"He can't just deport 11 million undocumented people," New York protester says
Protests held Sunday in San Francisco, Portland, New York and Los Angeles
Protesters hit the streets Sunday over the election of Donald Trump, marking the fifth day of demonstrations in cities such as New York, Los Angeles and San Francisco.
In Manhattan, a group gathered to demonstrate against Trump's immigration policies.
"The main purpose is to tell Donald Trump he can't just deport 11 million undocumented people," Noelle Yasso said. "They're here to stay and we stand in solidarity with them."
Yasso, who said she was an immigration lawyer, said immigrants are terrified.
"They're saying, 'Are we going to be deported tomorrow?' " she said. "People don't know what will happen and they're very scared."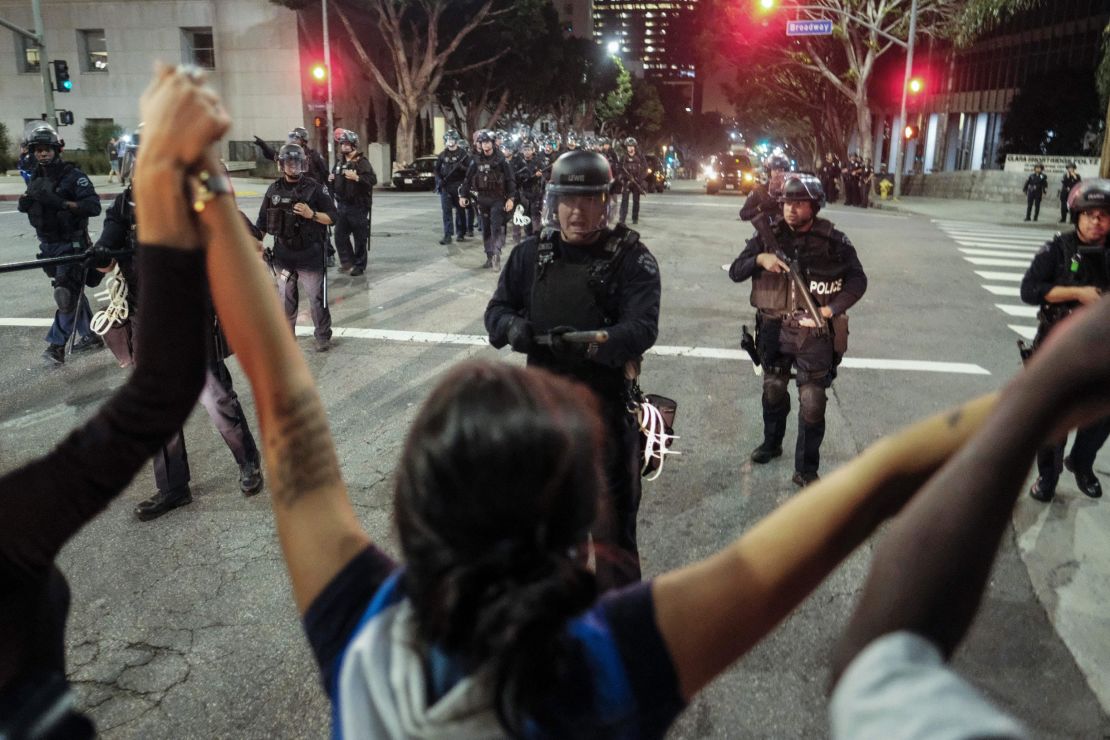 Protesters are upset about Trump's policies on health care, the environment, LGBT rights and other issues. Some are questioning the legitimacy of Trump's victory over Hillary Clinton by noting that although he took the Electoral College, Clinton won the popular vote.
Over the weekend, Los Angeles saw anti-Trump protests swell to 8,000 people on Saturday. In New York, thousands peacefully marched two miles on Saturday and gathered outside Trump Tower, the President-elect's home in Manhattan, where they chanted "not my president."
On Sunday, around 100 people peacefully protested in front of the CNN building in Los Angeles, said a member of CNN security. A small protest also took place midday Sunday in Springfield, Massachusetts. Protests also flared in large metropolitan areas including Philadelphia, Oakland, San Francisco, and Chicago.
5 things anti-Trump protesters want
Since Election Day, many have expressed fears of bigotry and racial violence against minorities, amid incidents of harassment, slurs and hate crimes. In an interview on CBS' "60 Minutes" that aired Sunday night, Trump told his supporters to stop the harassment, and that he would, "bring this country together."
As for anti-Trump protests, he said: "I think it's horrible if that's happening. I think it's built up by the press because, frankly, they'll take every single little incident that they can find in this country, which could've been there before. If I weren't even around doing this, and they'll make into an event because that's the way the press is."
Portland protests
Most protests around the nation had been peaceful. But Portland, Oregon, has been the site of the most violent anti-Trump demonstrations with a shooting and the arrest of 71 people on Saturday.
Police reported that the march was much smaller Sunday night with no arrests.
After several days of violence, protesters struck a different tone on Sunday. They gathered for a peaceful vigil on Portland's waterfront at the Salmon Street Springs Fountain.
"I think violence detracts from our message on both sides, and same with destruction, but I think we need to think about why those people are being destructive, not just condemn it," a spokesperson for Portland's Resistance, Gregory McKelvey, told KATU.
What do anti-Trump protesters want? Here are 5 key demands
It was a marked change from Saturday when protesters threw bottles and projectiles including road flares at police, and attacked a film crew, according to police.
Earlier on Saturday, a man was shot on the Morrison Bridge during a protest march. The victim's injuries were not life-threatening, and he was treated at a hospital. The suspected shooter was believed to be in a vehicle on the bridge when a confrontation unfolded with a member of the crowd, Portland police said. The suspect got out of the vehicle and fired multiple shots before fleeing. Two 18-year-old men were arrested and charged with attempted murder and unlawful use of a weapon, police said.
Other cities over the weekend
In Indianapolis, two police officers were injured by protesters throwing rocks Saturday evening, according to a tweet from the Indianapolis Metro Police Department's official account.
Seven people were arrested as police tried to keep peace in downtown Indianapolis.
Protests also were staged in Chicago; Washington; Dayton, Ohio; Cincinnati; Oklahoma City; Salt Lake City; Providence, Rhode Island; and Las Vegas. Some cities that had marches on Friday night, such as Atlanta, were quiet Saturday.
Protesters call for love and respect
More anti-Trump demonstrations could be on the way. The Los Angeles Police Department warned that students from several local schools were planning to walk out from their classes Monday.
CNN's Steve Visser, Tony Marco, Joe Sutton, Rolando Zenteno, Max Blau, John Murgatroyd, Martin Savidge and Andreas Preuss contributed to this report.