Story highlights
Mosul residents tell of life under ISIS' brutal rule after fleeing city
Displaced civilians face chaos and uncertainty following escape
Near Mosul, Northern Iraq
CNN
—
The crowd surges for the truck as soon as it arrives.
Children are crying as they're passed along a production line of strangers up into the back of the vehicle's high-walled metal tray. Mothers, sisters and grandmothers scramble after them, carrying their few possessions.
It's standing room only. Watching them all squashed in as the doors close, it's hard not to think of cattle.
But these people are now safe. Only a few hours earlier they were making the hazardous walk through Mosul's eastern neighborhoods where Iraqi forces are trying to advance through the ISIS-controlled city.
Before Hasnaah Mohammed was helped up into the truck, she sat in a wheelchair. The 56-year-old says she's now in too much pain to walk after her desperate escape from Mosul with four children.
"I was running among bullets. Walking and crying. Running and crying," Mohammed says.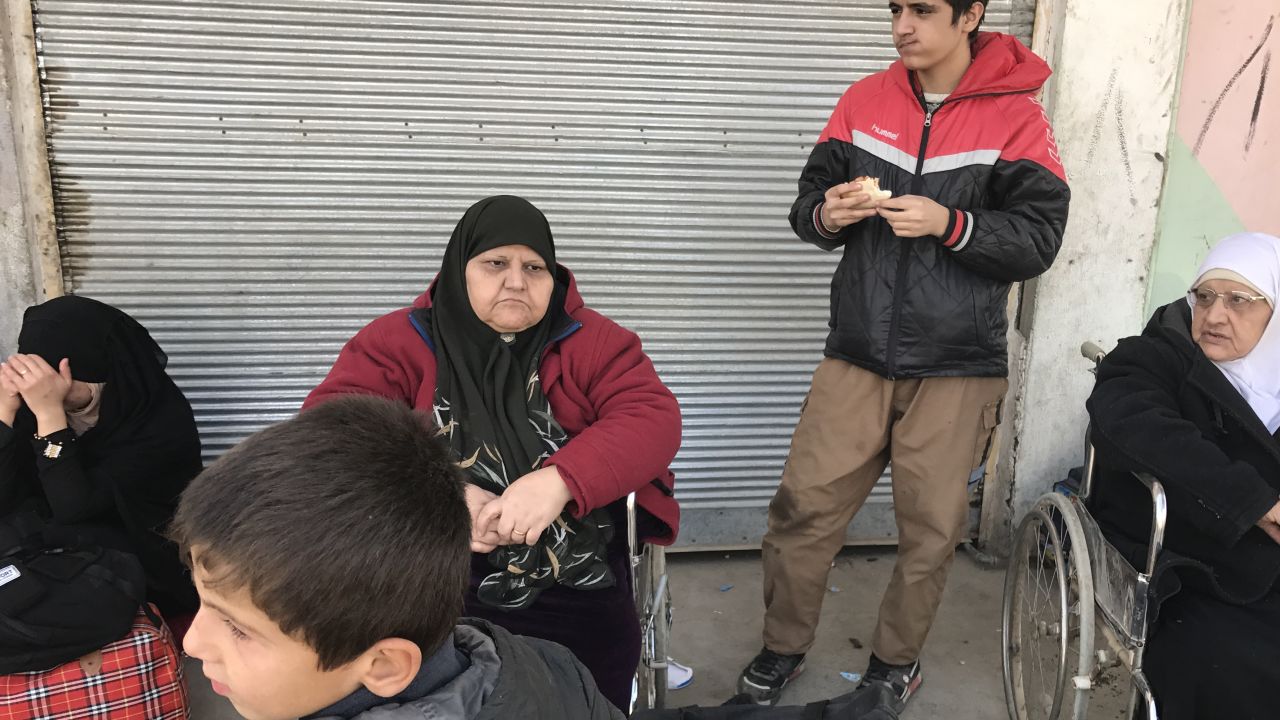 "We've been suffering from explosions for the past eight days and every day I prayed for God to save us. And then mortar rounds started hitting our home. Half of the home was destroyed."
Humanitarian crisis looms amid Mosul offensive
Families separated at screenings
The women and children in the truck are leaving behind the adult male members of their families. The men will be screened at another location to check they're not ISIS members hiding among desperate civilians.
Um Noor has three young children and she doesn't want to go without her husband.
"We are all families here who fled battles in Mosul and Daesh," she says using the common Arabic acronym for ISIS.
"I don't want to spend the night in the camp alone with my kids. I won't feel safe."
Um Noor's concerns also point to a persistent lack of trust in the Iraqi security forces, who famously fled when ISIS swept through Mosul in June 2014.
"Of course I am worried about my husband," she says. "What if they decide to arrest him for no reason?"
Iraqis flee fighting with tales of horror
As soon as the women and children are gone, the Iraqi soldiers gruffly order the men to sit in rows. They're huddled quietly up against an abandoned row of shops, sheltering in the shade.
One of the nervous, crouching figures looks too young to be with this group. Dawood Ali is only eleven years old.
He tells us he would never have anything to do with ISIS because he saw first hand what they're capable of.
It's an horrific story to hear from a young boy: "They slaughtered three men and called us to come watch. One of them, the poor guy, wasn't beheaded properly. So another man came with a knife and finished the job."
Iraqi soldiers: Refugees identifying fleeing ISIS militants
The Iraqi soldiers tell us they've found very few ISIS members trying to slip out of Mosul and they're usually identified with the help of refugees who recognize them.
The International Organization for Migration says more than 54,000 people have been displaced since the start of the operation on October 17 to clear ISIS from Mosul and the surrounding Nineveh province.
Aid and assistance for Iraqis fleeing Mosul
Most of Mosul's estimated population of 1.5 million is still in the city as it becomes an urban war zone.
On the eastern road out of Mosul at Gogjali, CNN saw a convoy of around 20 small civilian trucks loading boxes from the World Food Programme and Unicef before turning around and driving them back towards the fighting. Each truck flew a small white flag in the hope of protecting them from the violence raging in the city.