Story highlights
Surprise announcement follows protests and a quashed court appeal
Police chief only found out 24 hours ago that the burial would take place
Former Philippines President Ferdinand Marcos has been buried at the National Heroes' Cemetery in Metro Manila.
The surprise decision to give the former dictator a hero's burial Friday has triggered protests by opponents who had launched a court challenge to have the burial stopped.
The burial marks the end of a three-decade-long campaign by his family to have his remains buried in the cemetery, the national monument known as "Libingan ng mga Bayani" in Tagalog.
Many Filipinos object to his interment in the heroes' cemetery, given how brutal his rule was. Thousands were imprisoned and tortured under Marcos' reign. He ruled with an iron fist for two-and-a-half decades until his ouster in the 1986 "People Power" revolution.
He died in 1989, three years after being exiled to Hawaii. His body was eventually brought back to a mausoleum in the family's stronghold of Ilocos Norte, in the Philippines' northeast, where it had remained until today.
Marcos' daughter, Imee Marcos, posted video online of the coffin arriving by helicopter, as well as family members gathering.
Images tweeted by CNN Philippines showed a line of police officers with riot shields outside the cemetery gates. A 21-gun salute was sounded as the funeral rites were conducted.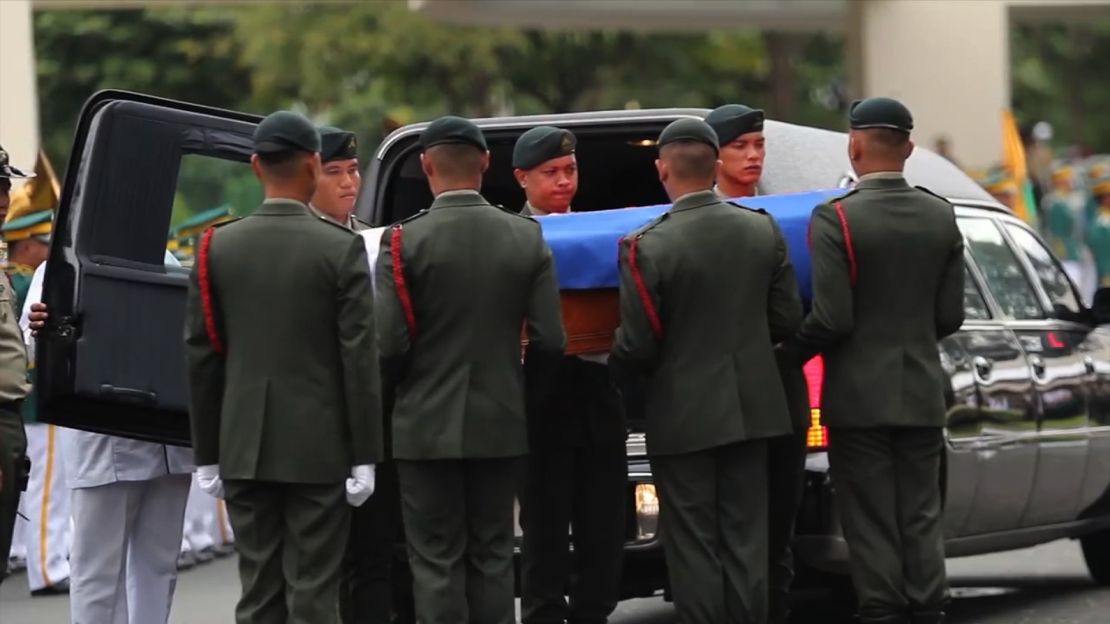 Lt. Col Ray Tiongson, interim spokesperson of the Philippine Army, told CNN the army had provided assistance for the honorary interment.
He said the Army provided a "battalion-size military honor (guard)" – around 100 soldiers.
Members of the media were not allowed to witness the ceremony, CNN Philippines reported.
Imee Marcos offered a statement on behalf of the family, thanking President Rodrigo Duterte and the Supreme Court for ruling that his burial was legal. She said that she was also thankful that the family were able to realize Marcos' wish to be buried with his fellow soldiers.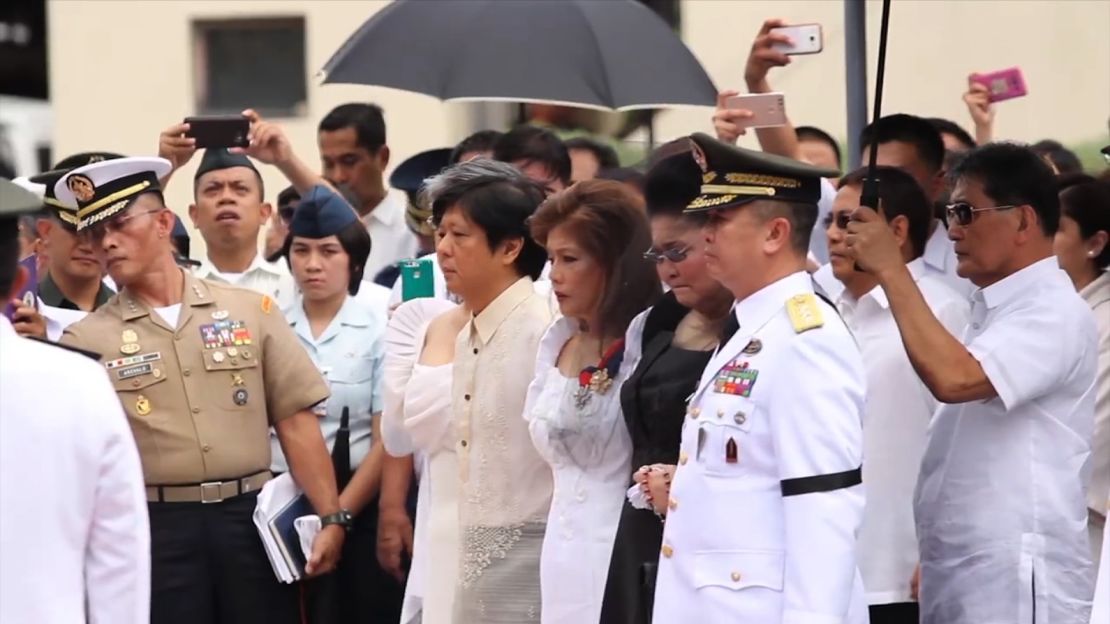 Presidential Spokesman Ernesto Abella read out a statement on the funeral.
"Hopefully both sides will exercise maximum tolerance and will come to terms with the burial of former President Ferdinand Marcos," he said from Peru, where the President is on tour.
"(President Duterte) further said, he hopes everyone will find space in their hearts to forgive and set free those who have hurt or injured them."
Philippine National Police Chief Ronald Dela Rosa told CNN Philippines that he was only given 24 hours notice of the burial. He said that Duterte was also notified.
"(Duterte) knows. There are no special instructions," he said. "We just have to make sure the burial is peaceful and there nothing untoward happens."
Opposition
Vice President Leni Robredo, who opposed the burial, said the surprise burial showed the Marcos family was acting "like a thief in the night."
"(Marcos) is no hero. If he were, obviously his family would not have to hide his burial like a shameful criminal deed."
Others said it was "a shameless betrayal."
"It smacks of bad faith (and) bad taste," Edre Olalia, a lawyer for one of the petitioners in a court case to prevent the burial, told CNN.
"We think that the all-time thief, tyrant, and rights violator will turn in his grave and will not never lay to rest."
Protestors took to Metro Manila streets to voice their objections.
Government push
After coming to power in June of this year, Duterte's administration pushed for the former leader's remains to be moved and interred in the Manila cemetery.
Duterte, whose father served in Marcos' cabinet and was supported by Marcos' daughter in the presidential elections, has justified the re-internment on the grounds that it is legal to do so.
"He is qualified to be buried there. If other Filipinos don't want this, fine. You can demonstrate, go ahead. You can use the streets," he said in August.
The Supreme Court, by a 9-5 vote on November 8, allowed the former president's burial at the cemetery.
'Moral turpitude'
Organizers of an August protest say that the Armed Forces of the Philippines (AFP) guidelines disqualify Marcos from receiving a hero's burial.
They cite a clause that states "personnel who were convicted by fine judgment of an offense involving moral turpitude," were disqualified, according to a statement released by the coalition.
Many young Filipinos have little or no knowledge of Marcos and martial law.
In recent years the Marcos family has re-emerged on the political scene.
Ferdinand "Bongbong" Marcos Jr. narrowly lost the election for Vice President of the Philippines this year.
The late dictator's widow, Imelda Marcos, has been elected four times to the House of Representatives, despite ongoing controversies over the huge sums of money she and her husband plundered from the country.
CNN's James Griffiths contributed to this report.