Story highlights
Michael G. Flynn regularly shares conspiracy theories, expletive-filled posts and racially insensitive sentiments on social media.
A request for comment to Flynn and his son, as well as a spokesperson, was not returned.
The son of top Donald Trump adviser and retired Army Lt. Gen. Michael Flynn regularly shares conspiracy theories, expletive-filled posts, and racially insensitive sentiments on Twitter and Facebook, a CNN KFile review of his social media presence reveals.
Flynn's son, Michael G. Flynn, shared stories alleging top Hillary Clinton aide Huma Abedin had a connection to the Muslim Brotherhood, pushed a conspiracy theory that Sen. Marco Rubio was a closeted homosexual who abused cocaine, and repeatedly used expletives to attack Trump's political opponents.
The retired general has been offered the role of national security advisor, a transition official told CNN Thursday. The younger Flynn serves as his father's chief of staff and top aide, attending events alongside his father and working for his father's consulting firm, Flynn Intel Group. The elder Flynn credited his son with editing his book and frequently tags his son in tweets. In a photo on Facebook, the younger Flynn can be seen walking with Trump backstage.
A request for comment sent to Flynn and his son, as well as a spokesperson, was not returned. A spokesperson for the Trump campaign also did not return a request for comment.
The younger Flynn, whose Twitter and Facebook are largely dedicated to supporting Trump, has occasionally shared racially insensitive sentiments.
In a tweet from January of this year, Flynn responded to a Vox story on Twitter about whites-only dating sites, writing, "@voxdotcom soooo African Americans can have B.E.T. but whites can't have their own dating site? Hmmm…" (The tweet was deleted after CNN contacted Flynn for comment.)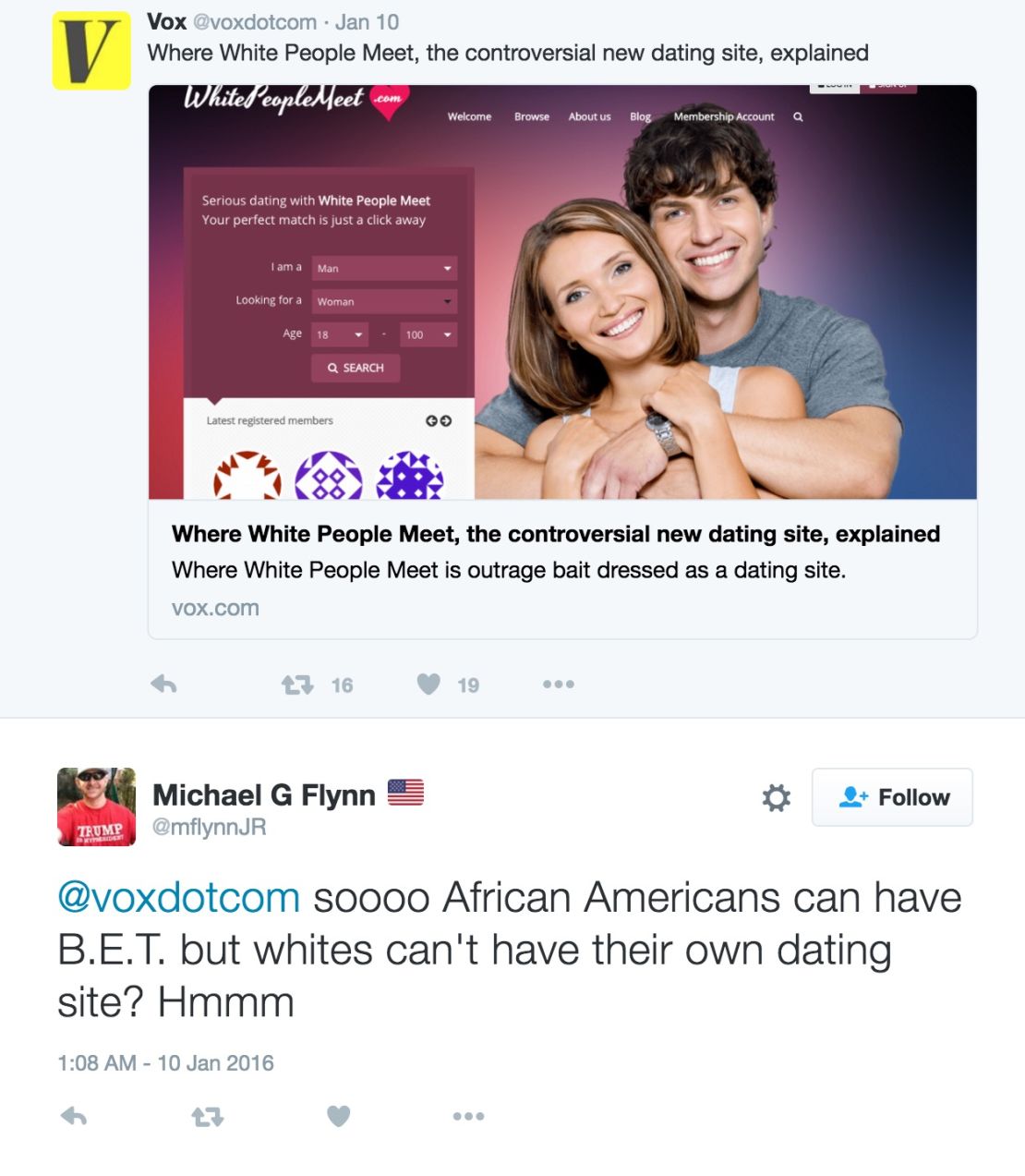 After the 2012 election, Flynn tweeted that minorities only voted for President Barack Obama because of his skin color.
"Unfortunately, only reason minorities voted for BO is the color of his skin and NOT for the issues….#Election2012," Flynn wrote. (The tweet was deleted after CNN contacted Flynn for comment.)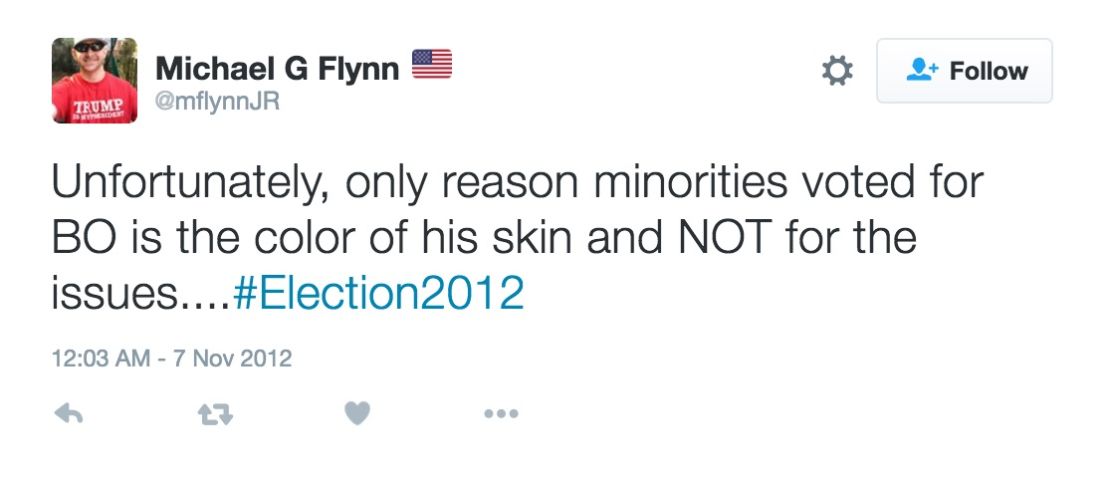 Flynn frequently shares unfounded conspiracy theories, like ones claiming Hillary Clinton and President Obama would be tried for treason if Trump is elected. He also posted a unfounded story claiming hackers would release a video of former President Bill Clinton raping a teenage girl. In one post, he called alt-right social commentator Mike Cernovich, who frequently shares unfounded news stories, "a source I trust."
In a Facebook post from October, Flynn shared a fake news story claiming Obama flaunted an erection to female reporters in 2008.
Flynn tweeted multiple times unfounded claims about Sen. Marco Rubio's "coke house, gayish dance troupe, and foam parties." These tweets included a baseless article about Rubio being a homosexual who lived in a drug house and went to "foam parties" where "mutual masturbation is an occasional component, generally beneath the cover of foam."
On Twitter, the younger Flynn frequently re-tweets Paul Watson, editor for the conspiracy website InfoWars, sometimes using the hashtag "#infowars" himself. His Facebook and Twitter picture are him in an InfoWars t-shirt. In one tweet, Flynn retweeted Watson sharing a video of a woman crying saying "I need an ambulance" because Trump was elected. Watson commented he thought it "might be the best thing ever."
Flynn is also a frequent retweeter of members of the so-called alt-right, retweeting links to videos that discuss whether Clinton campaign chair John Podesta had a "torture chamber" and videos claiming Huma Abedin has ties to the Muslim Brotherhood and Saudi terrorists. He has used the word "cuck" — a shorthand slur for cuck-conservative which combines the word cuckold and conservative — a number of times on social media.
Flynn also regularly labels Hillary Clinton, Saturday Night Live, CNN, Sen. Bernie Sanders, President Obama, and others as communists. He labeled Twitter CEO Jack Dorsey and Facebook CEO Mark Zuckerberg socialists in a Facebook post, saying they promote anti-Trump and pro-Hillary views. In another post on Facebook, he called Gloria Allred, an attorney for many of the women who accused Trump of sexual assault, "a commie" who was trying to "get the heat off the witch."