Story highlights
Giant nets in the Anti-Atlas mountains trap fog and turn it into clean drinking water
The nets have had life-changing effects on the local population
On the edge of the Sahara, in southwest Morocco, giant nets catch moisture from the air, turning fog into drinking water.
The technique involves a fine mesh on which tiny fog droplets – typically 1 to 40 millionths of a meter – gather and merge until they have enough weight to travel down into a reservoir.
Set in a dry, mountainous area, it's the world's largest functioning fog collection project, spanning 600 square meters, according to Dar Si Hmad, the women-led Moroccan NGO that runs it.
The pilot project now provides clean drinking water to 500 people in five villages, in a region that has been severely hit by climate change-induced droughts.
Four years of tests
Fog harvesting was devised in South America in the 1980s and there are active projects in various countries including Chile, Peru, Ghana, Eritrea, South Africa and California.
Efforts to bring it to Morocco started 10 years ago and the project launched in 2015, on World Water Day, after four years of testing.
"This period of observation was extremely important, because water projects can't be rushed into a social contract without a long term study, as the risks are too high," Jamila Bargach, director of Dar Si Hmad, told CNN.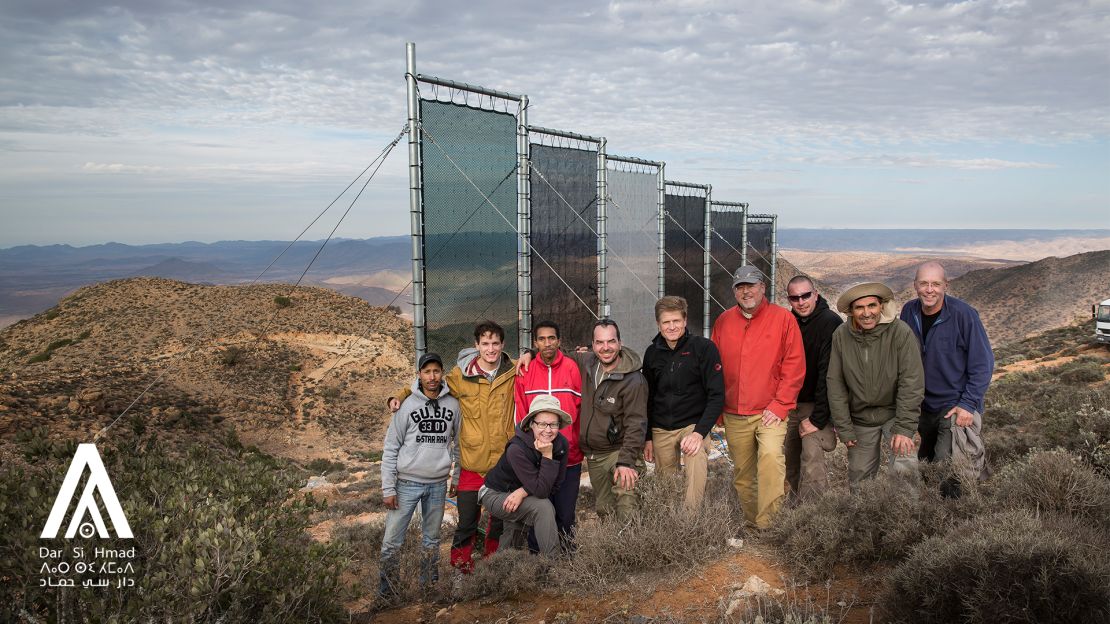 The nets, which are set at an altitude of 1,225 meters (4,000 feet), collect an average of 6,000 liters of water a day, which is first filtered for impurities before traveling through eight kilometers of piping to reach homes in the villages.
"The fog is pushed by the winds from the ocean and is trapped by the mountains – it's stuck here – so it's easy to empty it of its water," Bargach said of the mountains that are draped in fog for about 140 days a year.
In recognition of its unique contribution to facing the challenges of climate change, the project was awarded the 2016 United Nations "Momentum for Change" award and showcased at the UN's climate change conference, COP22, in Marrakech, Morocco.
Reversing migration
The region, known as Anti Atlas – from the name of the nearby mountain range – has become increasingly depopulated in the last decades as inhabitants were forced to migrate due to lack of water.
"Those who have stayed are among the poorest, and are mostly women, children and the elderly," said Bargach.
"Before we installed the nets, they had to walk three hours a day to go to distant, depleted wells, which is what people still do every day in the region where we don't operate."
If the wells are dry, the only way to get water is to have it delivered by trucks, at the price of 30 to 50 dirhams per ton (about $3 to $5).
Within the scheme, each ton of water now costs just 4 dirhams, or about 40 cents, and is available from the tap, at home.
"Even though these are poor communities, with people living on less than $2 a day, they pay for their water because they know the money goes into maintenance," said Bargach.
Battered by winds that can reach speeds of more than 70 miles per hour, the nets are in need of constant care.
'CloudFisher'
To address the problem, starting next year the current technology – from a Canadian NGO called FogQuest – will be upgraded to a newer version called "CloudFisher," developed in Germany, which requires no maintenance and will double the water yield.
So far, the nets have had life-changing effects on the local population.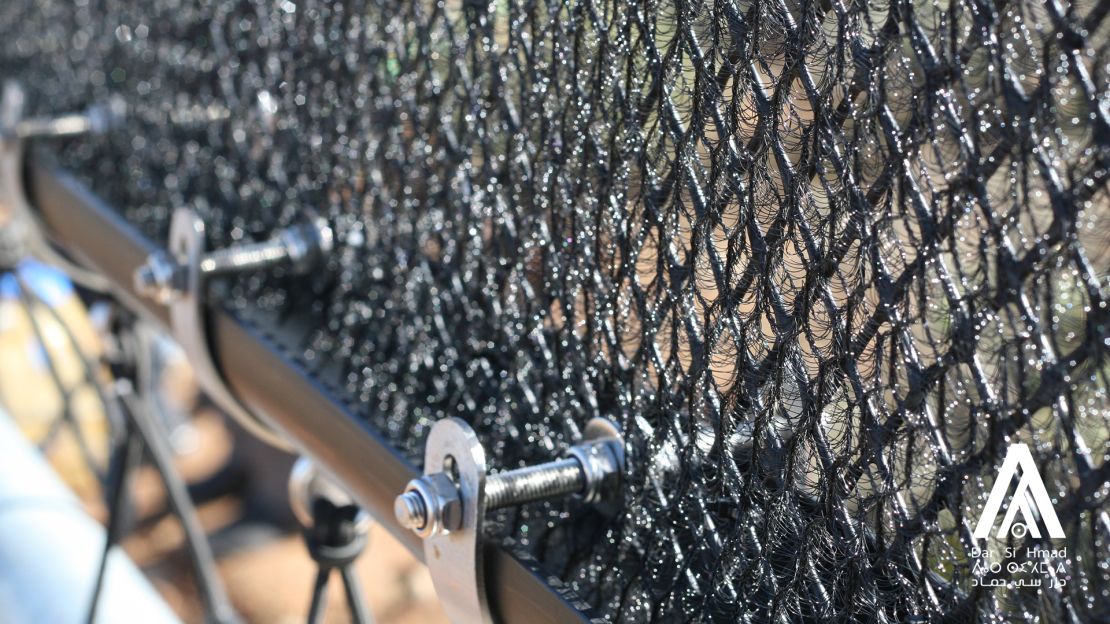 "They told me, 'We were like slaves, and now we're free.' It's been an amazing transformation, and they feel proud as recipients of such a maverick way of getting water," said Bargach.
Over the next two years, the project will expand to eight new villages, adding over 500 new beneficiaries.
Dar Si Hmad is also bringing the fog catchers to other regions of southwestern Morocco, at the request of local organizations, providing clean water to a wider network of rural Berber villages that suffer from water stress.