Story highlights
Forest Green plan to build world's first wooden stadium
Project brainchild of UK green energy businessman Dale Vince
US President-elect Donald Trump might have claimed climate change to be a hoax, but in a leafy spot of rural Britain, a millionaire football club owner is doing all he can to make his team as environmentally friendly as possible.
The latest initiative of lower league English club Forest Green Rovers is to build what chairman Dale Vince says is the world's first ever wooden stadium.
"The really standout thing about this stadium is that it's almost entirely made out of wood – the first time that will have been done anywhere in the world," Vince said when the new design was announced.
"The importance of wood is not only that it's naturally occurring, it has very low embodied carbon – about as low as it gets for a building material.
"And when you bear in mind that around three-quarters of the lifetime carbon impact of any stadium comes from its building materials, you can see why that's so important – and it's why our new stadium will have the lowest embodiment of carbon of any stadium."
The stadium will reside at the heart of a 100-acre Eco Park that aims to provide facilities for the community, as well as the club: gyms, all-weather pitches, and sports science clinics will all be offered, on top of hosting events and conferences. It is estimated to cost £100 million ($123M).
"As with all modern stadia," Vince told CNN, "in order to make them economic, you've got to look beyond football which is on average just a game once every two weeks for a few hours. You've got to look beyond that."
The stadium design was part of a competition launched by Forest Green. The winning entry came from the prestigious Zaha Hadid Architects (ZHA), the brains behind part of London's Olympic aquatic center and one of Qatar's 2022 World Cup venues.
"Forest Green Rovers have established a holistic vision for the site to retain its pastoral qualities whilst adding new facilities for the town," said ZHA director Jim Heverin.
"The design retains and enhances the existing meadow landscape of the site whilst adding the stadium and other functions for the town … It will be the first all timber football stadium with almost every element made of sustainably sourced timber including its structure, roof cantilevers and louvered cladding."
The world's greenest club?
Real Madrid and Bayern Munich – two of football's most recognizable names – recently wore jerseys made from recycled ocean waste. But this pales in comparison to the way Vince has rebranded Forest Green.
Estimated to be worth of over £100 million ($123M), 55-year-old Vince is the CEO of Ecotricity, a green energy company specializing in wind power. He first bought shares in Forest Green Rovers in 2010.
In 2011, the club installed 170 solar panels to generate green electricity. In 2012, it introduced a solar-powered lawn mower and picked up a sustainability award for its organic pitch. That same year, the team changed its colors from black and white stripes to bright green, and in 2015 officially became the world's first vegan club.
On the surface, football and the environment seem an odd pairing. But this, says Vince, is precisely why it's worked so well. Since becoming club chairman, he's seen the possibility of introducing sustainable concepts to a new audience.
"It's counterintuitive," Vince told CNN, "and I think that's why we're having such a big impact. Here we are spreading a vegan message in the world of football. It doesn't get more counterintuitive than that."
"We have been able to display all of our thinking and the technology we use and the approaches we take in the world of football. This is an untouched audience for an eco-message.
"In effect, we're not preaching to the choir. And that's where we have to take the message – to places it's never been before and where it might be quite shocking to begin with, but we can get some traction.
"If you want to post-transaction rationalize it further, which we have: football fans are a passionate group of people and if they get the environment like they get the football club, then we can create a lot of good from that."
Back from the brink
If the future looks bright off the pitch, on it things are looking equally promising.
Teetering on the verge of bankruptcy six years ago, Forest Green have recently gained promotion out of the English National League after a 3-1 play-off win against Tranmere Rovers. It takes Forest Green into League Two, three promotions away from the English Premier League.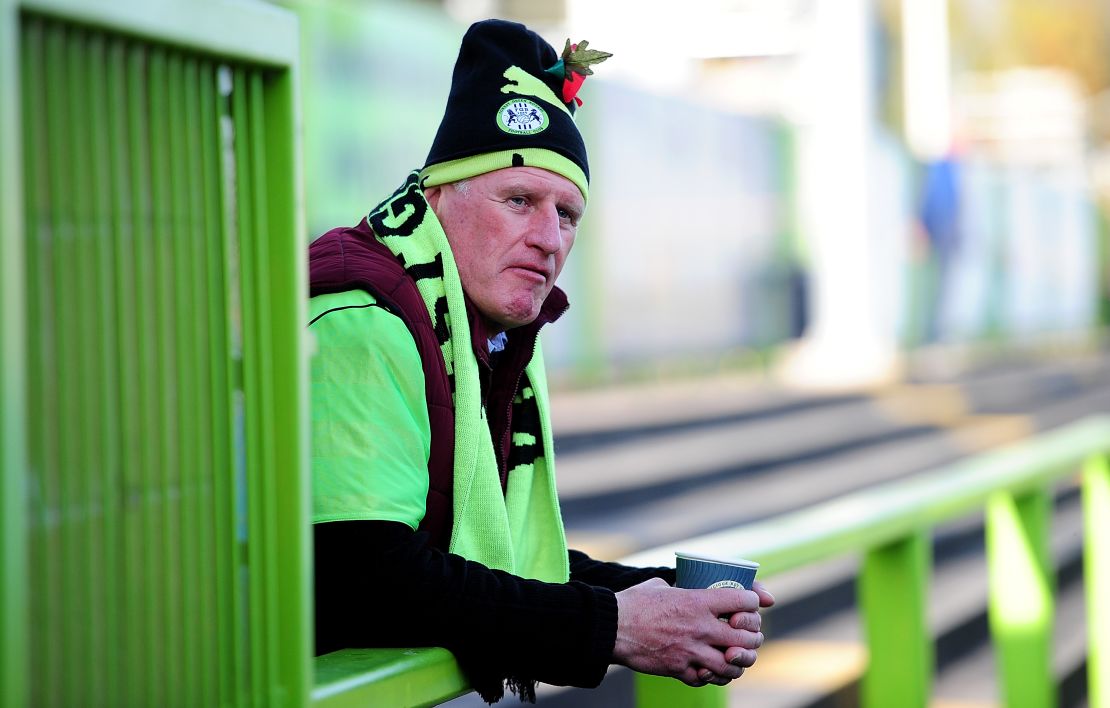 When Vince first became involved with the club he had little idea of what he was taking on.
"It began helping [the club] out with a bit of money in terms of cash flow and then quickly realizing 'actually they need a lot more than that.' It was a question then of getting fully immersed and rescuing it and rebuilding it, or walking away and seeing it fail. So we took the action to dive in."
These days, Forest Green don't see themselves languishing in the lower leagues for much longer.
"We just think we have all the ingredients in our new location and stadium, in terms of the geography and populations," said Vince. "We think we can sustain a Championship club [the second tier of English football] with our location, so that's our ambition."
Visit cnn.com/football for more news and videos
It seems a long way to climb, but at present the financial, environmental, and sporting future of the club appears secure. As things stand, the grass couldn't look much greener for Forest Green Rovers.
In fact, it might be the greenest grass in world football.