Story highlights
Kris Kobach, the current secretary of state in Kansas, met with Trump at his Bedminster golf club on Sunday afternoon
The paperwork lays out key points the DHS director would take on, including reintroducing NSEERS
A photo-op Sunday with Donald Trump may have revealed prospective Cabinet member Kris Kobach's plans for the Department of Homeland Security.
Kobach, the current secretary of state in Kansas, met with Trump at his Bedminster golf club Sunday afternoon. In recent days, Kobach's name has been floated as a potential pick for head of the Department of Homeland Security.
The two posed for the press on the front steps, and in the photo released by AP, Kobach is holding a document that is facing the camera, which appears to lay out in boldfaced type guidelines for the role the two men were seemingly discussing.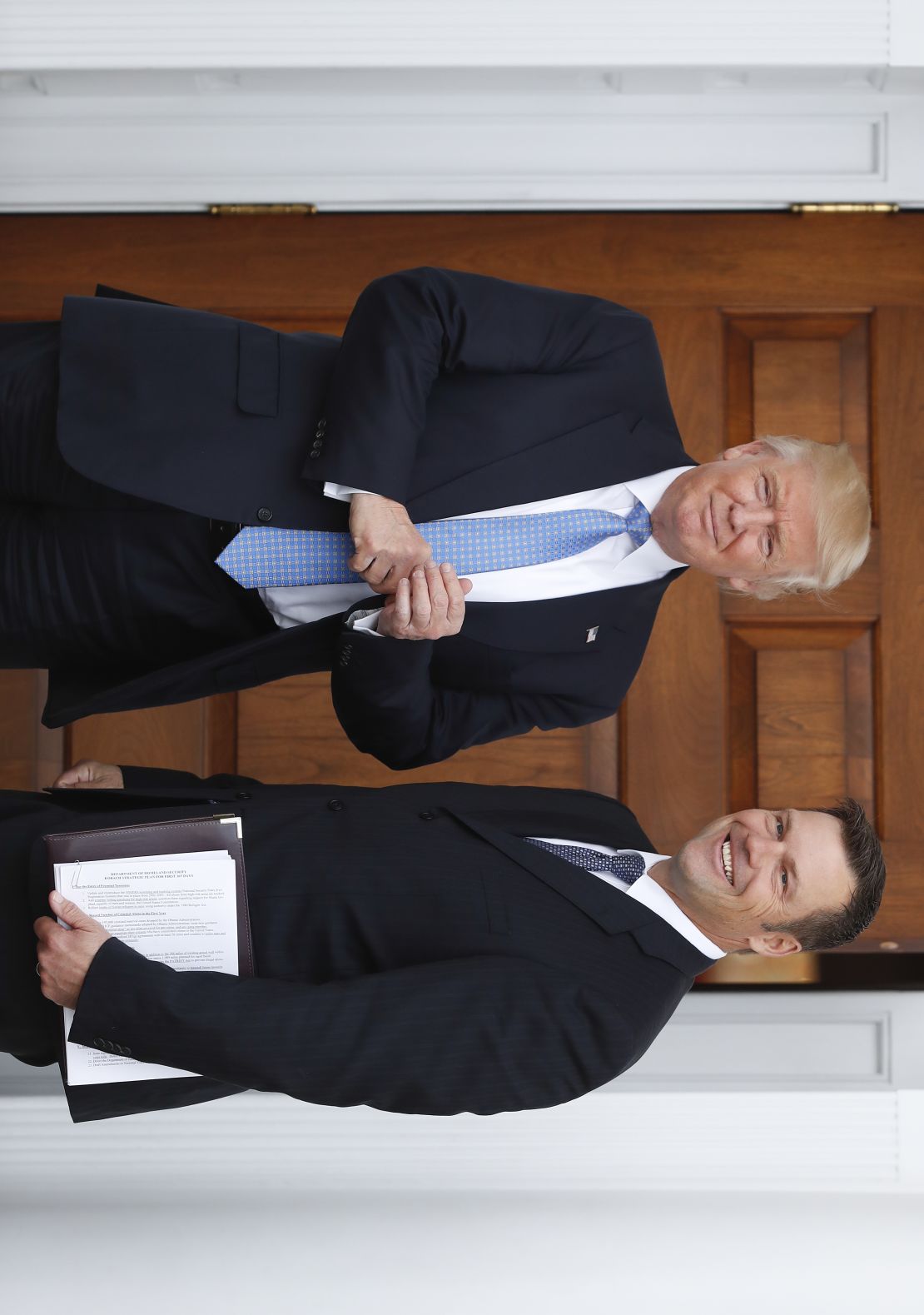 The document is titled "Department of Homeland Security" and underneath reads "Kobach Strategic Plan for First 365 Days."
DHS, whose secretary requires Senate confirmation, is in charge of immigration policy and border security – two key issues Trump promised to amend in his platform throughout his candidacy.
The paperwork lays out key tasks the DHS secretary would take on, including reintroducing the National Security Entry-Exit Registration screening program where "all aliens from high-risk areas are tracked" as well as reducing the intake of Syrian refugees to zero.
In a statement Sunday, Trump's transition said the two discussed "border security, international terrorism, and reforming federal bureaucracy."
Trump and his team, including incoming chief of staff Reince Priebus, have said that they will not target religion, yet this document proves differently, stating that there will be "extreme vetting questions for high-risk aliens – regarding Sharia law, Jihad, equality of men and women, United States Constitution."
Kobach, an early Trump supporter, was one of the original creators of NSEERS under President George W. Bush and has drafted and fought for strict immigration policies for several states.