Story highlights
Woman was critically injured after an air cannon malfunctioned
Pumpkin-throwing competition dates back to 1986
Suzanne Dakessian's memory of the explosion is hazy. She ran as a large metal plate flew toward where she and other TV crew members were standing.
For a split second, she turned to see where the debris might land. That's when the plate struck her head.
"I tried to run and I didn't make it," Dakessian said.
The 39-year-old New York television producer nearly died this month on a clear blue Sunday in a Delaware soybean field, where she was chronicling the 2016 World Championship Punkin Chunkin for the Science Channel. The event featured giant air cannons, catapults, trebuchets, slingshots and other devices launching gourds long distances.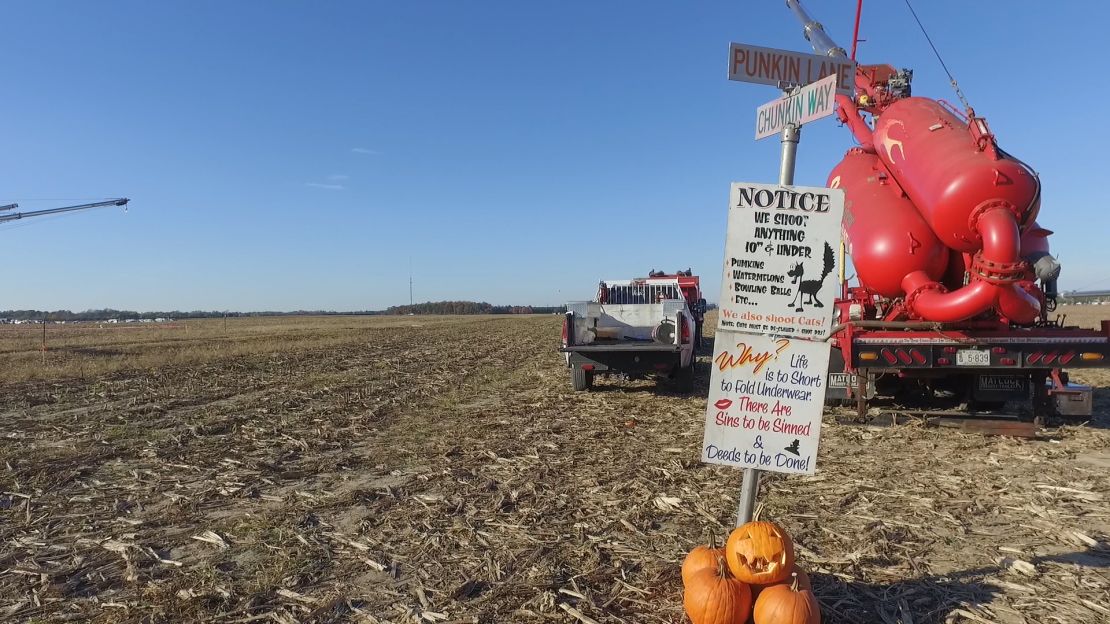 Dakessian was critically injured when an air cannon blew apart while firing a pumpkin. A second person, a 56-year-old man, suffered non-life threatening injuries. Both were standing in a restricted area near the firing line that was only open to the media, safety officials and team personnel.
The explosion was the worst accident in the history of the contest, which dates back to 1986. Five years ago, a volunteer pumpkin spotter was seriously hurt in an ATV wreck on the field and filed a personal injury lawsuit that led to the cancellation of the event in 2014 and 2015. New safety restrictions were implemented in 2016, including a ban on alcohol along the firing line and mandatory inspections for each of the 100 machines prior to launching test shots.
Delaware State Police are looking into whether any crimes occurred in this month's incident. A spokesman for the Delaware Department of Natural Resources and Environmental Control, which inspected the pressure vessel on the air cannon prior to the tournament, said in an email that no deficiencies were noted.
Organizers of the World Championship Punkin Chunkin (WCPC) and the owner of the broken cannon declined to comment.
Even though Dakessian was wearing a hard hat, as per safety rules, the weight of the plate caused a devastating injury.
"It was a dangerous place and it was a dangerous event, but that was part of the job," Dakessian said this week in a phone interview from Christiana Hospital in Stanton, Delaware, where she underwent emergency surgery to remove part of her skull due to brain swelling. She had been hospitalized since the explosion on November 6, but she was released on Friday afternoon and moved to a rehabilitation facility in New Jersey.
"What happened at Punkin Chunkin was an accident," said Dakessian. "Why it happened isn't something I could speak to, but all I can say is that it's a really dangerous event and I got bit by it."
She declined to say whether the competition should return next year with stricter safety rules.
"I don't really have an opinion on that," said Dakessian. "I can see the good and the bad in both sides."
TV special canceled after accident
Because of the incident, the Science Channel canceled its "Punkin Chunkin" special, which was scheduled to air on Saturday night. "We are sending our hopes and prayers for a full recovery to the injured woman, her family and loved ones," it said in a statement. Spokesman Paul Schur declined further comment.
A production company, Sharp Entertainment, was producing the special for the Science Channel.
"Our thoughts are with Suzanne, her family and friends as she continues to recover from this accident," said a spokeswoman for Sharp Entertainment via email.
Dakessian said she's saddened that the show was scrapped.
"It's heartbreaking," said the producer, who was supervising a crew of camera operators for Sharp Entertainment.
"I was really looking forward to seeing what came from all that hard work I put in," she said. "The days of the chunk, I was working 15-hour days, and to not see the product after all that blood, sweat and tears that went into that show, I'm really bummed out about it.
"But I understand that this is a big world, and it's much bigger than me, and I don't have any kind of right to say what people should or shouldn't do."
The Science Channel and its sister network, Discovery Channel, traditionally made "Punkin Chunkin" the centerpiece of their Thanksgiving programming. The show, a physics lesson in the guise of a pumpkin demolition derby, rivaled "Shark Week" in popularity. Between 2008 and 2013, "Punkin Chunkin" topped network shows like "The Apprentice" and "Modern Family" with viewers in key age groups. As the audience grew, "MythBusters" stars Kari Byron and Tory Belleci were recruited to host the specials.
Besides attending the Punkin Chunkin competition in Delaware, Dakessian visited a number of teams as they got their machines prepped for the contest.
"I learned a lot about humanity and what motivates people to do such extreme expensive things," she said. "Everybody needs to feel successful, and if launching a pumpkin over 4,000 feet does it, good for them."
A career in production
Over her decade-plus career, Dakessian has worked on everything from Oscar-winning documentary shorts ("Freeheld") to MTV programs ("Teen Mom") to rustic reality shows ("Alaskan Bush People"). She was injured in the field once before, falling and getting her hand caught in a grated table while shooting an episode of "Doomsday Preppers."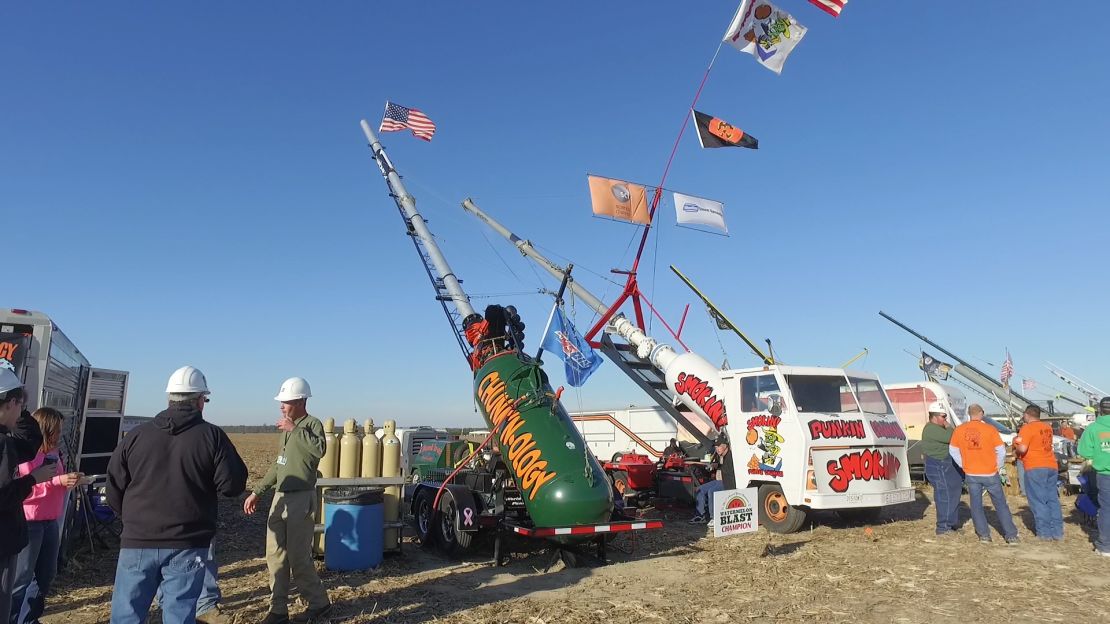 "I was filming in this shop where they make tactical products, and my shoes were making noise because they were squeaking on the floor, so the audio guy asked me to take off my shoes," Dakessian said. "I was walking around in socks and my feet slipped out from under me, and I fell down and my left hand went down into a grate table.
"So two of my fingers got caught, and I severely damaged two fingers in my left hand. I had to go to physical therapy, and it took me six months until I could make a fist again.
"At that point, I was like, 'My job could prevent me from using my hand.' I thought it was a big sacrifice, but in the end, I really wouldn't have changed much about it because I enjoyed the show."
Dakessian said videographers are driven by a single-minded determination to capture arresting images and raw emotion. Sometimes, they'll jeopardize their safety in pursuit of transcendent footage.
"When I first started in this industry, I was brave and bold and daring, leaning out moving car windows, doing everything I could to get the shot," Dakessian said. "I'm also type 1 diabetic. Sometimes I would think ahead, 'I'm going to be filming for at least four hours –maybe I'll make it so my blood sugar will run a little higher than normal so I won't have any issues."
"My concern was there could be a moment that I miss and a moment that I'll never get back again. I'd rather capture the story in its entirety and capture it beautifully than stop for any reason."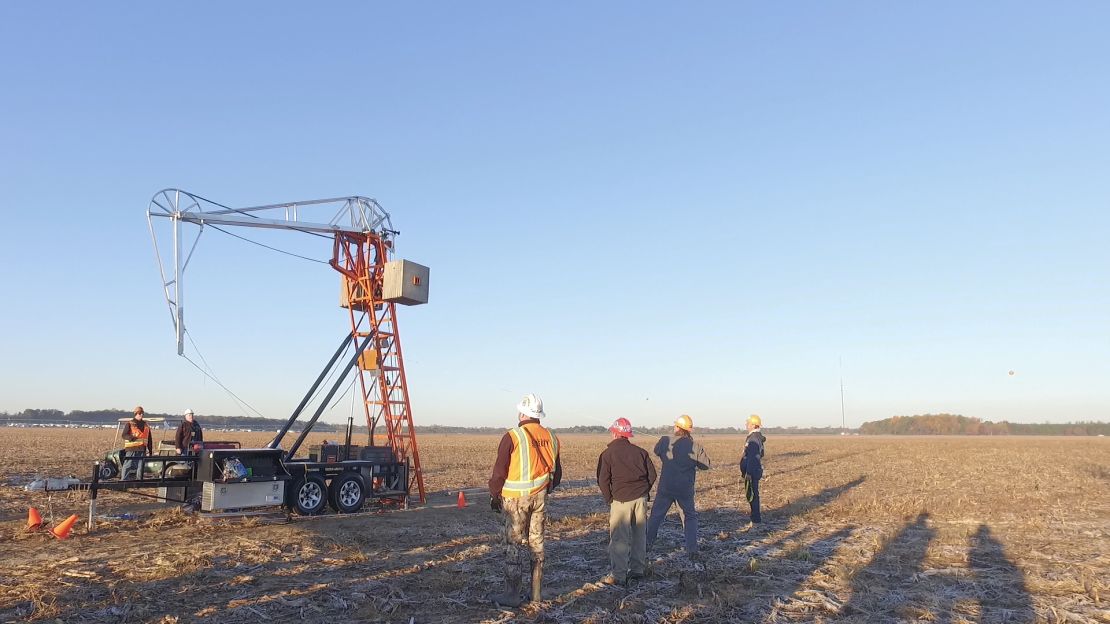 Dakessian gravitated toward unscripted entertainment after years of working on political documentaries – "Freeheld" centered on a dying woman's successful fight to pass along her pension benefits to her same-sex domestic partner.
"I started out really wanting to make a big impact in the world, and I worked on documentaries and docu-style shows that felt meaningful," Dakessian said. "I did that for years, and eventually I realized that being enveloped in these heavy, often grim subjects was making me unhappy, and I started transitioning to lighter TV and more towards entertainment.
"I like covering stories that show the spectrum of America's quirks, and there's a lot to learn from each one. I've enjoyed the adventure and, you know, life is dangerous. You can't let those concerns stop you from living it, from living it well and fully. It's a big, big world, and it's an interesting world, and I want to see as much of it as I can. I don't think anything is going to change that."
Long-term effects
The proliferation of reality shows centered on survival in treacherous settings has paralleled an uptick in the number of workplace fatalities on TV and movie sets, according to the Bureau of Labor Statistics.
The Los Angeles Times published a report last year that concluded the number of deaths on TV and movie sets doubled, with 20 fatalities between 2009 and 2014, compared with 10 between 2003 and 2008. The paper's analysis indicated that one third of the fatalities involved reality shows.
It will be a year before doctors can assess the long-term effects of the injury. At the moment, Dakessian is blind in one eye, cannot move one of her hands and she has another surgery on the horizon to restore the bone that was removed from her skull.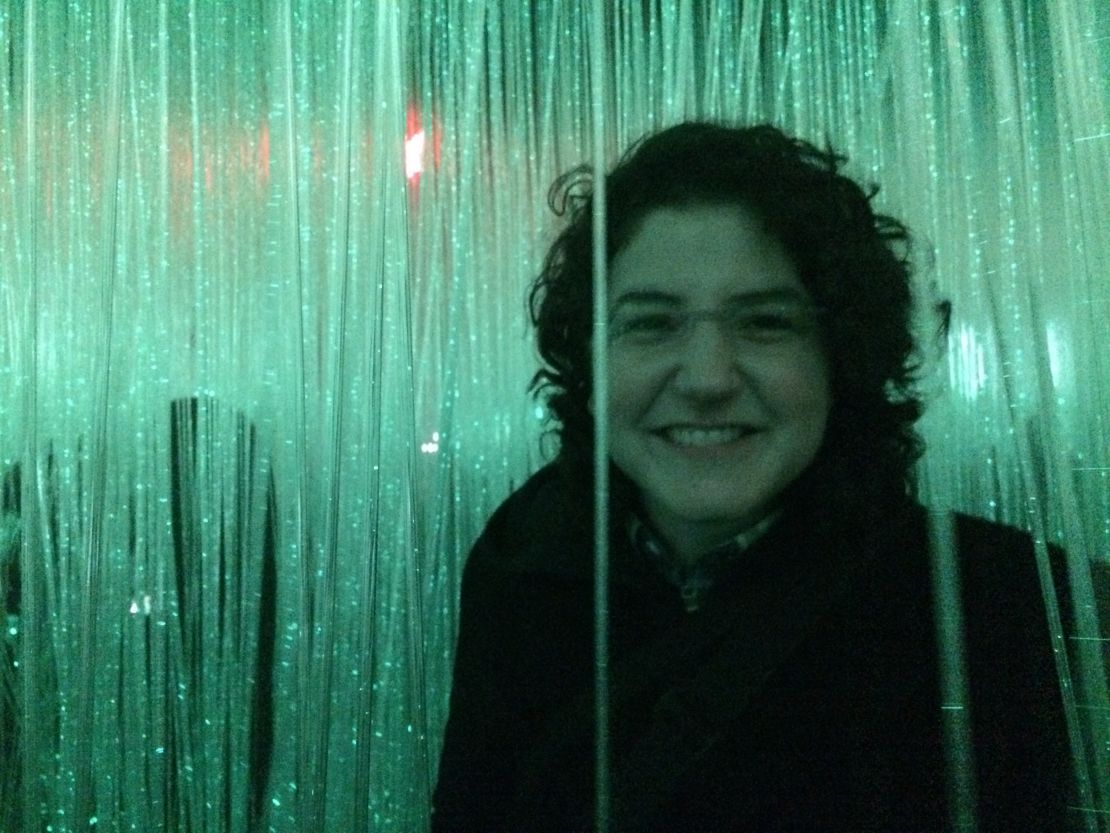 "There's a piece of bone missing from my head right now," Dakessian said. "I look in the mirror and see these purple raccoon eyes. Before this accident, my life was easy. My biggest concern was getting to work on time. Now, I struggle putting on a jacket. I struggle zipping a zipper. I struggle opening a sugar packet. Right now everything is very unpredictable but I'm just trying to stay hopeful."
Dakessian's family brought a home-cooked Thanksgiving feast to her hospital room in Delaware, which helped chase away the gloom.
"I am thankful to be alive and not have any cognitive issues," she said. "I'm very appreciative to the doctor that saved my life. Dr. (Leif-Erik) Bohman did emergency surgery that saved my life and he's the reason why I'm talking to you right now. The doctors are calling me a miracle in that I survived and that I'm verbal and they're impressed by the progress I've made. I am thankful for all of the love and warmth that I got from people in my life that was, I guess, a little unexpected."