Story highlights
Halima Aden takes part in pageant, wear traditional Muslim clothing
She says she hopes to inspire others
While most Americans were still recovering from Thanksgiving feast over the holiday weekend, Halima Aden was making history.
The 19-year-old St. Cloud State University freshman walked across the Miss Minnesota USA pageant stage Saturday night draped from head to toe in a blue-embroidered burkini and a bright yellow headscarf. During the two-day beauty pageant, Aden showed only her face, making her the first contestant to wear a hijab and a burkini in the pageant.
But this was much more than a fashion choice producing uproarious applause; it was a decision that was meant to inspire. According to Aden, this pageant was an opportunity to dispel the narrative that many Muslim women are oppressed.
Aden, 19, says she was bullied for wearing her hijab growing up and wanted to show people that this she was proud of her religion and culture.
"There are so many Muslim women that feel like they don't fit society's standard of beauty," she told CNN this week. "I just wanted to tell them it's OK to be different, being different is beautiful, too."
Aden's decision to wear her traditional wardrobe comes at a tense time when Muslim Americans have been victims of hate crimes and are concerned by President-elect Donald Trump raising the possibility of a Muslim immigration ban while he was campaigning.
Aden, who reached the semifinals, said taking part in the pageant was intended to inspire more people to be open-minded and accepting.
Liz Sawyer, a Star Tribune writer, tweeted that Aden received a positive response from the crowd when she took the stage in her navy blue-embroidered burkini during the swimsuit segment.
The spotlight of crashing barriers or expectations is not new for her. As a senior at Apollo Senior High School in St. Cloud, Aden became the first Muslim there to be crowned homecoming queen.
Aden's history of overcoming obstacles started when she was born in a refugee camp in Kenya before moving to St. Cloud. She says her experience of living in a refugee camp inspired her to become a UN ambassador one day, so that she can give back to children that are faced with the same obstacles.
Although Aden did not win the Miss Minnesota USA pageant, her means of conveying beauty and confidence won the title of hero in many young Muslim girl's eyes.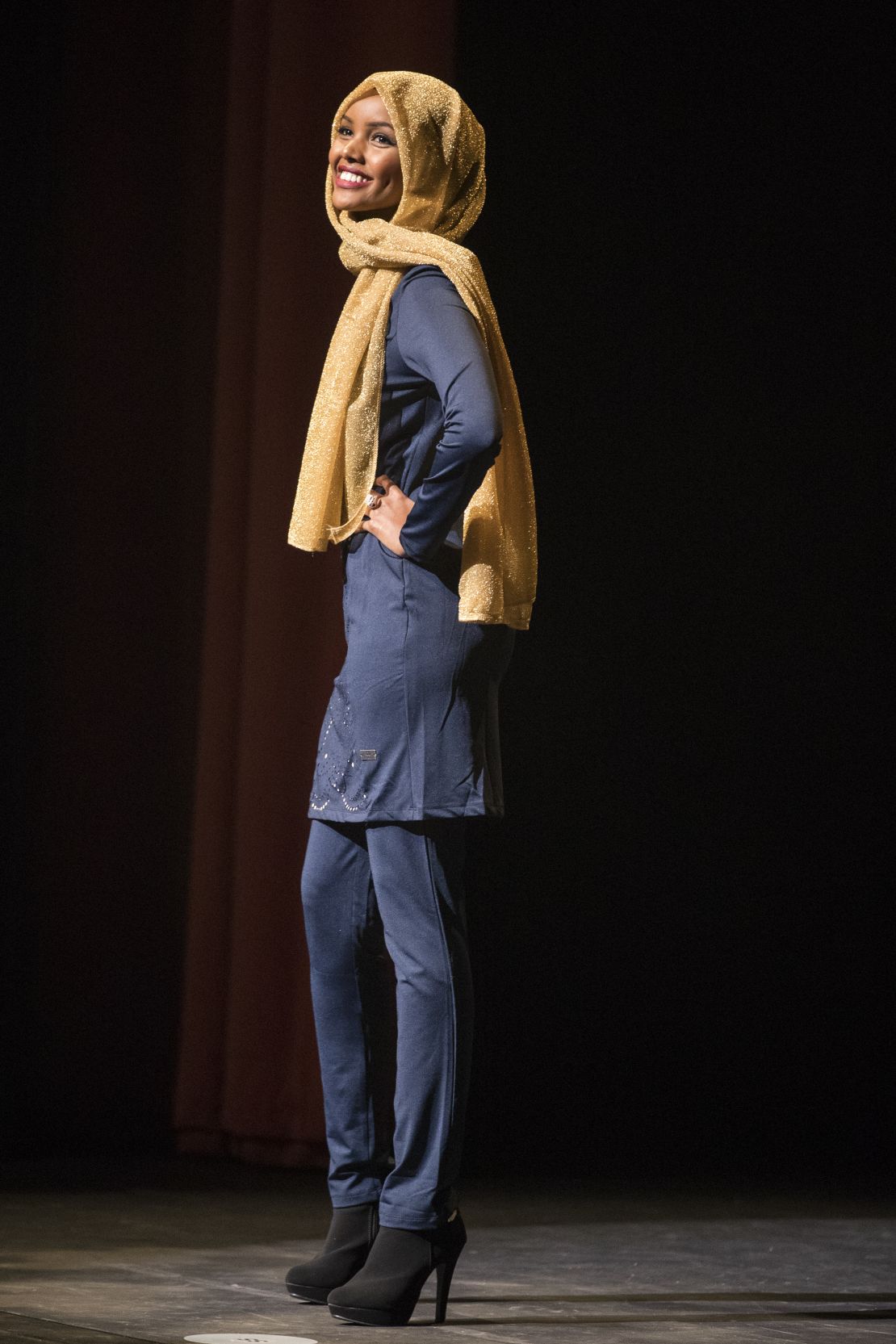 "Many girls reached out to me about their own experiences being bullied because of their hijab and feeling like they didn't fit in," she said.
One teenager wrote to Aden from Indonesia after she read about Aden in the news.
The girl told Aden that for a period of time she didn't wear her hijab out of fear of getting bullied. Aden's bravery gave her the courage to be herself.
Others weren't as thrilled.
Critics called her choice to compete in the pageant "haram," meaning forbidden by Islamic law. At first, Aden's mother was not sure that she wanted her to participate in the pageant, fearing that she would have to compromise her values. After Aden told her what she hoping to accomplish by competing, she slowly warmed up to the idea.
The contestant said she did not compromise any of her religious beliefs or values, but that she was doing the most important thing of all: staying true to herself.
While Aden does not have any immediate plans to participate in another beauty pageant, she does want to keep inspiring other young Muslim women. She plans on visiting her high school to encourage young Muslim girls to play sports and participate in extracurricular activities.
"If there's one message I want people to take away is never compromise being your authentic self," Aden said. "Even if that means making others uncomfortable."